Today I created for you a lesson on how to draw a cactus for kindergarten. This is a super easy tutorial in just four easy steps.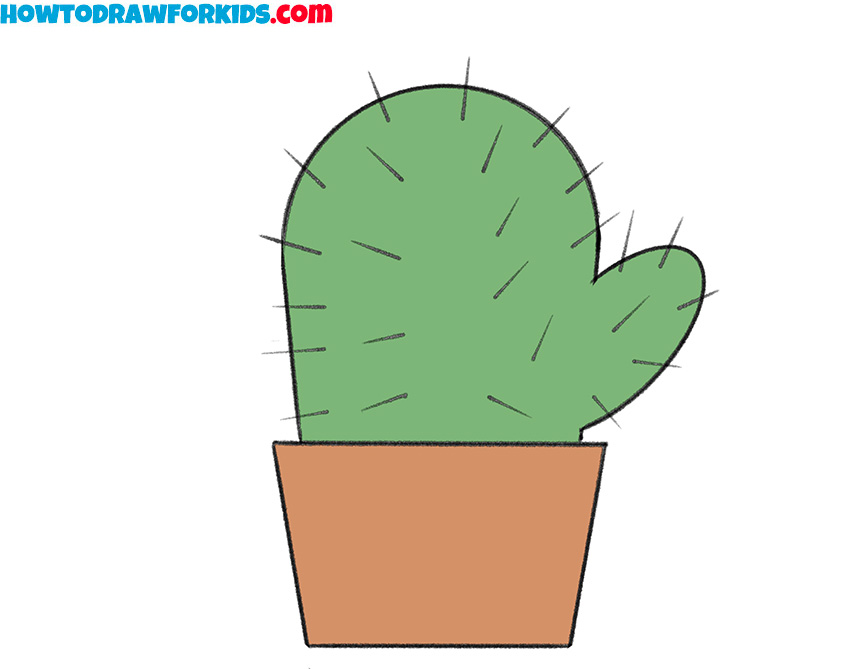 There are many plants that you can grow in your home or office. Today you will practice drawing one popular plant, namely, learn how to draw a cactus for kindergarten. This plant is completely unpretentious and can grow in almost any home environment. The cactus does not require special care and will be an excellent decoration for any interior.
Cacti come in many different types. In this lesson for kindergarten, you will learn how to draw a simple cactus shape. It won't be difficult at all.
First, you need to draw a small pot, then the cactus itself. The shape of the cactus can be arbitrary. In the figure, the cactus has a main round trunk and a small branch on the side. At the end of the drawing, add thorns and color the cactus.
Materials
Pencil
Paper
Eraser
Coloring supplies
Time needed: 15 minutes.
How to Draw a Cactus for Kindergarten
Draw a pot.

The cactus pot is shaped like a trapezoid.

Sketch the outline of the plant.

You will end up with the cactus that resembles a mitten.

Add details.

At this point, depict the thorns of the plant.

Color the drawing.

The cactus should be green, and for the pot, choose any color.
So, the lesson on how to draw a cactus for kindergarten is over. If you liked the lesson, then be sure to read other plant drawing lessons on my website. For example, how to draw a chamomile or how to draw a rose is very easy. Traditionally, I have prepared a PDF file of this tutorial for you. Download it to get free access to the coloring, tracing worksheet, and grid drawing worksheet.