Now you will learn how to draw a cow step by step. If you follow all the steps in this manual, you will gain useful skills.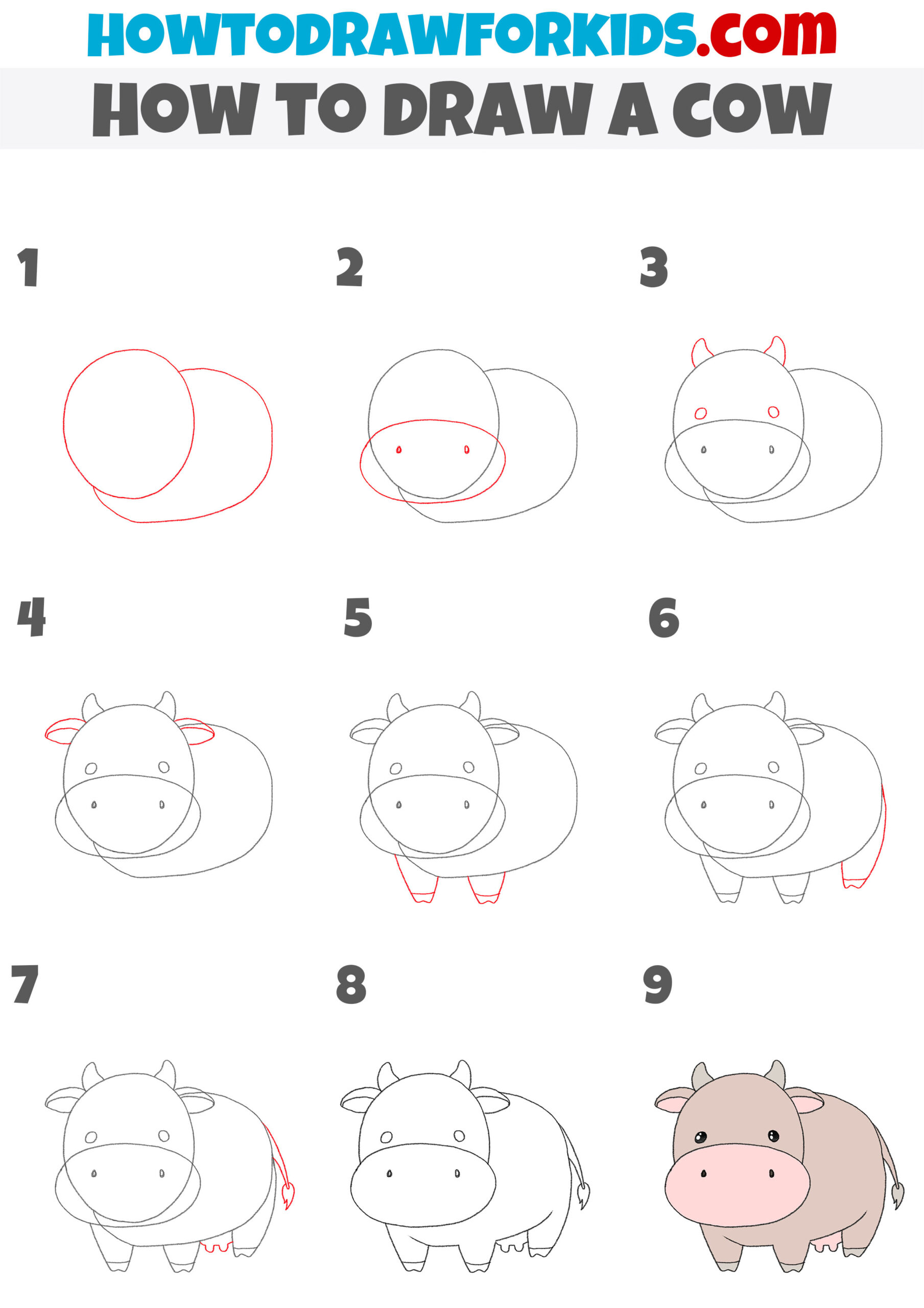 I decided to dedicate this lesson to drawing a popular pet, and now you will learn how to draw a cow step by step.
This tutorial will use simple lines and a minimum of elements, so you should not have any difficulties in the process.
Consistently follow all the steps in this instruction and carefully draw the lines that are marked in red. So grab your art supplies and enjoy the creative process. I wish you success.
Materials
Pencil
Paper
Eraser
Coloring supplies
Time needed: 30 minutes
How to Draw a Cow Step by Step
Draw the head and torso.

First draw the head in the shape of an oval and then add the torso.

Depict the front of the muzzle.

Draw an oval at the front of the head and add the nostrils.

Add the eyes and horns.

On the crown draw two horns and draw the oval-shaped eyes.

Sketch out the ears.

Draw the ears on the sides of the head and immediately add the inner outline of the ears.

Draw the front legs.

Depict the legs, which have a wide base and taper towards the bottom. Add the hooves.

Depict the back leg.

Draw the back leg in the same way as the front legs.

Add the tail and udder.

Draw the tail with the tassel at the end and draw the udder with curved lines.

Correct inaccuracies.

Compare the drawing with the example and correct the errors if necessary. Remove extra lines.

Color the drawing.

You will need light brown, gray, pink, and black.
The next lesson has come to an end, and now you know how to draw a cow step by step. If you wish, you can improve your drawing and create an environment for the cow. For example, draw a beautiful meadow with a cow grazing. As always, I look forward to your feedback and suggestions. At the end of the lesson, I prepared a PDF file for you, in which you will find a brief instruction and additional training materials.