Now you will learn how to draw easy Hulk step by step. I hope that you will follow this simple lesson with great interest.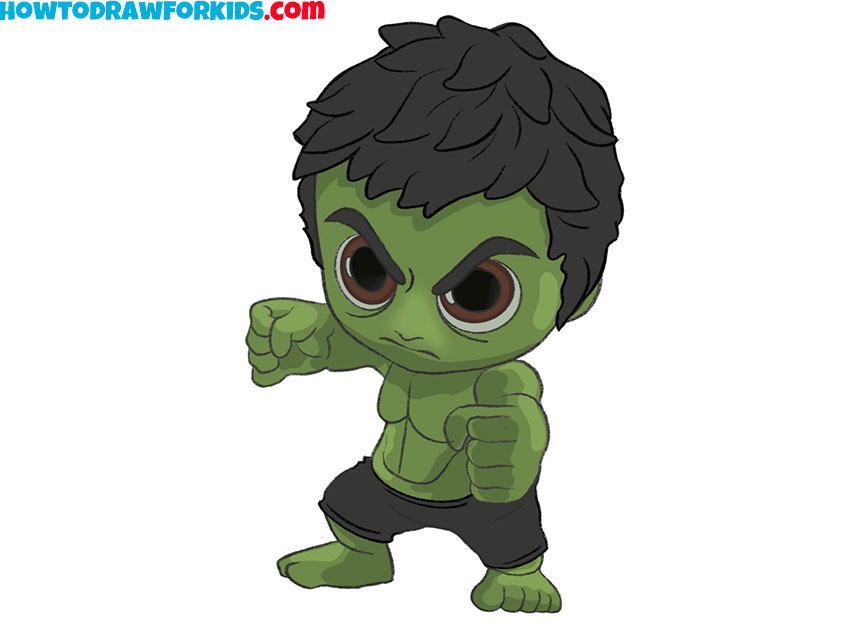 Let's continue drawing popular characters and in this step-by-step guide I will show you how to draw the easy Hulk. This green menacing monster is familiar to you, he is a popular comic book superhero from Marvel Comics.
The Hulk has tremendous strength and endurance, he is invulnerable to adverse effects and is able to move very quickly in space. When the Hulk is angry, all of his physical characteristics increase significantly.
This tutorial presents a very easy way how to draw the Hulk step by step. Here the Hulk is presented in chibi style and has all the features that are characteristic of this drawing style. The Hulk has a large head and a relatively small torso, with short arms and legs.
Materials
Pencil
Paper
Eraser
Coloring supplies
Time needed: 35 minutes
How to Draw Easy Hulk
Draw the head.

Depict a circle, draw the lower part of the head and mark up the elements of the face.

Add elements of the face.

Depict the eyes in the form of circles, add the nose, mouth, and ear.

Depict the rest of the elements of the face.

At this stage, sketch out the large eyebrows and skin folds.

Sketch out the hair.

Use short strokes to depict individual spiky strands.

Draw the torso.

With smooth lines, draw the small torso. Draw the relief of the muscles on the chest and belly.

Depict the legs.

The legs are short, slightly bent and wide at the bottom.

Add the hands.

The hands are clenched into fists. Try to correctly depict the position of the fingers.

Draw the clothes.

Use smooth lines to draw the outline of short shorts.

Color the Hulk.

Hulk is traditionally painted in shades of green and dark gray.
As usual, I created a short version of the lesson in advance as a PDF file. In this file you will find all the necessary information you need to complete the tutorial.