In this tutorial, I will show you how to draw a car for kids. Despite the rather large number of steps, this cat drawing tutorial will be extremely simple.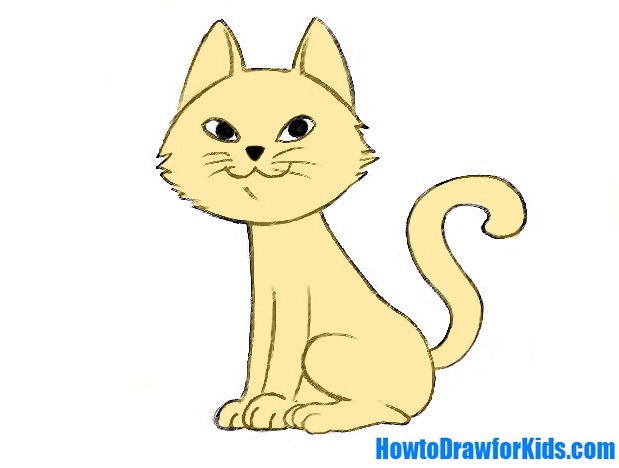 As you can see from the preview, this tutorial on how to draw a cat for kids will be really simple. I tried to achieve this simplicity by getting rid of the extra details and making the cat as minimalistic as possible.
Such minimalism in the drawing will help the child to focus on the most important thing, that is, on large shapes, such as the head, paws, tail, etc.
Further, if the child wants to make his drawing of a cat more detailed and lively, he can add additional elements such as fur texture, shadows, and so on. But for now, as I said, we will focus on the most important details and try to depict this cute animal using this instruction.
Materials
Pencil
Paper
Eraser
Coloring supplies
Time needed: 30 minutes.
How to Draw a Cat for Kids
Sketch out the head.

Firstly, draw a horizontally located oval with uneven side edges.


Draw the ears of the cat.

Ears look like a couple of simple triangles. Don't forget to draw a line on the inner sides of the ears.


Draw the eyes of the cat.

First, sketch out the almond-shaped outlines of the eyes, and then the pupils inside them.


Draw the mouth and nose of the cat.

The nose looks like an inverted triangle and the mouth looks like the number 3. After that draw the whiskers.


Draw the front legs.

Use long and smooth lines for the front legs. Well, now our cat has become more cute and alive.


Draw the hind legs.

Just add a few smooth rounded lines to create the hind legs and the back of the cat.


Draw the tail.

To do this, use a couple of long and flowing lines. The tail should look like a question mark.


Color the cat drawing.

You can paint your cat in your favorite color, both realistic colors such as grey, black, or brown and unusual as violet or pink.

And as I promised you in previous drawing instructions, I am publishing a shortened version of my lesson about this cute kitty. Save this picture and share it with your friends. This picture is made in a slightly different format than the one that was at the very beginning of the lesson.
And of course, the PDF version of this drawing lesson. In addition to the tutorial itself, you will find a coloring page, tracing worksheet, and grid drawing worksheet.
I have tried to make this cat drawing tutorial as simple as possible. I try to improve my drawing instructions with every new article, and I ask you only to share the instructions published on the pages of Howtodrawforkids.com.