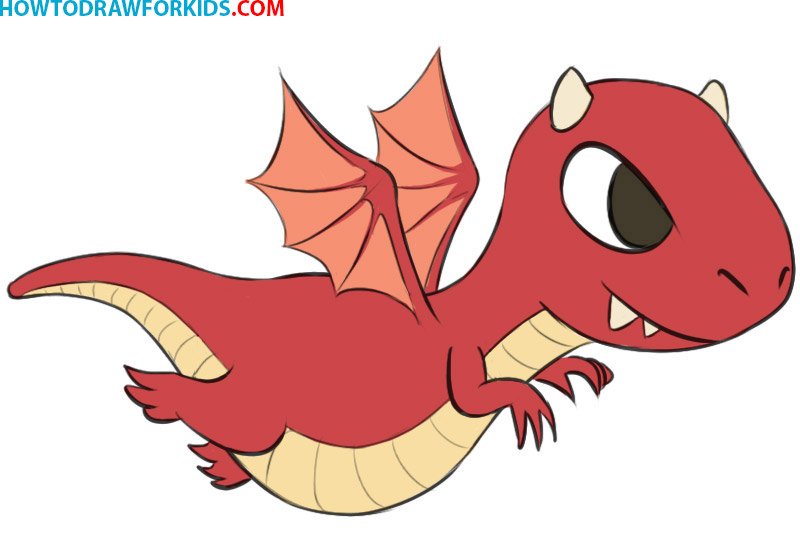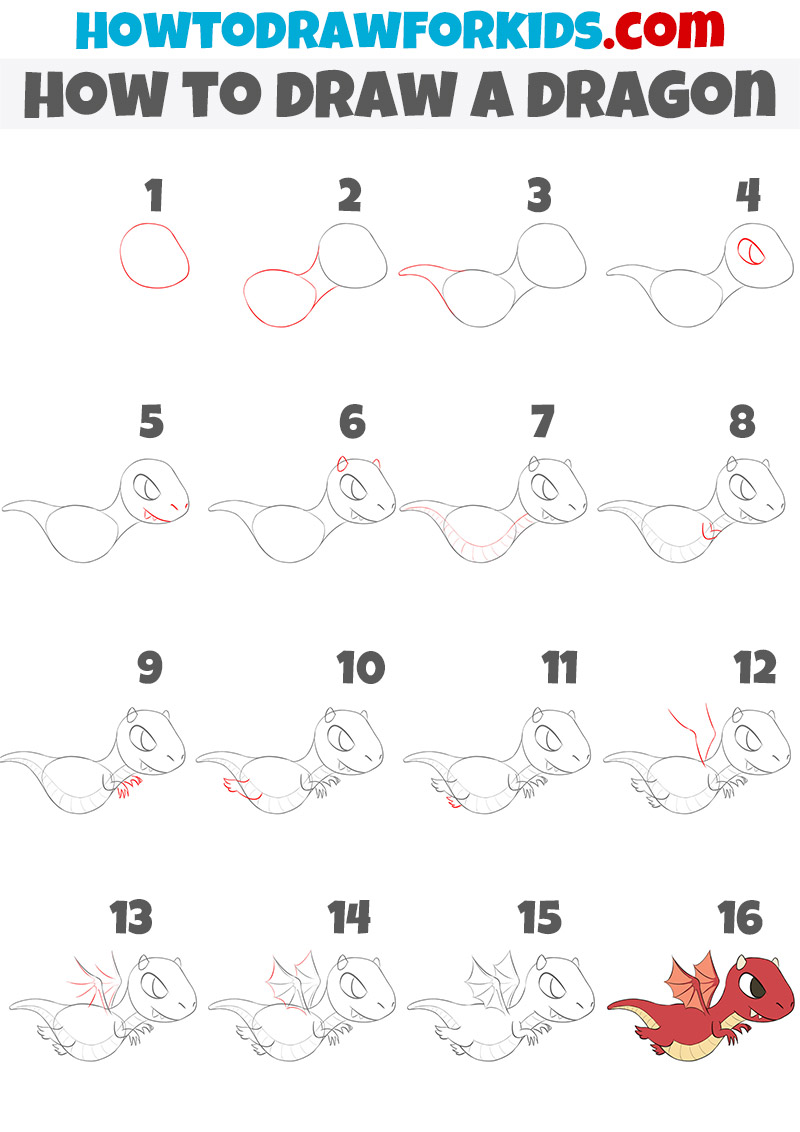 In this super simple drawing instruction, I'll show you how to draw a dragon very easily.
Earlier I showed you how to portray a dragon. But this instruction is more detailed, and it will be much easier to learn how to draw a dragon with it.
Dragon stories have been around for a long time. Such creatures are often found in both Western and Eastern cultures. Depending on the era and place, these beautiful and terrible creatures received a different appearance and even character.
In this tutorial, I want to show you how to draw a cartoon European dragon.
Step 1
Start by sketching the head in a geometric shape similar to a potato.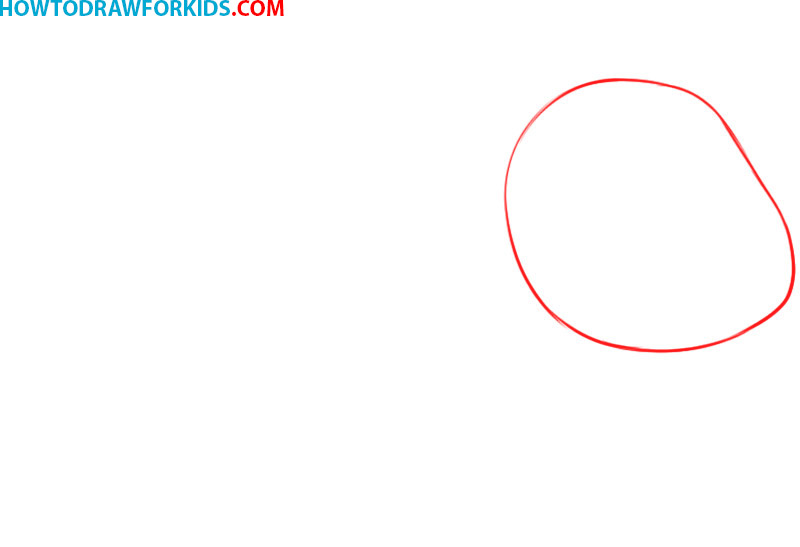 Step 2
Now draw the torso as an oval and connect it to the head with a couple of simple lines.
Step 3
Now use a couple of long, curved lines to draw the tail.
Step 4
On the head of the cute dragon, draw an eye and a pupil inside it.
Step 5
Draw the nostrils on the nose. Just below, depict a mouth with a pair of protruding sharp teeth.
Step 6
Draw small horns at the very top of the head.
Step 7
Now draw a pattern on the entire lower surface of the dragon's body.
Step 8
A very simple stage where you just need to portray the arm closest to us.
Step 9
Use short lines to depict the fingers with pointed claws.
Step 10
Now go to the rear part of the mythical creature and depict a leg with a foot and sharp toes.
Step 11
Depict the far foot with the same sharp claws.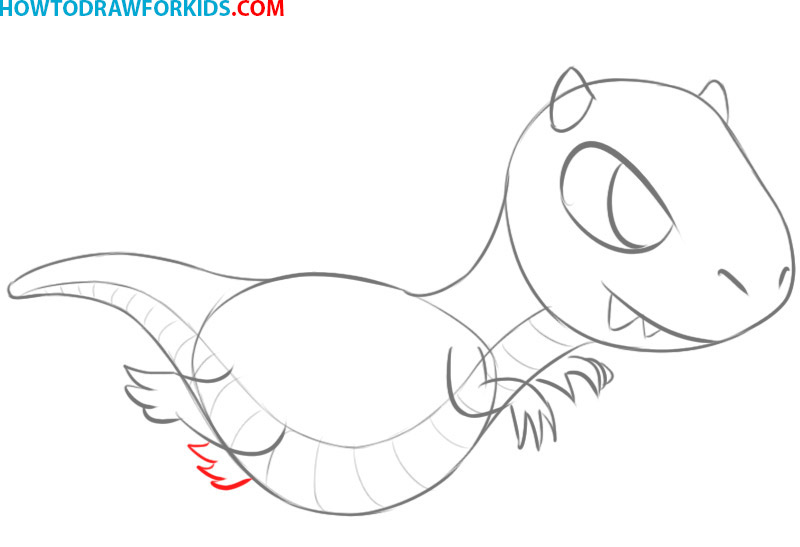 Step 12
To start drawing the wings, first, depict their front edge.
Step 13
Now draw the dragon's fingers using long lines.
Step 14
Now draw the webbing of the wings which looks like the web of Spider-Man.
Step 15
Now, with the help of an eraser, get rid of all the construction lines of the dragon drawing.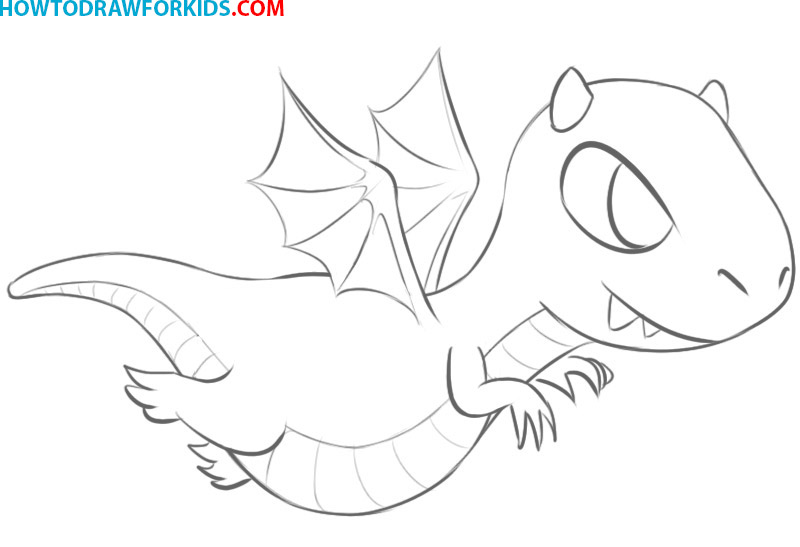 Step 16
Paint the dragon red, the webbing of the wings light red, the pupils black and the underside of the body yellow.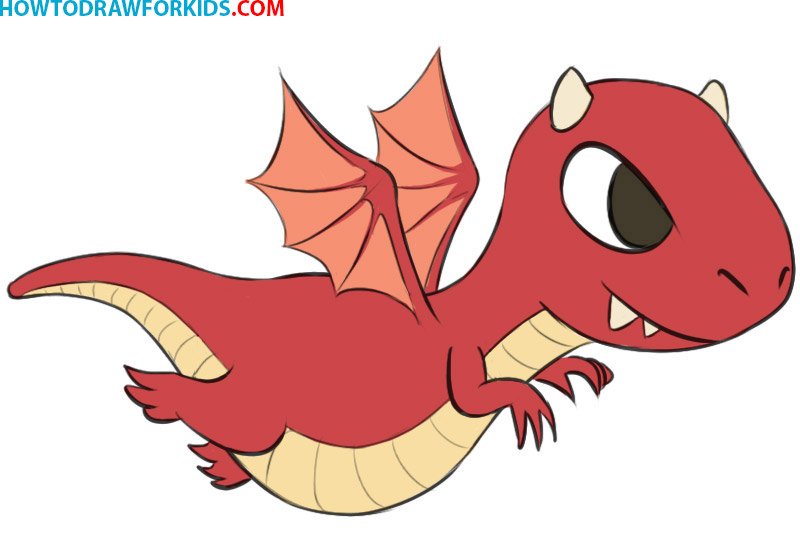 Of course, you can paint the dragon not only in red. For example, you can paint it green, black, or any other color. You can also add shadows, scale, or other details.
If you liked this instruction on how to draw a dragon very easily, then visit other articles on Howtodrawforkids.com to learn how to draw something new.