This is a very interesting and fascinating drawing lesson in which you can learn how to draw a UFO.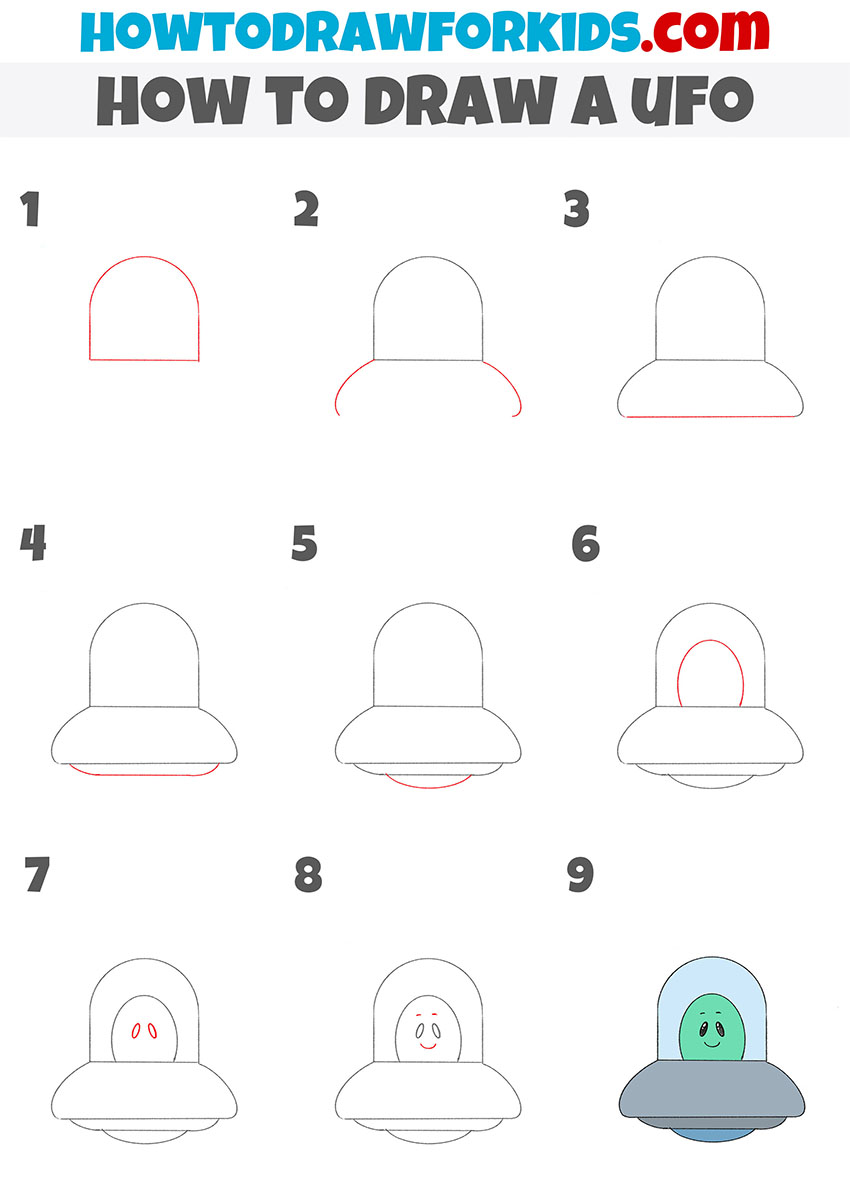 In this drawing tutorial, I would like to tell and show you how to draw a UFO. This guide is quite simple and consists of only nine easy steps. I created this lesson especially for kids and beginners who don't have much drawing experience, so you can surely handle it.
You probably know that UFO stands for Unidentified Flying Object. An unidentified flying object is any perceived aerial phenomenon that cannot be immediately identified or explained. Usually, when people see a UFO, they think that it is the arrival of some alien creature.
In this lesson, you will first draw a flying object and then the alien inside it, and after that, you will learn how to color this drawing. Prepare your drawing materials and get started on this drawing.
Materials
Pencil
Paper
Eraser
Coloring supplies
Time needed: 20 minutes.
How to Draw a UFO
Draw the top of the flying object.

To complete this step, you should draw a straight line and an arch.

Start drawing the bottom of the flying object.

Below the previously drawn figure add two symmetrical curved lines on the right and left sides.

Continue to draw this element.

Connect the two bottom ends of the previously drawn curved lines with a straight line.

Add part of the bottom of the flying object.

This step will be simple enough, you just need to add one curved line at the bottom.

Complete the drawing of the bottom of the UFO.

Now you should add an arch below the previously drawn curved line.

Draw the outline of the alien's torso.

You can depict this element as an incomplete oval at the top of the flying object.

Depict the alien's eyes.

Inside the previously drawn torso depict two identical ovals.

Add the rest of the facial features.

Draw the alien's eyebrows as short curved lines and his mouth as an arch.

Color the drawing.

To color this drawing, use black, green, shades of gray, and shades of blue.
Great job! This drawing lesson has come to an end. Don't forget to download the PDF that I have prepared for you. This file contains a short version of this drawing guide and additional useful materials.