In this lesson you can learn how to draw a vampire. I'm sure you'll enjoy this simple lesson, which consists of only nine easy steps.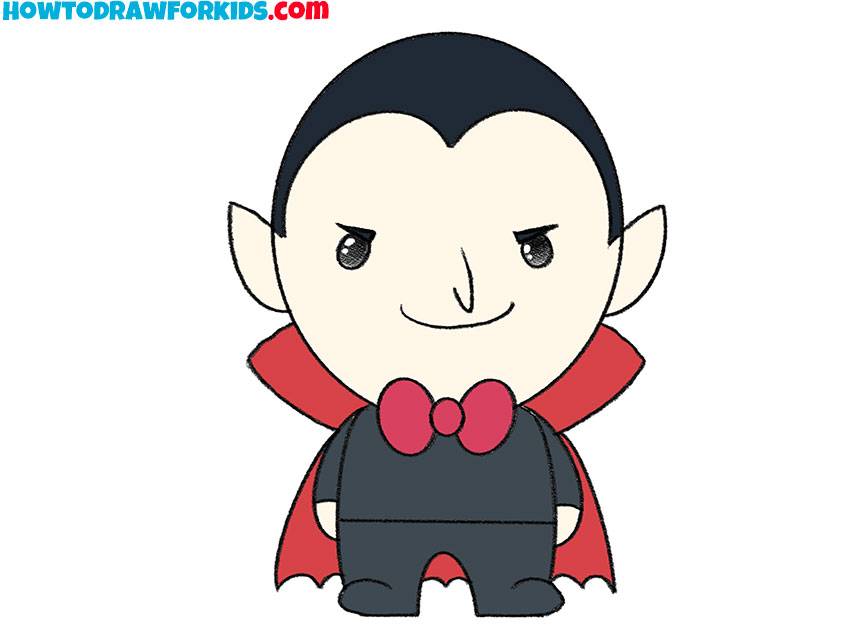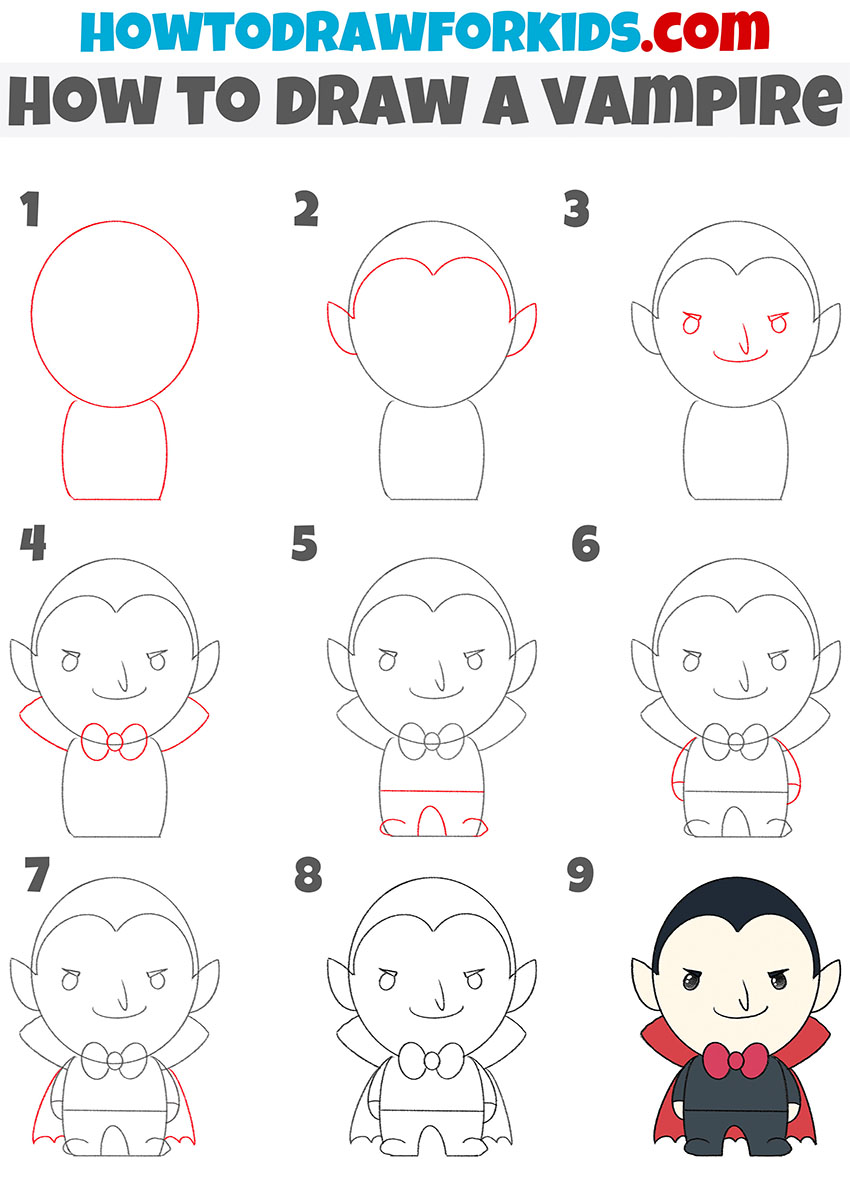 So, in this drawing tutorial, I would like to tell you how to draw a vampire step by step. I think you've seen vampires many times in various movies. This character is usually considered to be negative. A vampire is a creature from folklore that subsists by feeding on the vital essence of the living. In modern times, the vampire is generally considered a fictional creature, although some people believe in the existence of vampiric creatures.
In this tutorial, the vampire is depicted in a cartoon style, so it looks like fun. I'm sure that you will be able to cope with this lesson because every step of it looks quite simple and understandable.
Prepare the necessary materials for drawing and start drawing the vampire step by step. I wish you a great time doing this drawing!
Materials
Pencil
Paper
Eraser
Coloring supplies
Time needed: 20 minutes.
How to Draw a Vampire
Draw the outline of the vampire's head and torso.

To do this step, draw the head as an oval, and the torso with a straight and curved line.

Add the outline of the ears and hair.

Draw the outline of the vampire's hair with two semicircles and short lines, add pointed ears.

Depict the vampire's facial features.

Draw eyes as incomplete ovals, eyebrows with straight lines, nose, and mouth with curved lines.

Add the elements of the costume.

Depict a bow and collar below the head, using curved lines, an oval, and two incomplete ovals.

Outline the vampire's legs and waistline.

Add a straight horizontal line on the torso. Use the arch and curved lines to draw the legs.

Picture the hands.

You should add curved lines to the right and left sides of the vampire's torso.

Depict the character's cape.

Add curved and rounded lines to the background of the drawn vampire.

Erase unnecessary lines.

Use an eraser to remove auxiliary lines that appeared during the drawing process.

Color the drawing.

To color the vampire, use black, gray, shades of red, and any color you want to color the skin.
Traditionally, I have prepared a short PDF version of this guide for you. Download the file and take drawing lessons at any convenient time.