I have prepared a tutorial for you on how to draw a castle. This lesson will be unusual and very useful for you.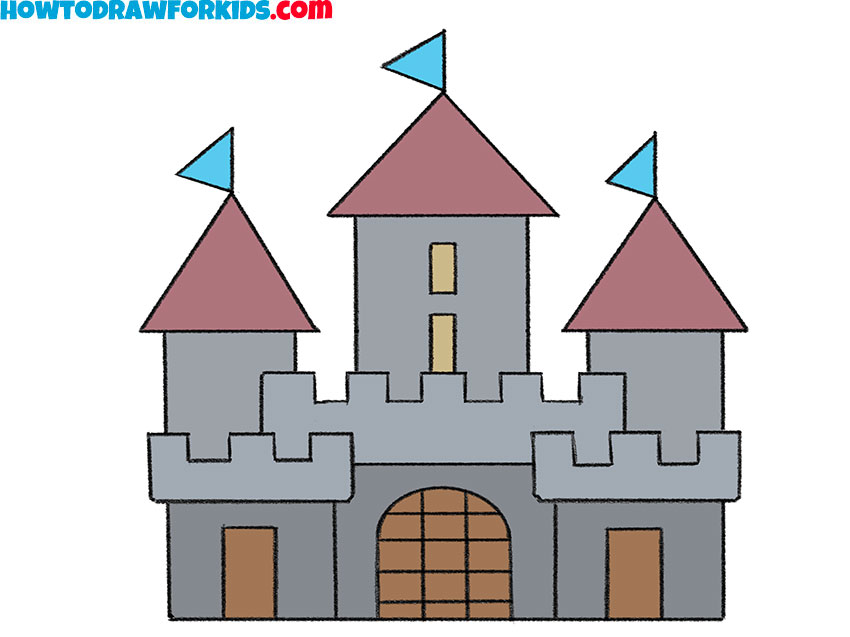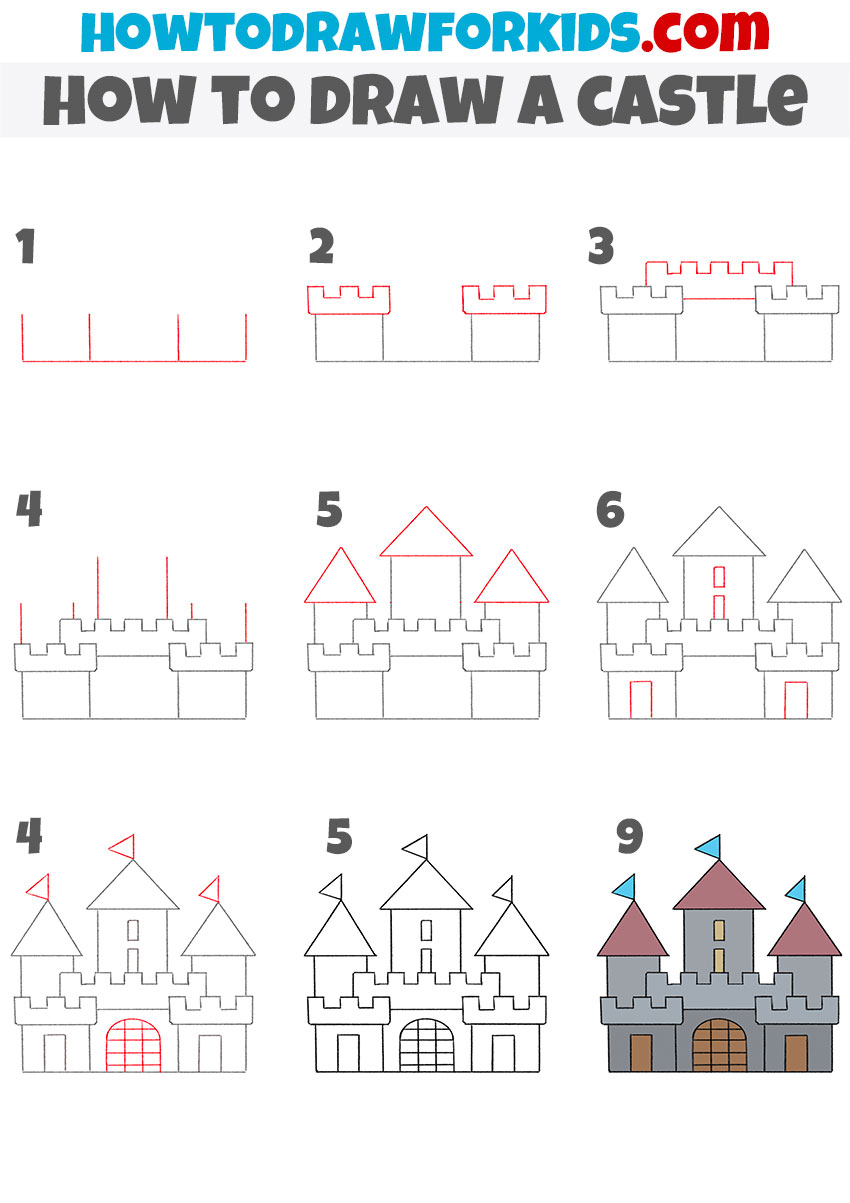 In this drawing tutorial, you will learn how to draw a castle step by step. This exciting lesson consists of nine steps. I think you will greatly improve your artistic skills with this tutorial.
A castle is a large strong building, built in the past by a ruler or important person to protect the people inside from attack. They were both a home and a fortress. They were built to provide safety and protection from attack and to display the owner's rank and wealth. You may have seen in books, films, or cartoons what a castle looks like.
Now you should prepare all the supplies you need to draw so that you can begin to draw the castle step by step.
Materials
Pencil
Paper
Eraser
Coloring supplies
Time needed: 30 minutes
How to Draw a Castle
Draw the bottom of the wall.

Depict one straight horizontal line and four same straight vertical lines.

Add the top of the walls.

The top of the walls should be depicted as shaped. use straight lines to picture it.

Add the top of the wall in the center.

Between the two previously drawn walls, add the top of another wall.

Draw the bottom of the towers.

To draw the walls of the towers, use straight vertical lines of different sizes.

Depict the roofs of the towers.

You should draw these details as three triangles, two of which are the same.

Add the doors and the windows.

You can depict these elements as several rectangles of different sizes.

Draw flags and a grid.

Depict the flags as triangles on top of the towers, and draw the grid with straight lines.

Check if it is done correctly.

Now make sure you have drawn everything right and you don't need to erase any details.

Color the drawing.

Use brown, beige, burgundy, blue and shades of grey.
This castle drawing lesson has come to an end. If you liked this lesson, you can share it with your friends and leave a comment. Also subscribe to us on social media. I have prepared a PDF file especially for your convenience, which you can download and use at any time.
How to Draw an Easy Castle
So in this tutorial, you will first draw the outside outline of the castle, then add elements inside it and color your finished drawing. Prepare the materials you need to draw to start this lesson.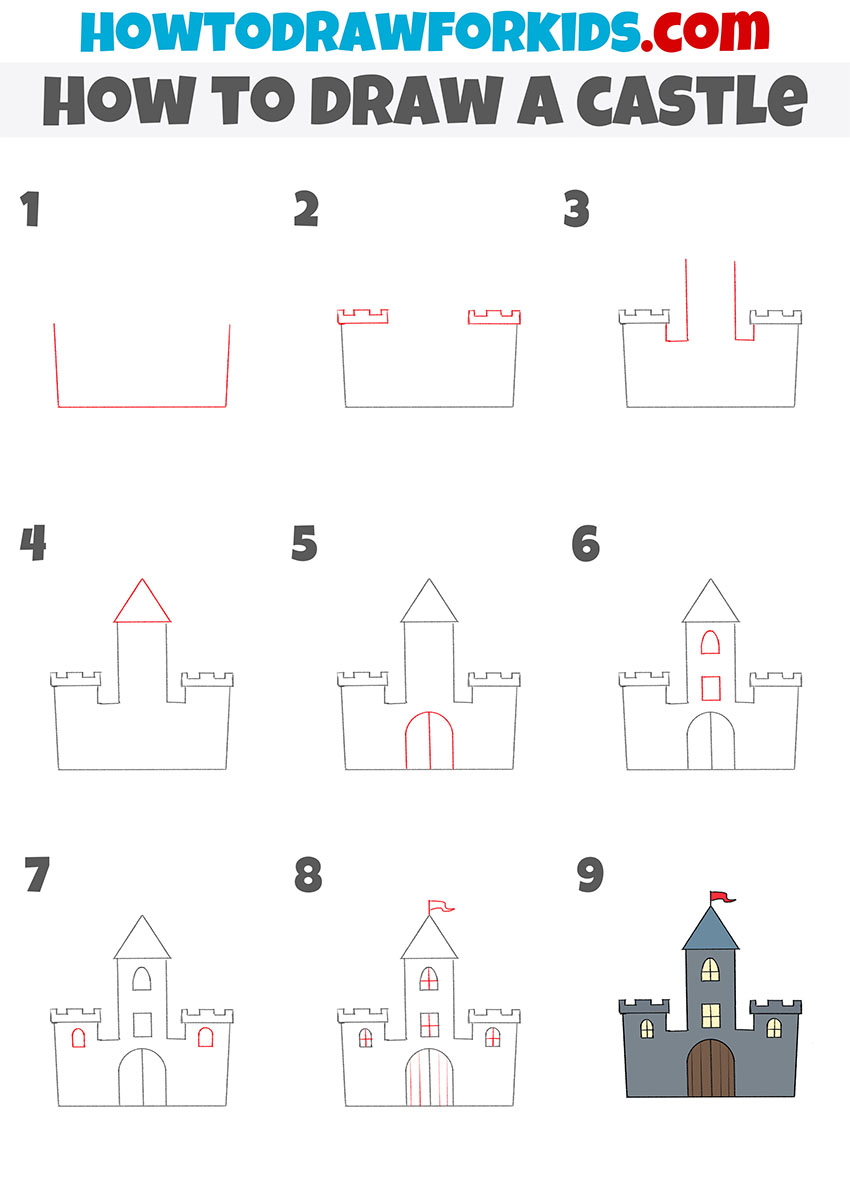 How to Draw a Simple Castle
In the picture you see a castle, which consists of several rectangular blocks. To successfully complete this lesson, you will need your ability to draw even, straight lines.