The drawing lesson on how to draw a cauldron is ready for you. I am sure you will get a beautiful result and you will really like this guide!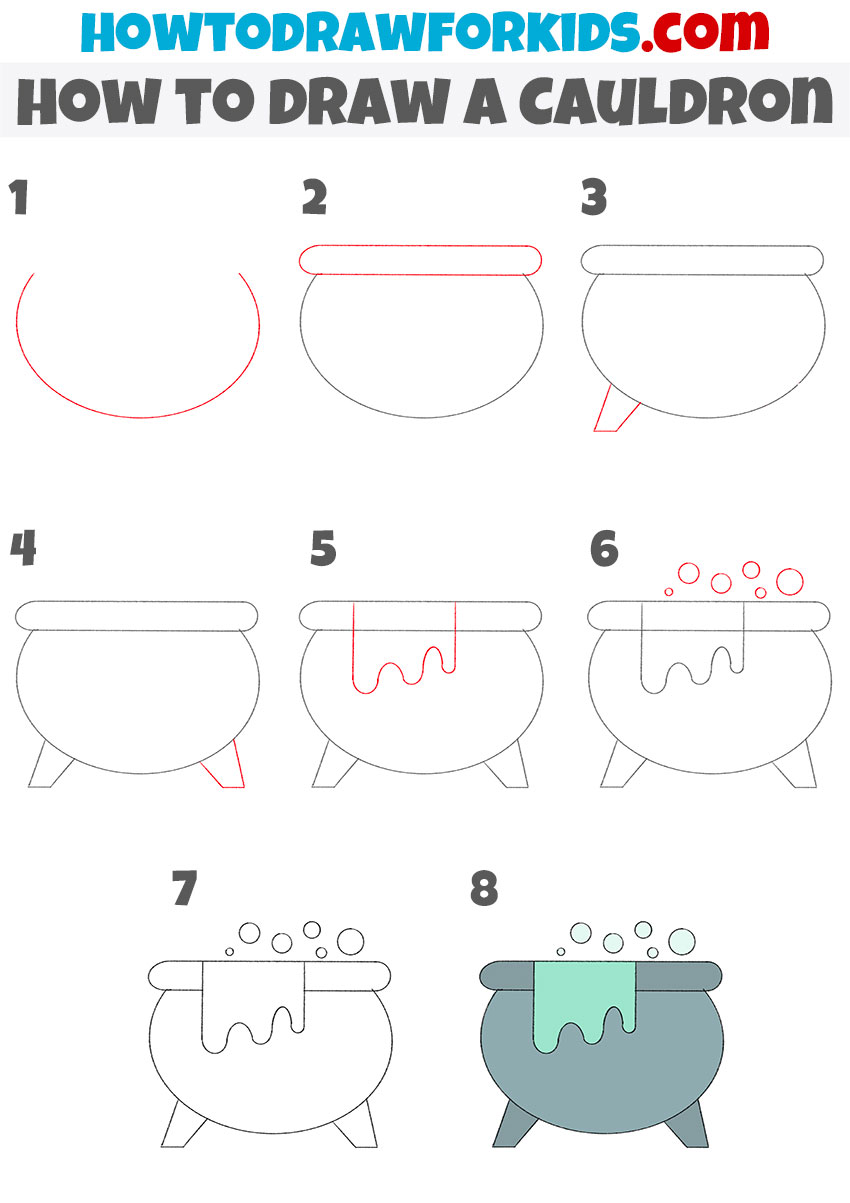 So, in this tutorial, you will learn how to draw a cauldron step by step. This lesson consists of eight simple and understandable steps. Follow my instructions carefully to draw this object.
A cauldron is a large kettle for cooking or boiling over an open fire, with a lid and frequently with an arc-shaped hanger and integral handles or feet. You may have seen in many cartoons that the cauldron is used to do something magical, such as brewing magic potions in it.
Let's start drawing this interesting object step by step.
Materials
Pencil
Paper
Eraser
Coloring supplies
Time needed: 20 minutes.
How to Draw a Cauldron
Draw the bottom of the cauldron.

This step is simple enough. Draw a figure that looks like part of an oval.

Add the top of the cauldron.

Draw another figure over the previously drawn figure. Use straight and rounded lines.

Depict the foot of the cauldron.

Draw one foot at the bottom of the cauldron on the left side. Use straight lines.

Add another foot of cauldron.

This part looks the same as the one previously drawn. Picture it on the right side of the cauldron.

Draw the water.

Depict the water flowing out of the cauldron as it boils. Use a wavy line.

Add the bulbs.

Over the cauldron, draw several circles of different sizes.

Erase the auxiliary lines.

Use an eraser to remove unnecessary lines from the drawing.

Color the drawing.

Use grey to color the cauldron and blue to color the water and steam over the cauldron.
This lesson has come to an end. Now you know how to draw a cauldron step by step. Did you enjoy this lesson? Share your impressions in the comments. Don't forget to follow us on social media. I have again prepared a PDF for your convenience, which contains a short version of this tutorial.