Today I will show you how to draw a big truck. This instruction contains nine steps, each of which is visualized.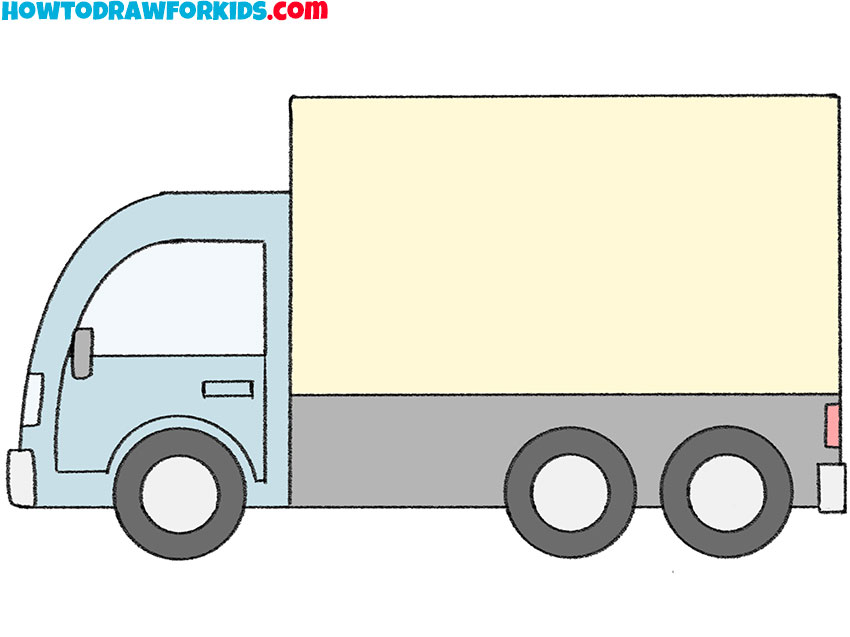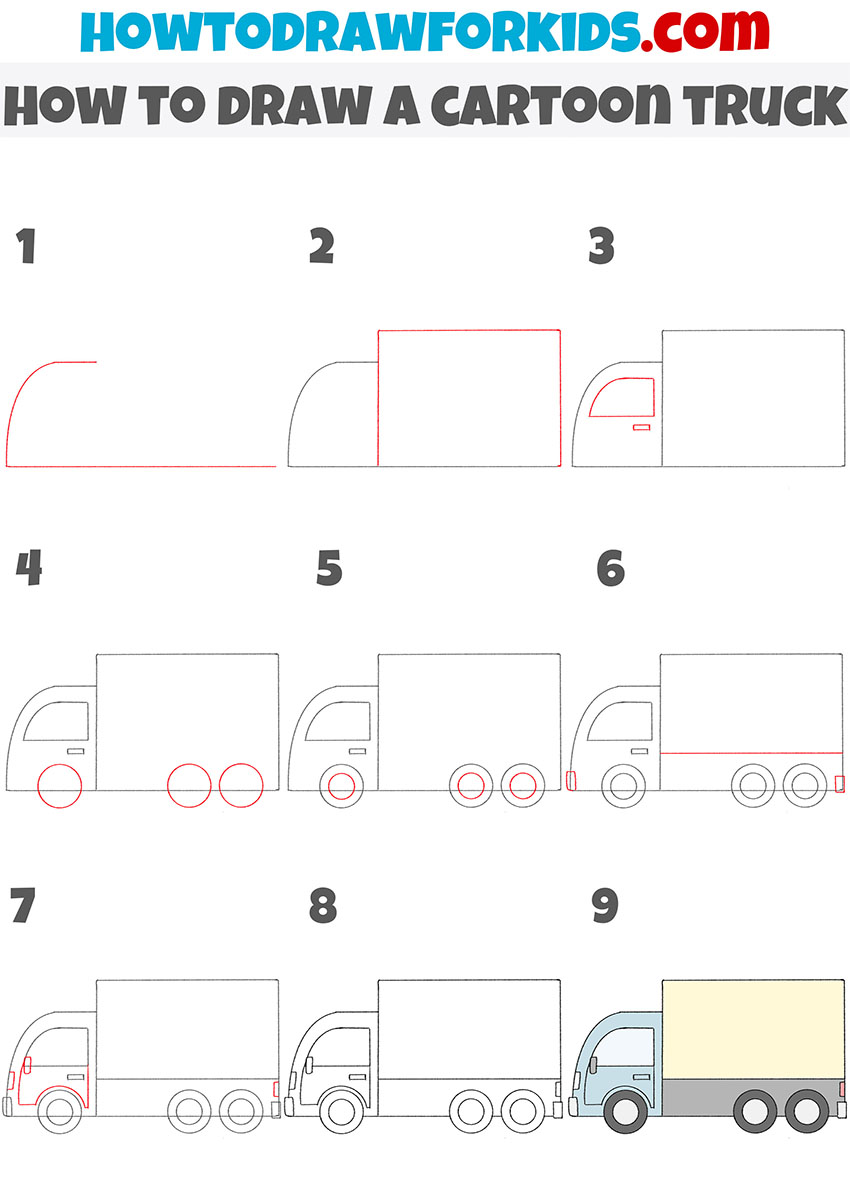 Especially for beginners, I have prepared a simple and interesting lesson on how to draw a big truck. This tutorial will use simple lines and a minimum of elements, so you can easily follow this tutorial and get a great result.
The figure shows a small truck, which has a driver's cab and a cargo compartment. This lesson will require your ability to draw straight lines and circles.
If you complete this lesson, you will acquire useful skills that will be useful to you for drawing more complex objects. Now prepare all the necessary art supplies and start an exciting creative work.
Materials
Pencil
Paper
Eraser
Coloring supplies
Time needed: 30 minutes
How to Draw a Big Truck
Draw the bottom outline and cabin.

Depict a horizontal line and then add a curved line to represent the driver's cab.

Depict the cargo area.

On the other side of the drawing, add the cargo compartment, which is shaped like a rectangle.

Add the window and the doorknob.

On the door, draw the window of the same shape as in the example and add the doorknob.

Sketch out the wheels.

Draw three even circles to represent the front and rear wheels.

Detail the wheels.

Within each wheel, add even circles to depict the inner outline.

Detail the bottom of the car.

Add the rectangular bumpers and draw a horizontal line at the bottom of the body.

Draw the door and the rest of the headlights.

With the help of several lines draw the door. Add the front and rear lights and the side mirror.

Correct inaccuracies.

Use the eraser to remove all extra lines in your drawing.

Color the drawing.

You will need different shades of gray, also blue, beige, and pink.
Now you know how to draw a truck. If this lesson was interesting for you, then leave a little feedback in the comments. By tradition, I prepared a PDF file with a short version of the lesson in advance for you. Download the file and draw at any convenient time.
Big Truck Drawing Tutorial: Additional Method
By following this tutorial you will first draw the driver's cab, then the body and the wheels of the truck. If you are already interested in this drawing guide, then you can begin drawing the truck.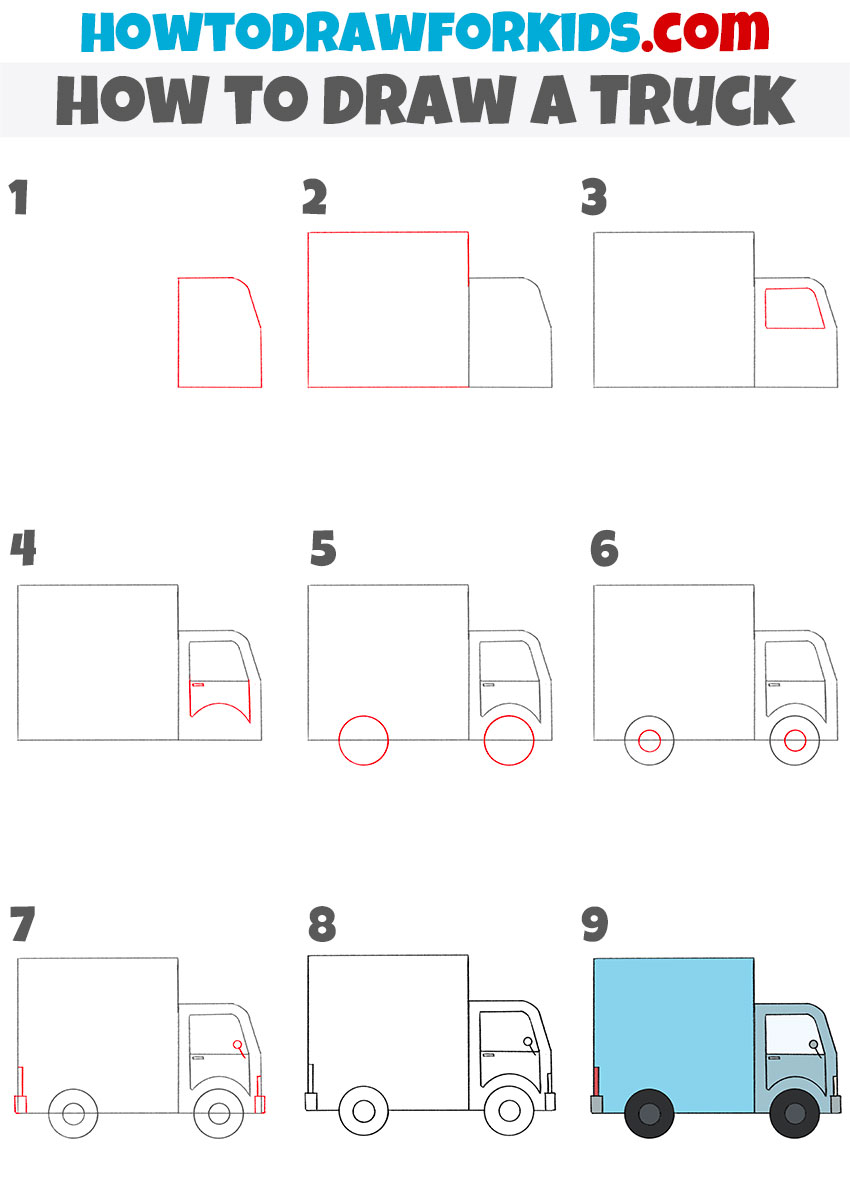 How to Draw a Big Truck for Kindergarten
If the lesson that you saw above seemed too complicated for you, then you will definitely like these instructions for drawing a large truck. It consists of only four steps and is created for the youngest artists.