Hulk is one of the brightest and most memorable characters in the Marvel universe. In this tutorial, I will show you how to draw Hulk.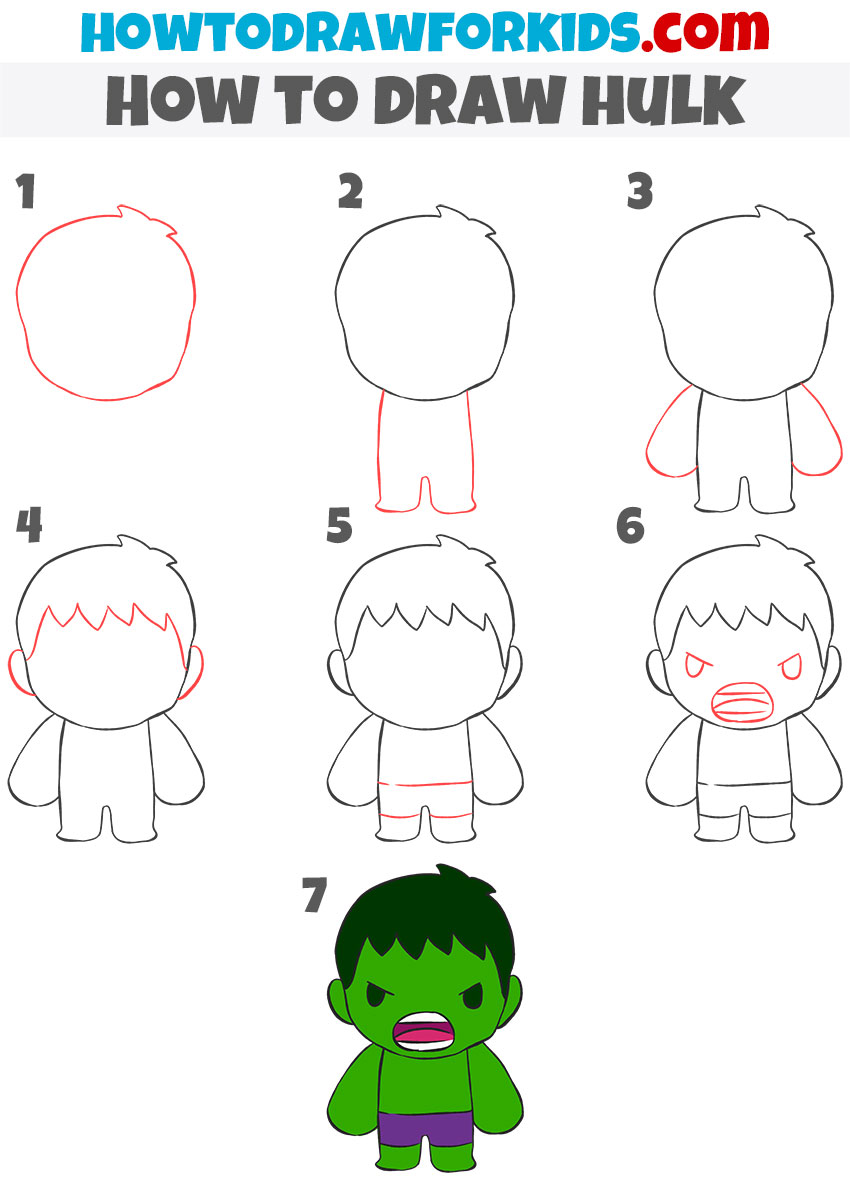 Greetings, dear friends, I propose to complete another interesting Hulk drawing tutorial. In this tutorial, you will learn how to draw Hulk. This is a mighty superhero, one of the most popular comic book characters. He has an unusual appearance. Hulk is tall, has huge muscles, and his skin is green. Initially, his skin was gray in color, but then a transformation took place with the Hulk and his appearance changed. His character also changed and Hulk began to pose a threat to others.
In this tutorial, you will draw Hulk in a simplified style. There will be no complicated elements here, and you can easily draw this green monster. This drawing technique assumes simple lines. Here you pay attention to the most important and noticeable details, making the character easily recognizable.
Follow my instructions and be careful at every stage of your drawing. Get creative and follow each step carefully.
Materials
Pencil
Paper
Eraser
Coloring supplies
Time needed: 13 minutes
How to Draw Hulk
Draw the head.

Create the oval in the same shape as in the example.

Sketch the torso.

The torso and legs are one element and the torso is smaller than the head. Maintain proportions.

Add the hands.

To do this, draw two smooth lines along the sides.

Portray the ears and the outline of the hair.

The bangs are irregular in shape and consist of several short, straight lines.

Draw the shorts.

It's very simple. Just draw some horizontal lines.

Add the facial features.

Draw small eyes and the large open mouth.

Color the Hulk drawing.

Color the body green, hair dark green, shorts purple, mouth purple, and tongue pink.
So our green superhero Hulk is ready. Hope you did a good job and you like the result. This cartoon character must have a formidable look. Did you manage to portray him that way? Share your impressions in the comments.
Use the PDF file that contains the short version of the Hulk drawing tutorial. I have specially prepared this file for your convenience. Download the file and be creative at any time, even when there is no Internet access.