Today I will show how to draw a dessert. I promise that now you will quickly learn how to draw a simple object.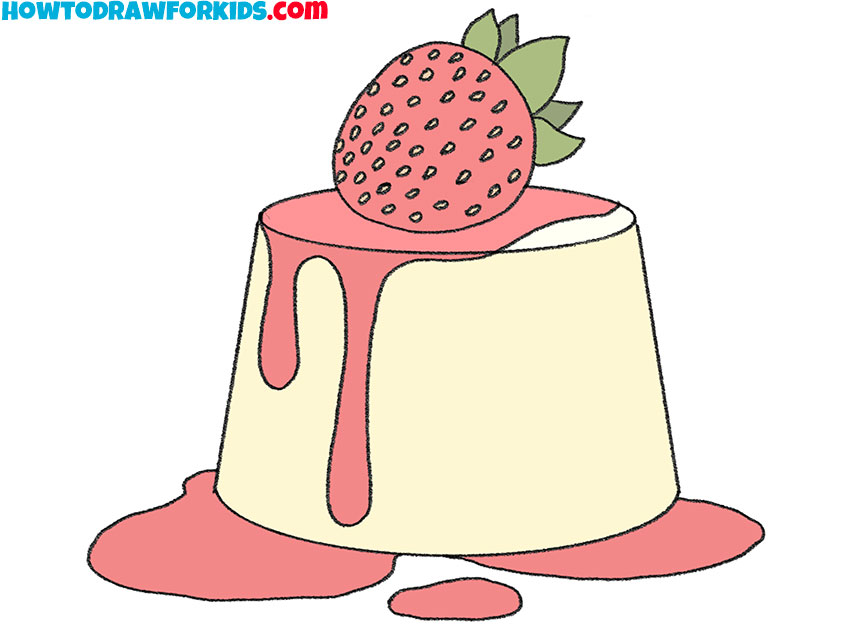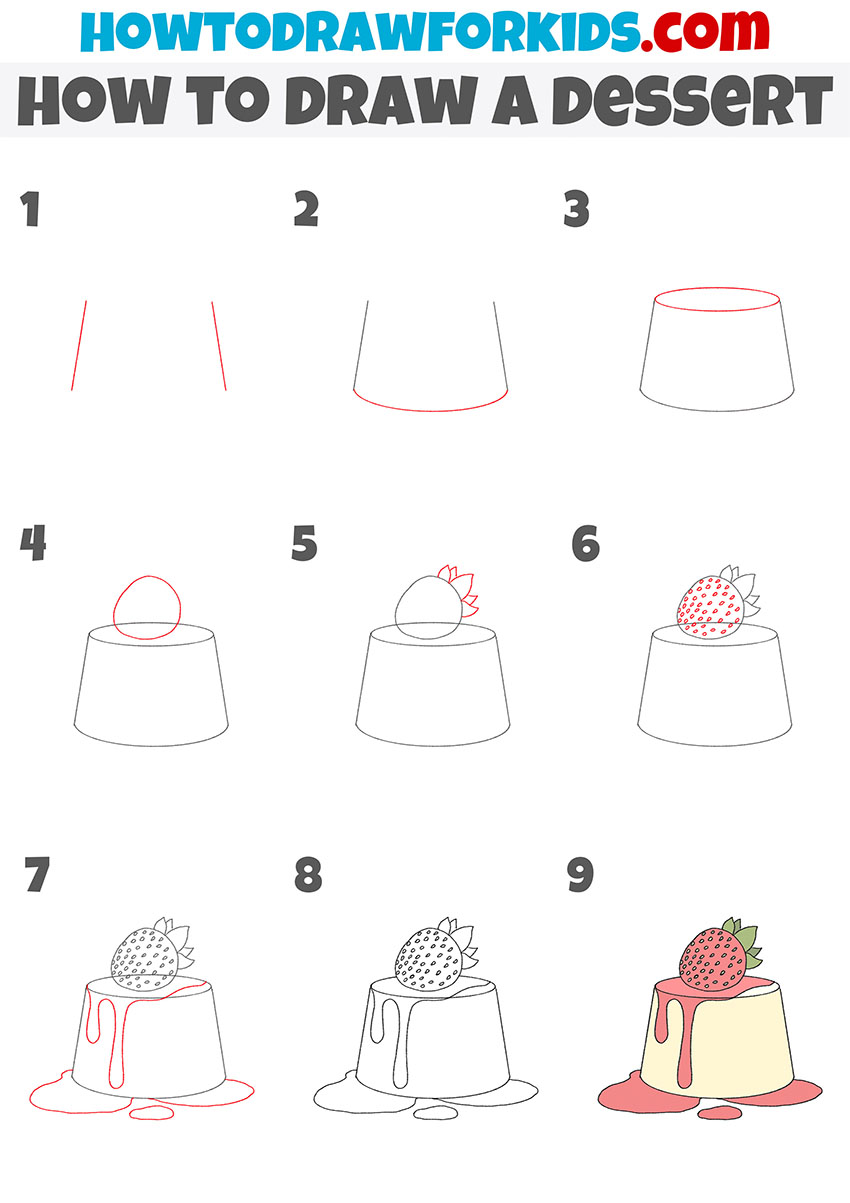 If you love sweets and want to improve your artistic skills, then you will definitely like this lesson, because now you will learn how to draw a dessert step by step. Dessert is a sweet dish usually served at the end of lunch or dinner. This finishing dish is designed to give you a pleasant taste experience.
Usually, fruits, confectionery, pastries, and all kinds of sweets are served as a dessert. In this case, you see a dessert that is made from cottage cheese and gelatin, so it keeps its shape well. This is a very tasty and nutritious treat. In the figure, the dessert has the shape of a truncated cone, where the upper part is narrower and the lower part is wide. The dessert is topped with jam and garnished with strawberries. It looks very appetizing!
This lesson will require your ability to draw geometric shapes and at the same time maintain symmetry. The shape of the strawberry and the shape of the jam may differ slightly from my example, that is, arbitrary lines are allowed here.
Materials
Pencil
Paper
Eraser
Coloring supplies
Time needed: 30 minutes.
How to Draw a Dessert
Draw the sides.

Determine the size of the drawing and draw two straight lines as shown in the example.

Depict the bottom of the dessert.

Sketch out a smooth curved line at the bottom.

Add the top of the dessert.

Depict an elongated oval at the top.

Draw the outline of the strawberry.

At this stage, depict an irregularly shaped circle.

Add the leaves to the strawberries.

At the top of the berry, add a few leaves of different sizes.

Depict the small seeds.

On the surface of the strawberry, successively draw many small seeds in the form of the drop.

Sketch out the jam.

Using smooth, curved lines, depict jam at the top and bottom of the dessert.

Correct inaccuracies.

With the eraser, carefully remove all extra lines in your drawing.

Color the dessert.

For coloring, you will need different shades of pink and green.
Dessert is ready! I hope that you easily coped with this task and now be proud of yourself. Share your impressions in the comments, and at the same time write what desserts you like and want to draw. I will definitely take into account all your wishes when creating new lessons. Follow us on social networks to keep abreast of all the news. As usual, at the end of the lesson, I prepared a PDF file in advance, which contains a brief instruction and additional training materials necessary for the qualitative implementation of this lesson. Rather, download the file and enjoy drawing at any convenient time.