In this drawing lesson, I will show you how to draw a hawk. This simple lesson consists of nine steps that you can easily follow.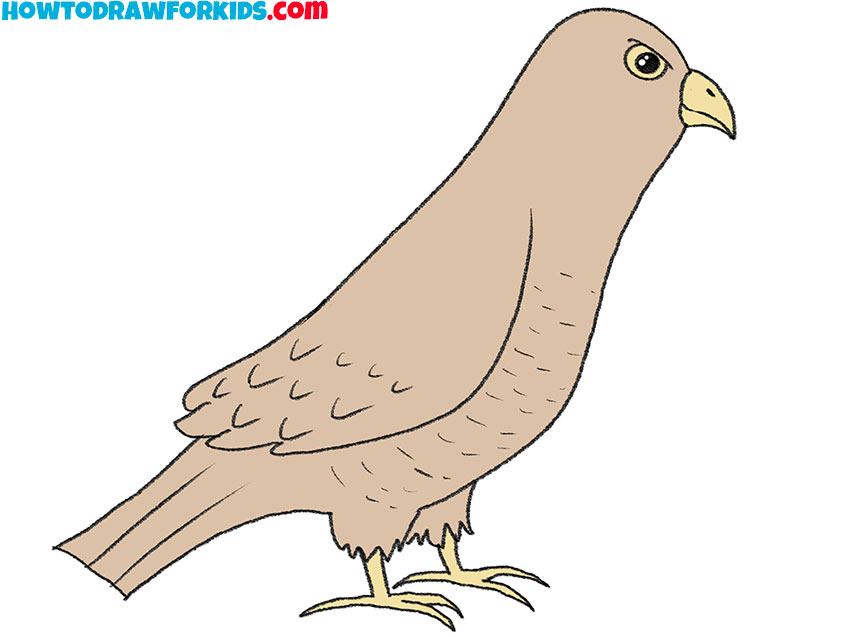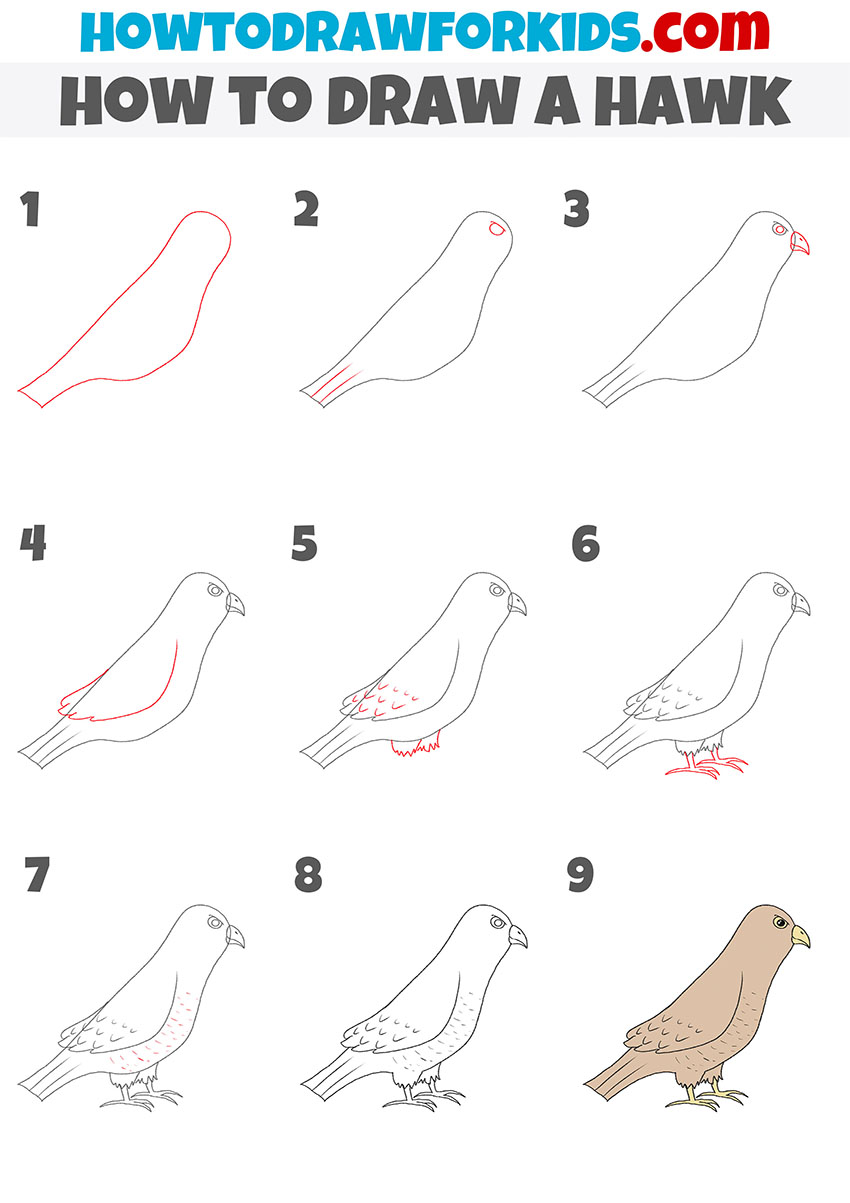 I suggest you complete a fascinating drawing lesson in which you can learn how to draw a hawk step by step. This guide will help you learn how to draw another bird, and in the future depict it in any of your landscapes. There are no too complex elements in this tutorial, as I designed it specifically for beginners.
The appearance of hawks may vary slightly depending on their lifestyle and habitat. Hawks are known to have excellent eyesight, which is said to be eight times better than human eyesight.
The eye color of hawks is usually yellow or orange. This bird has a strong, hook-like beak. The limbs of these birds are quite strong and muscular.
As for the color of the hawk, the upper part of its body is darker than the lower. Basically, the color of hawks is in gray or brown tones. Also, ripples may be present against the background of their color.
Materials
Pencil
Paper
Eraser
Coloring supplies
Time needed: 30 minutes
How to Draw a Hawk
Draw the outline of the bird's body.

To complete this step, you need to use curved lines as shown in the picture.

Add the eye and plumage on the tail.

At the top of the body, draw an incomplete oval, a curved line, add two lines on the tail.

Finish drawing the eye and add the bird's beak.

Depict a circle inside the eye, add the large beak using curved lines and the dot.

Sketch out the outline of the hawk's wing.

On the side of the bird's body, depict the wing using curved lines, as shown in the figure.

Add the feathering on the wing and the upper legs.

On the drawn wing, add many curved lines. Below the torso, add the bases of the legs.

Finish drawing the legs of the hawk.

Use straight and curved lines to draw the hawk's feet, spurs, and toes.

Add the plumage to the hawk's body.

To represent the ripples on the bird's body, add many small straight and curved lines.

Correct inaccuracies.

Before you start coloring the hawk, use the eraser to remove the extra lines.

Color the drawing.

To color the hawk, use black, yellow, and brown.
Traditionally, for your convenience, I have prepared a PDF file that contains a short version of this lesson, as well as exciting training materials to help you complete this lesson. Download this file right now so as not to lose this lesson and return to it at any time convenient for you, even if you are not connected to the Internet.
If you master this lesson, you can easily draw any other bird of prey. When drawing, try to keep all proportions so that your drawing is as similar as possible to my example.