How to Draw an Ice Cream Truck
Now I will tell you and show you how to draw an ice cream truck. I am sure that this tutorial will be useful for any aspiring artist.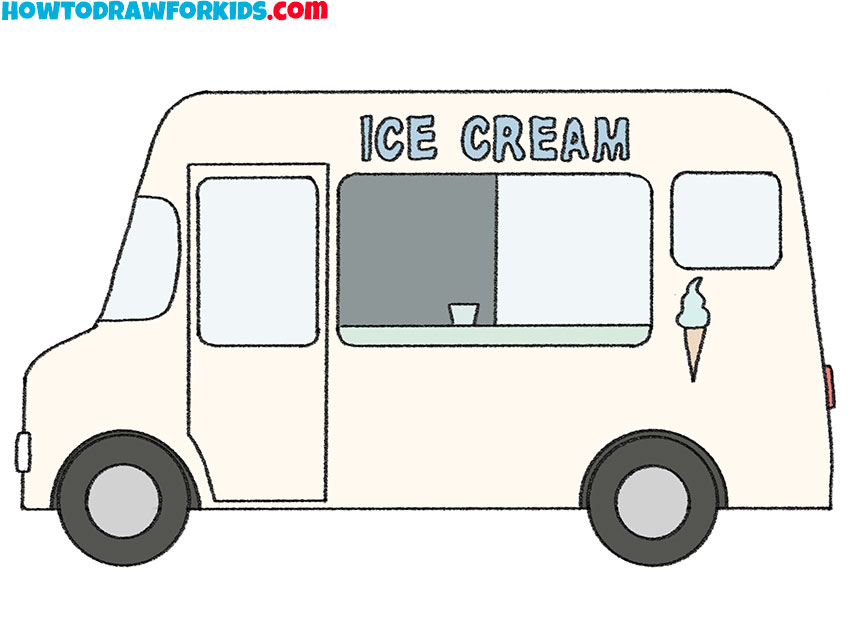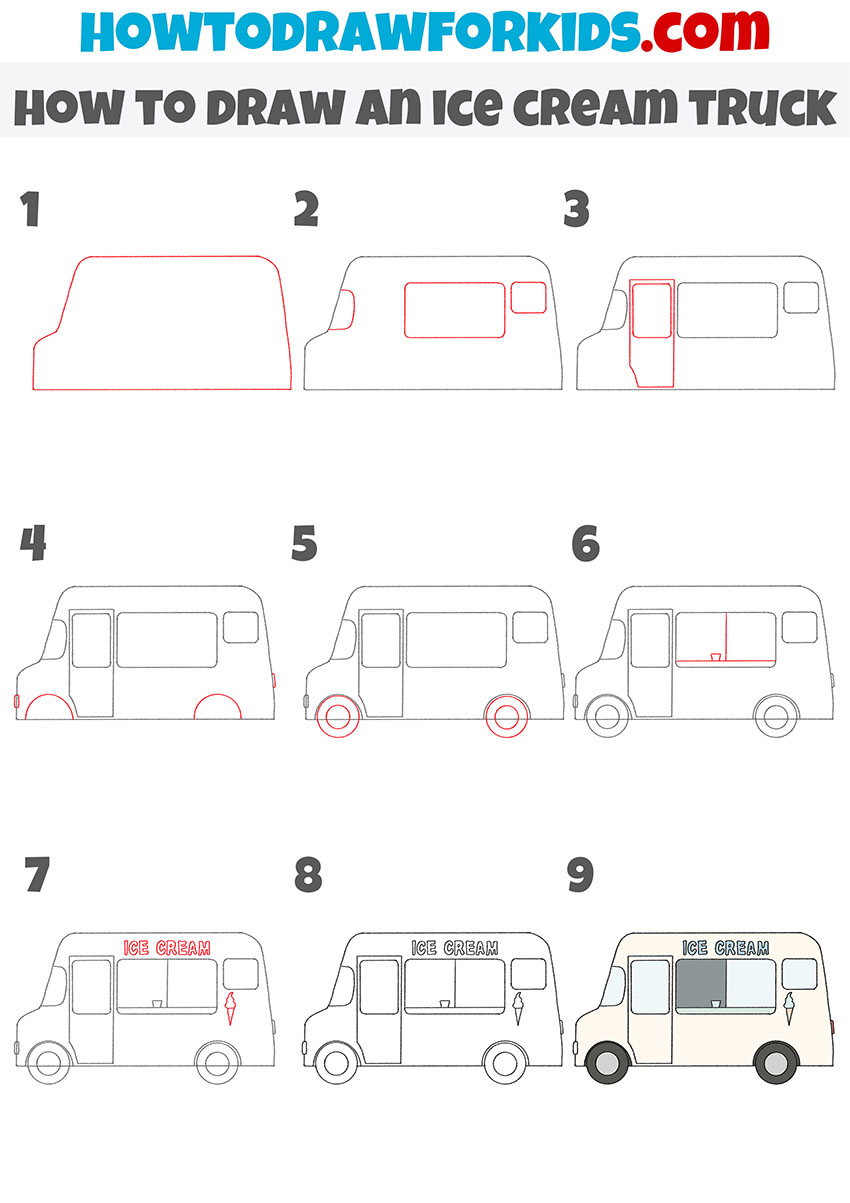 So, before you is a clear and accessible guide, which shows how to draw an ice cream truck step by step. An ice cream truck is a specialized vehicle with an integrated refrigerated truck, meaning it is a vehicle that serves as a mobile ice cream retail outlet.
In the picture you can see that the truck has a driver's cab, a trade compartment and a compartment where refrigeration equipment is located. Such a car can be located in parks, near cultural and historical attractions and other places for recreation and entertainment.
You can use the acquired skills in the future when you want to draw any other transport. Be careful and memorize all the drawing steps so that you can repeat the lesson if necessary. If you have all the art supplies at the ready, then you can start the lesson.
Materials
Pencil
Paper
Eraser
Coloring supplies
Time needed: 30 minutes
How to Draw an Ice Cream Truck
Draw the main body.

Using straight and curved lines, depict a figure of the same shape as shown in the example.

Depict the windows.

Draw the small window in the driver's cab, and on the side draw two rectangular windows.

Sketch out the door.

Using straight lines, draw the side door and add the rectangular window.

Add the headlights and wheel arches.

Depict rectangular headlights and at the bottom draw the wheel arches using semicircular lines.

Draw the wheels.

Depict circles of different diameters to represent the front and rear wheels.

Detail the side window.

Draw one horizontal line and one vertical line, draw the small glass.

Add the image on the body of the truck.

Draw large letters on the top of the truck and draw the cone-shaped ice cream on the side.

Correct inaccuracies.

Using the eraser, carefully remove all extra lines.

Color the drawing.

For coloring, you will need beige, blue, and gray.
So, another fascinating lesson came to an end, in which you learned how to draw an ice cream truck. I would be interested to know your opinion about this tutorial, so I will ask you to leave a little feedback in the comments. Write whether you managed to draw everything the first time or if there were difficulties during the work. By tradition, at the end of the lesson, I prepared a PDF file for you, which contains a brief instruction and additional training materials. Save this file for yourself so that you can always return to the lesson and repeat it if necessary.