This is another lesson on drawing food and in it I'll tell you how to draw an ice cream in just nine easy steps.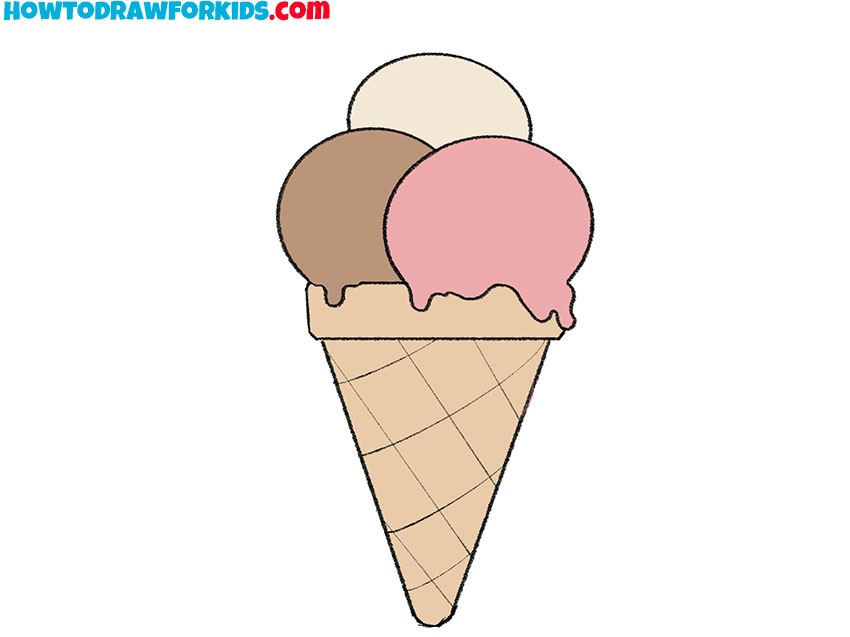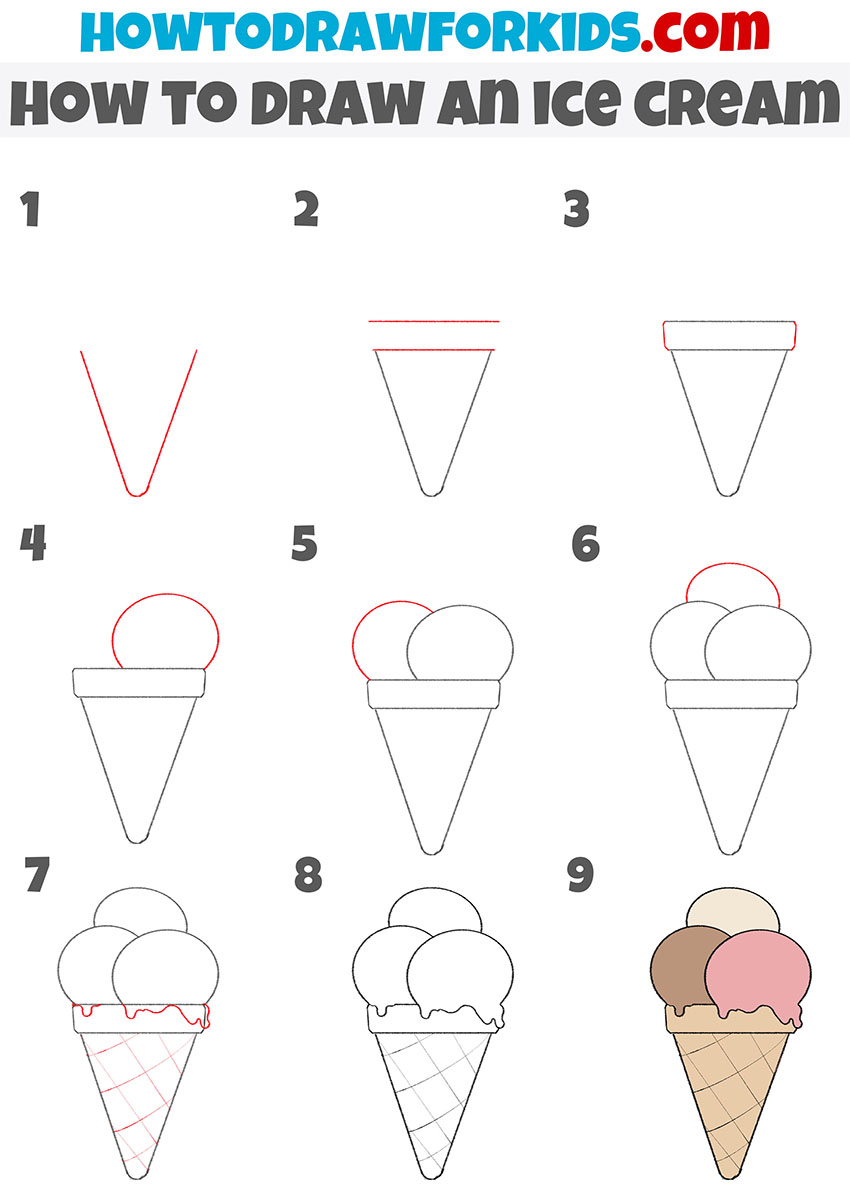 If you like to draw delicious desserts, then you will definitely enjoy this step-by-step drawing lesson on how to draw ice cream. By following my instructions, you can depict a very beautiful and appetizing ice cream quite quickly and easily, even if you have very little experience in drawing.
We often associate ice cream with various pleasant events or holidays. Ice cream is a sweetened frozen food typically eaten as a snack or dessert. It may be made from milk or cream and is flavored with a sweetener, either sugar or an alternative, and spice, such as cocoa or vanilla, or with fruit such as strawberries or peaches. Ice cream may be served in dishes, for eating with a spoon or licked from edible wafer cones.
In this drawing lesson, you will first draw a wafer cone of ice cream and then draw its creamy filling. After following these steps, you will know how to color the ice cream. Prepare the materials that you need to draw and then start drawing the ice cream.
Materials
Pencil
Paper
Eraser
Coloring supplies
Time needed: 20 minutes.
How to Draw an Ice Cream
Start drawing the wafer cone.

To do this step, draw two straight oblique lines connected by a curved line from the bottom.

Add the outline of the wafer cone top edge.

Above the previously drawn element depict two same horizontal lines parallel to each other.

Draw the sides of the top of the wafer cone.

Connect the two straight lines with straight vertical lines slightly rounded at the edges.

Depict one ice cream ball.

Above the previously drawn wafer cone depict one incomplete circle.

Add one more ice cream ball.

Draw another incomplete circle on the background of the previously drawn ball of ice cream.

Picture the third ice cream ball.

On top of the two previously drawn ice cream balls, draw a semicircle.

Add the decorative elements.

At the top of the wafer cone, add curved wavy lines and draw thin lines at its bottom.

Erase unnecessary lines.

Use an eraser to remove auxiliary lines that appeared during the drawing process.

Color the drawing.

To color the ice cream you drew, use pink, light gray, and shades of brown.
So, I think you have drawn a very yummy ice cream! If you liked this lesson you can share it with your friends. Traditionally, I have prepared for you a PDF file with a short version of this drawing lesson. Download this file to return to this lesson whenever it is convenient for you.