I am pleased to offer you a new very interesting lesson on how to draw a ladybug. This fascinating lesson consists of just nine simple steps.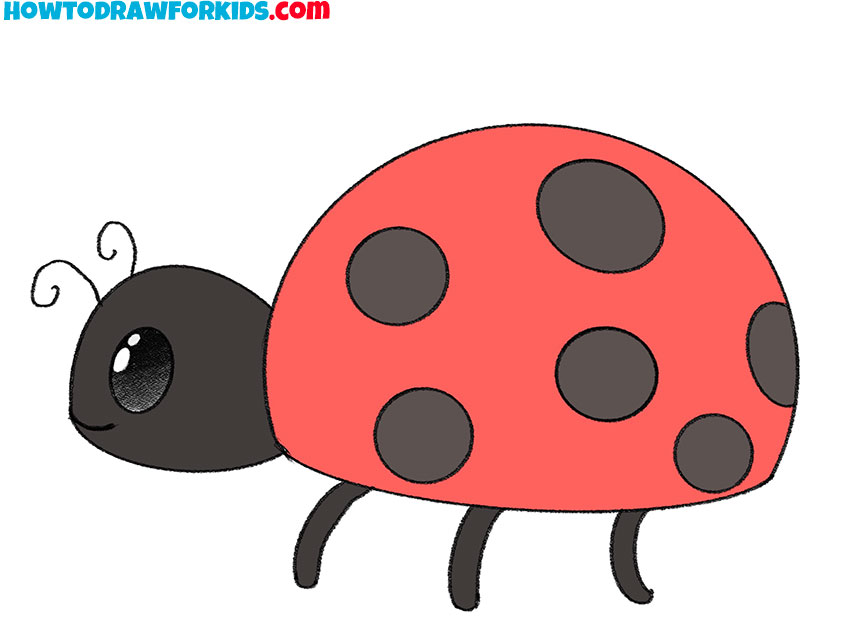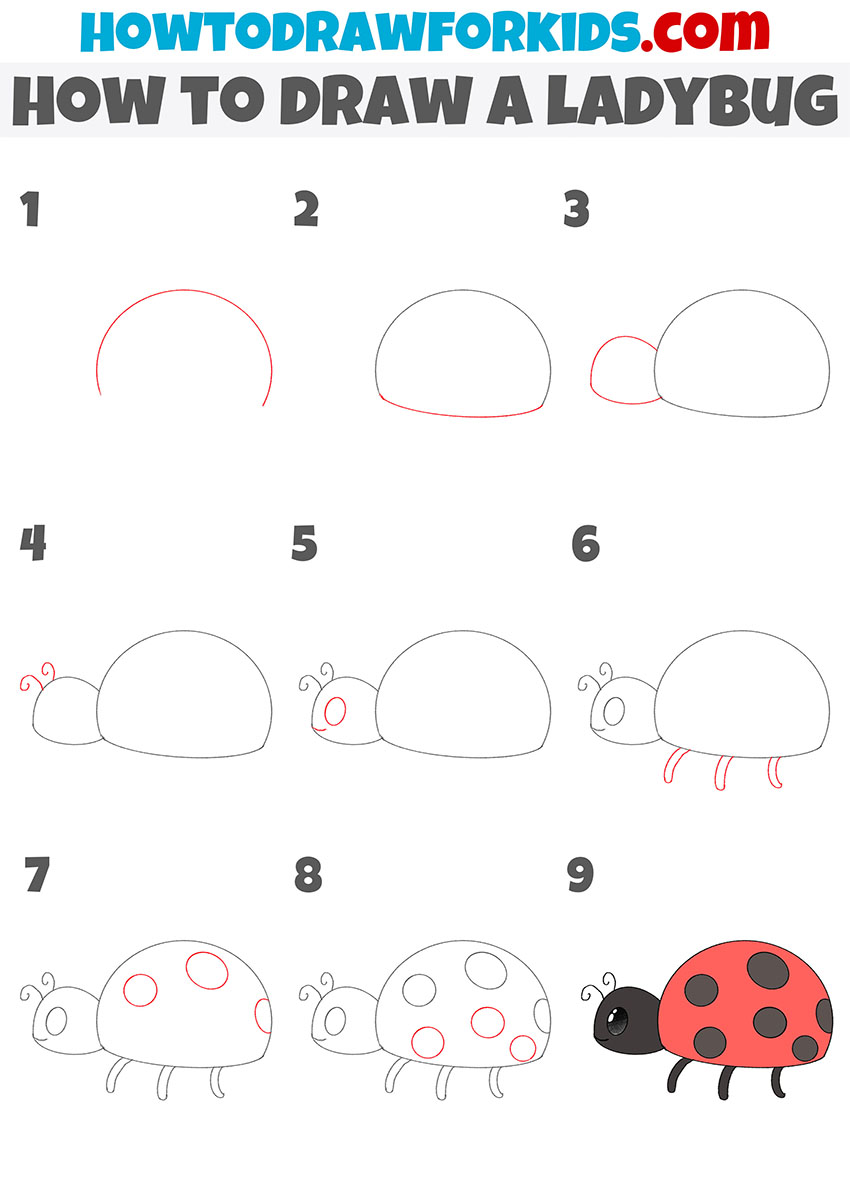 So, now I will tell you how to draw a ladybug. Ladybugs are some of the most well-known insects. Although ladybugs are most often red or yellow with black dots, nearly every color of the rainbow is found in some species of ladybugs. The most common are red and black or yellow and black, but some are plain as black and white, others as exotic as dark blue and orange.
Almost all ladybugs feed on soft-bodied insects and serve as beneficial predators of plant pests. Gardeners are very fond of ladybugs, knowing that they will munch on the most prolific plant pests.
You can start drawing a ladybug right now to depict this fine colorful and beautiful insect. I wish you enjoy the drawing!
Materials
Pencil
Paper
Eraser
Coloring supplies
Time needed: 20 minutes
How to Draw a Ladybug
Draw the upper part of the ladybug's torso.

To complete this simple step you need to draw one incomplete circle.

Add the lower part of the ladybug's torso.

Connect the ends of the previously drawn incomplete circle with a curved line.

Draw the outline of the ladybug's head.

To do this you need to add a curved line on the left side of the previously drawn torso outline.

Add the elements to the ladybug's head.

At the top of the ladybug's head add two curved lines in the form of swirls.

Draw the ladybug's eye and mouth.

Image ladybug's eye in the form of a big oval and also draw its mouth with a short curved line.

Picture the ladybug's legs.

Below the ladybug's torso draw three legs using curved lines.

Add the decorative elements.

To draw the pattern on the body of the ladybug depict two circles and one incomplete oval.

Picture the rest of the decorative elements.

Below the previously drawn circles on the body of the ladybug depict three more circles.

Color the drawing.

To color this ladybug, use red and black. Don't forget to add highlights on the ladybug's eye.
This was the step-by-step lesson of drawing a ladybug. I would be happy to read your comments with feedback on this lesson. You can ask your questions as well as suggest new ideas for drawing lessons. As usual, I have prepared a short version of this guide in PDF format for you.