I suggest you complete a lesson in which you will learn how to draw a paw. This lesson consists of five steps with a detailed description.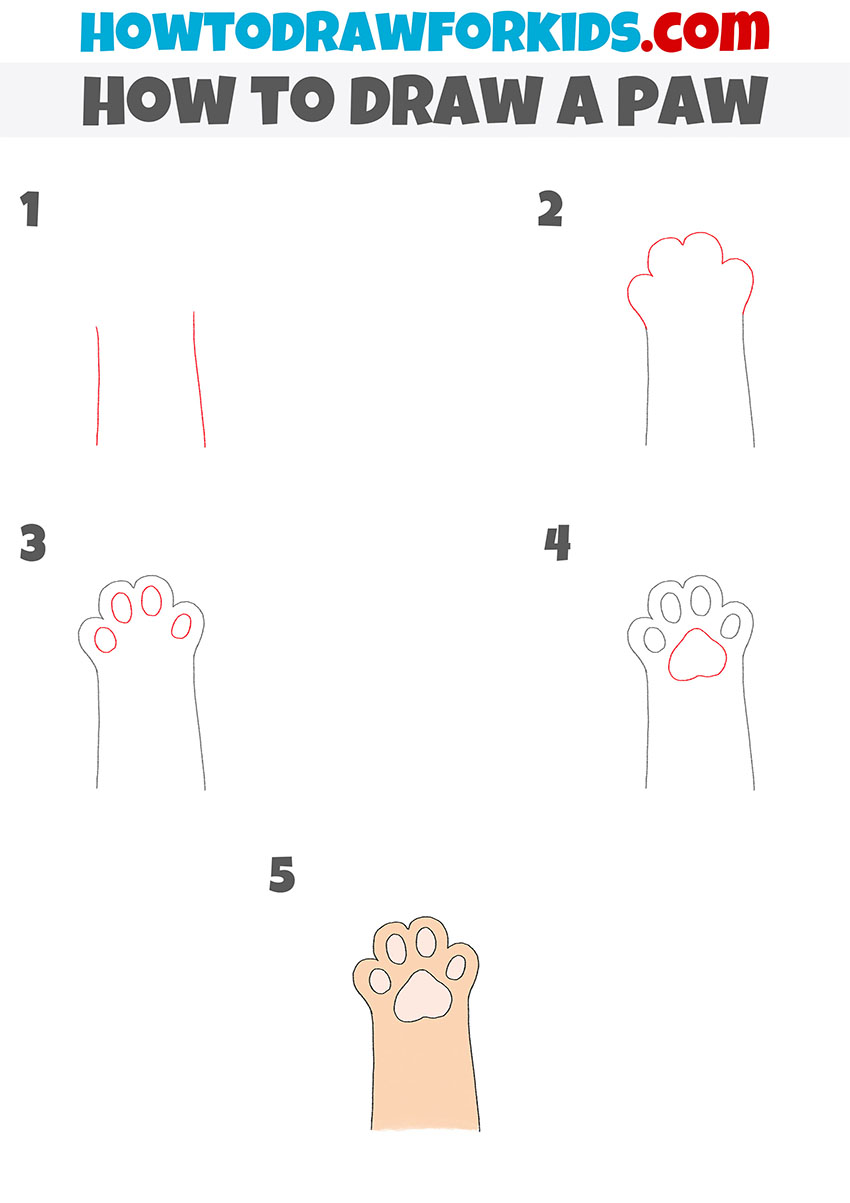 So, I am glad to bring to your attention this very simple and useful drawing lesson, in which I will tell and show you how to draw a paw step by step. This lesson does not contain any complex elements, so any novice artist or child can easily handle it. Carefully follow my instructions, and then you will definitely get a great drawing.
The paw is a foot or an entire limb in some mammals. With this instruction, you will learn how to draw a cat's paw. This drawing looks very cute and funny. Cat's paws are considered the most sensitive part of the cat's body.
There are many nerve receptors in the pads of the cat's paws that provide stable walking, body balance in space, and help cats hunt. The paw pads of cats are black, pink or spotted – it depends on the color of the cat. In this lesson you will learn how to draw a red paw with pink pads.
By learning how to draw a paw with the help of this simple instruction, you will be able to supplement various drawings with this image in the future, as well as draw a cat with a raised paw.
If you are already impatient to start this wonderful drawing lesson, then you can prepare the art supplies that you will need to complete this drawing right now, and then carefully follow my instructions.
Materials
Pencil
Paper
Eraser
Coloring supplies
Time needed: 30 minutes.
How to Draw a Paw
Draw the side contours of the paw.

To complete this simple step, you need to draw two slightly curved lines.

Add the upper outline of the paw.

Now you should connect the top edges of the previously drawn lines by adding rounded lines.

Depict the pads on the toes.

Below the outline of each finger, draw the pads in the form of shapes that look like ovals.

Add another paw pad.

Below the previously drawn fingertips, add one shape as shown.

Color the drawing.

To color the paw, you should use orange and light pink.
Now you can download the PDF file that I have prepared for your convenience. This file contains all the necessary useful materials for this lesson so that you can not lose this lesson in the absence of an Internet connection, and also return to it at any time convenient for you.