Today I will tell you how to draw a truck. This is a pretty simple nine-step tutorial. If you follow this sequence, you will get excellent results.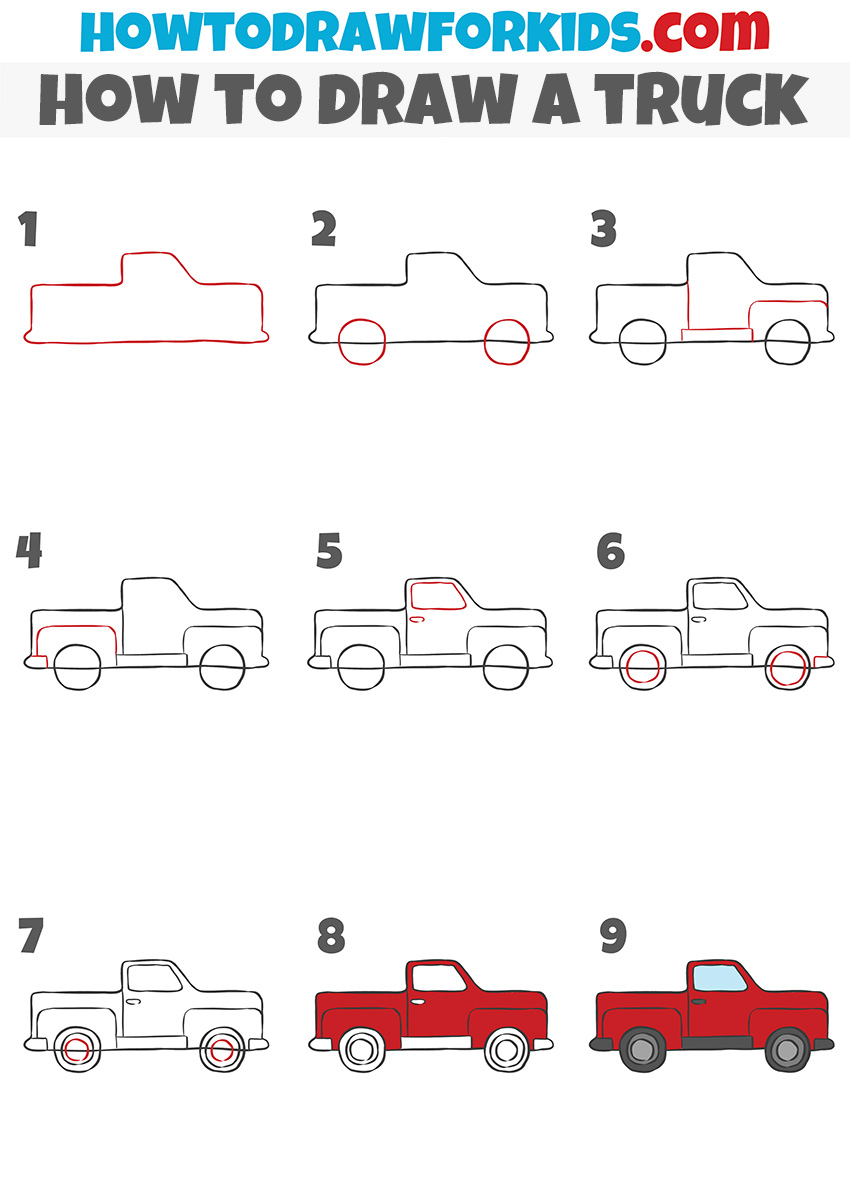 So let's work with this tutorial on how to draw a truck. Many people think that cars and any transport, in general, is one of the most difficult sections in the drawing. This is a pretty specific drawing section indeed.
However, quality training and a step-by-step method almost always guarantee excellent results. I really believe in this and therefore I am waiting for your comments on how well you coped with this task.
So, grab your favorite painting supplies, provide a quality light, and get started with this painting tutorial.
Materials
Pencil
Paper
Eraser
Coloring supplies
Time needed: 25 minutes
How to Draw a Truck
Draw basic outlines.

Depict this contour as one continuous line with smooth corners.

Draw two wheels.

Try to draw it without the help of auxiliary tools. Use the horizontal line as a guide.

Draw the outlines of the hood and door.

A vertical line separates the cab and the body. The horizontal line is located above the front wheel.

Draw a rear fender.

It is a smooth line with several curves that are localized above the rear wheel.

Draw the outlines of the window.

It looks like a pentagon with rounded corners that sit at the top of the cabin.

Add some details.

Draw the rounded outlines of the wheel discs and the front bumper.

Finish drawing the wheels.

Add another small circle to the center of each wheel.

Color the body of the car.

Choose any color you like. You can add highlights if you want to complicate your drawing.

Color the bumper and wheels.

Various shades of gray and black would be great choices for this step.
Don't forget to download this pdf. You will find a short version of this tutorial there, as well as a few more sketches that will help you draw this truck in various ways.