In just nine simple steps you will learn how to draw a car and acquire useful skills. All you need to do is be attentive and careful. This lesson contains a free PDF file.
I tried to make this instruction for drawing a car as simple and understandable as possible, so that you achieve a good result, even if you have little experience in drawing.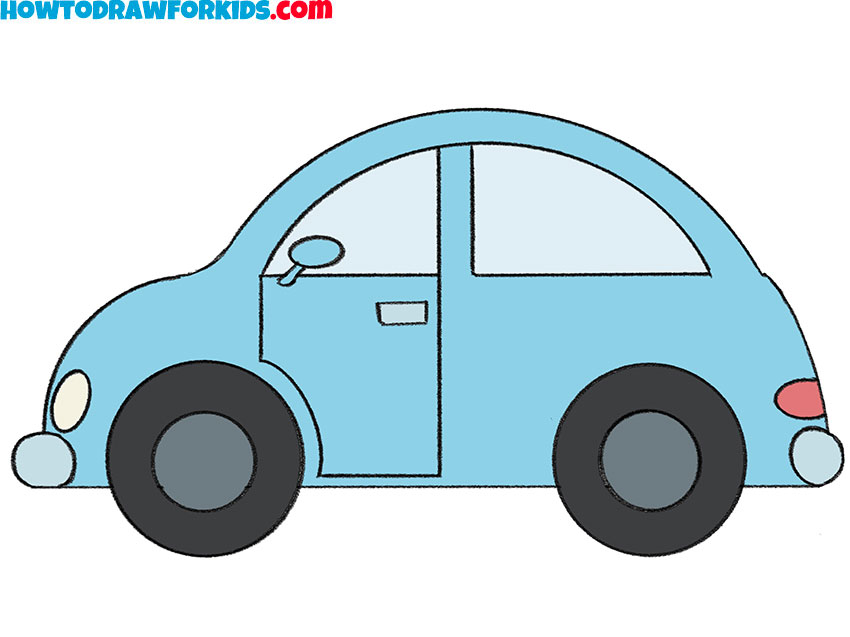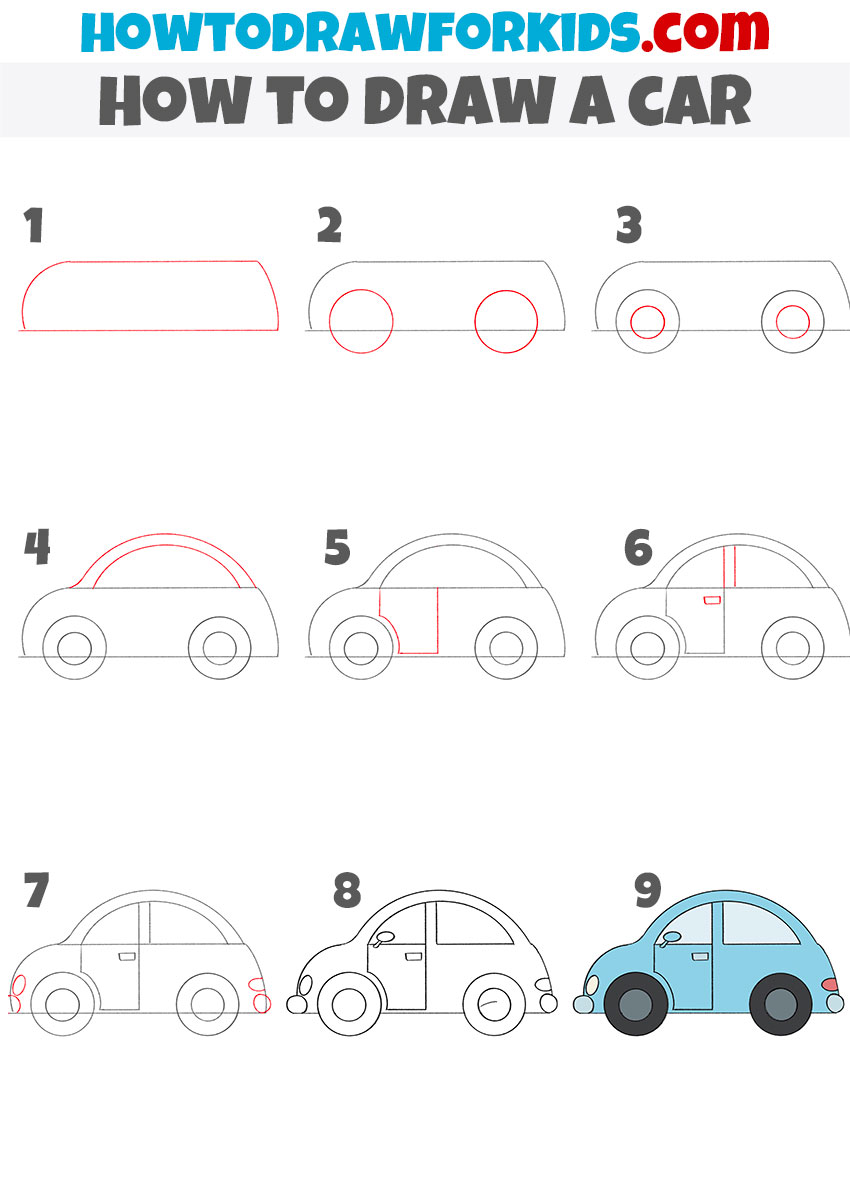 Table of Contents
Basic Information on How to Draw a Car
In this lesson, I will show in detail how to draw a car. This is a great drawing object with which you will practice your ability to draw straight and rounded lines.
Each drawing step involves a simple action that even a beginner can perform. During the lesson, use small hints to correctly depict the next element of the car. The car is presented in a cartoon style and has an unusual shape. This car model was popular many years ago and now such a car is considered a rarity.
A car drawing lesson will be useful for any novice artist. Here is a very simple drawing method, and now you will get the most basic car drawing skills. You can use this knowledge in the future to draw more complex car models.
Materials
Pencil
Paper
Eraser
Coloring supplies
Steps on How to Draw a Car
Time needed: 20 minutes
How to Draw a Car
Draw the main part of the car.

You can draw it with two straight lines and two curved lines.

Add the wheels.

Outline two identical circles at the front and back of the car.

Draw the inside of the wheels.

Add two slightly smaller circles inside the previously drawn circles.

Depict the top of the car.

Use the curved lines to depict the two arches above the main body of the car.

Outline the car door.

This is a quite simple step. Draw this detail with straight and curved lines.

Add a few elements.

On the door, draw the handle as a rectangle and the window frames as straight lines.

Draw the headlights.

Depict these details as ovals and curved lines at the front and back of the car.

Erase the auxiliary lines.

Use an eraser to remove all unnecessary lines from the drawn car.

Color the drawing.

To color the car, you need to use red, black, gray, and shades of blue.
Additional Content
You can always return to the lesson if you save a PDF file with a short version of the lesson to your device. I've prepared quick instructions, a coloring sheet, a tracing worksheet, and a grid drawing worksheet for you ahead of time. All of these materials are free, and you can use them at any time, regardless of whether you have an Internet connection.
Alternative Car Drawing Techniques
There are many car models, so I have prepared for you several methods for drawing cars of varying complexity. You can choose anyone and start training with this method. I suggest taking all the lessons to improve your art skills.
Method 1: Advanced Level
So, now you have to draw a four-door passenger car. This lesson will require your ability to draw simple geometric shapes – rectangle, trapezoid, and circle. First you have to outline the outer contours using thin lines, and then you can add the rest of the car's elements.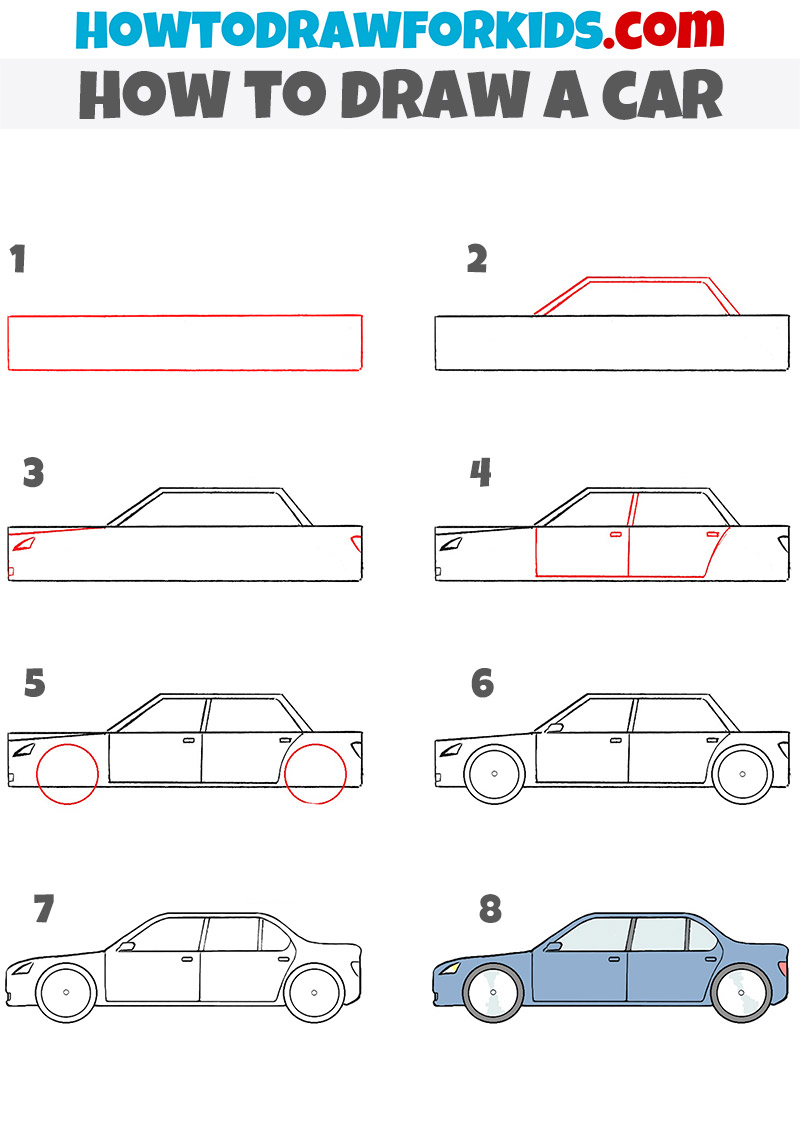 Method 2: Car Drawing Step by Step
This is a large car that was very popular in years past. Now this model is a bit outdated and is considered antiques. The instruction includes nine steps that you can easily repeat. Each step is one simple action.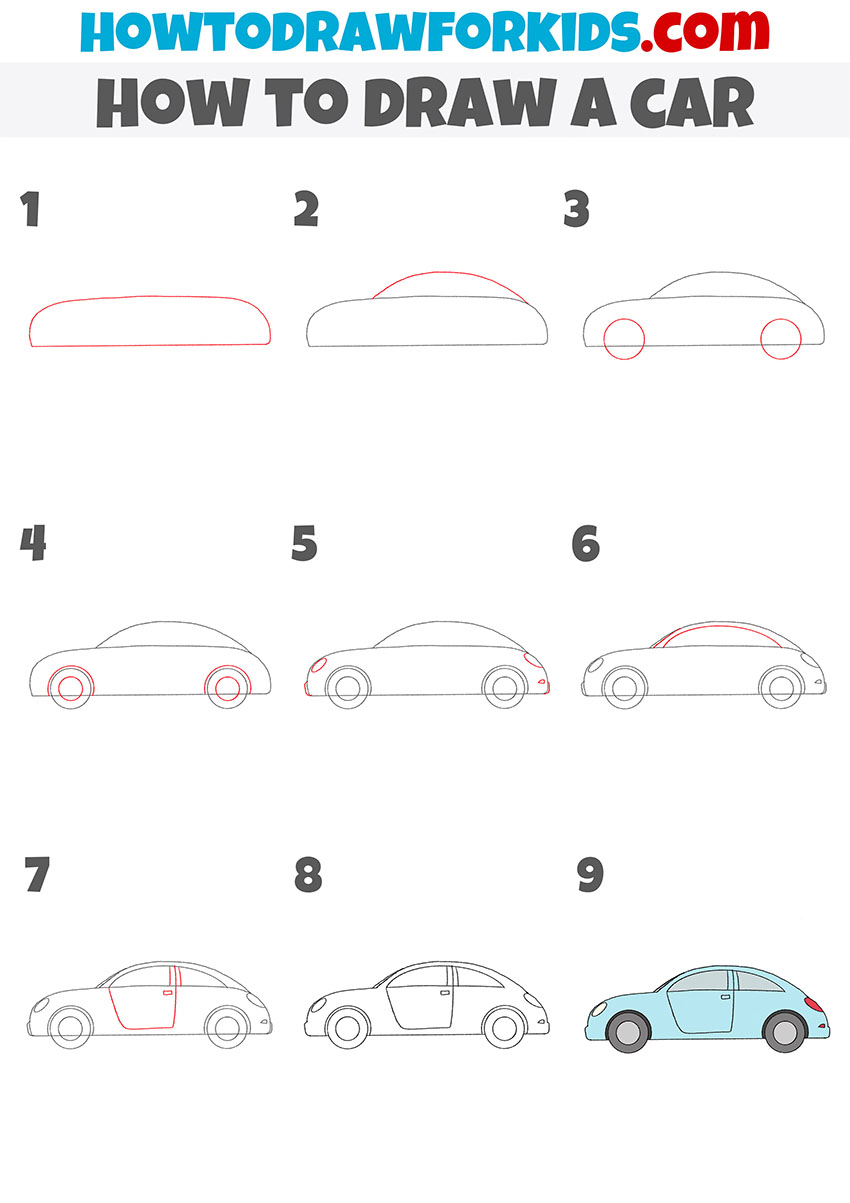 Method 3: How to Draw a Cool Car
The body of the cool car has an elongated, streamlined shape. This car is very similar to a sports car. Your task is to carefully and accurately follow each step of this lesson and remember the sequence of steps.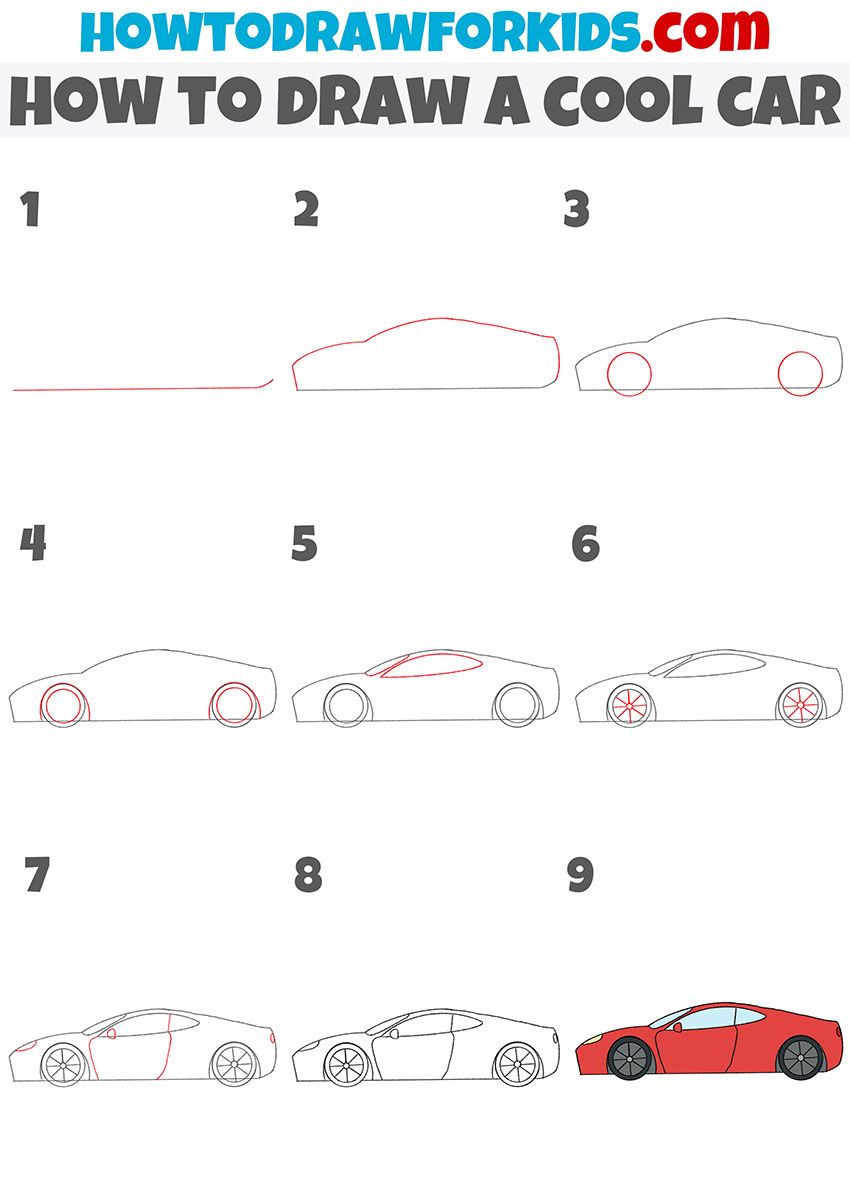 Method 4: How to Draw an Easy Car
Here is an easy model of a car, which belongs to the outdated collectible brands of cars. You can easily draw such a car, even if you have no experience. This tutorial mainly uses simple rounded lines.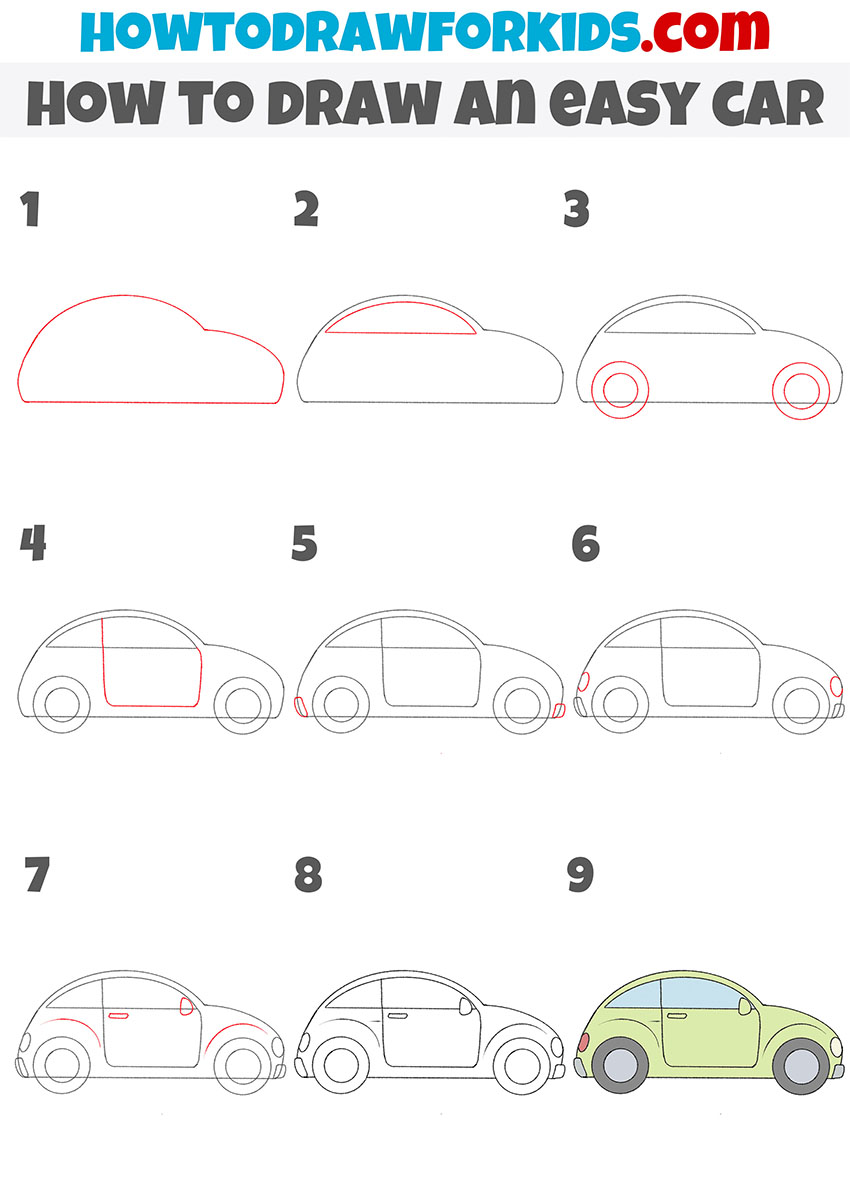 Method 5: Cartoon Style
This tutorial will appeal to those who want to draw a cool two-door red car, but in a simplified style. In this tutorial, the car is in a cartoon style, and you won't have to put in a lot of effort.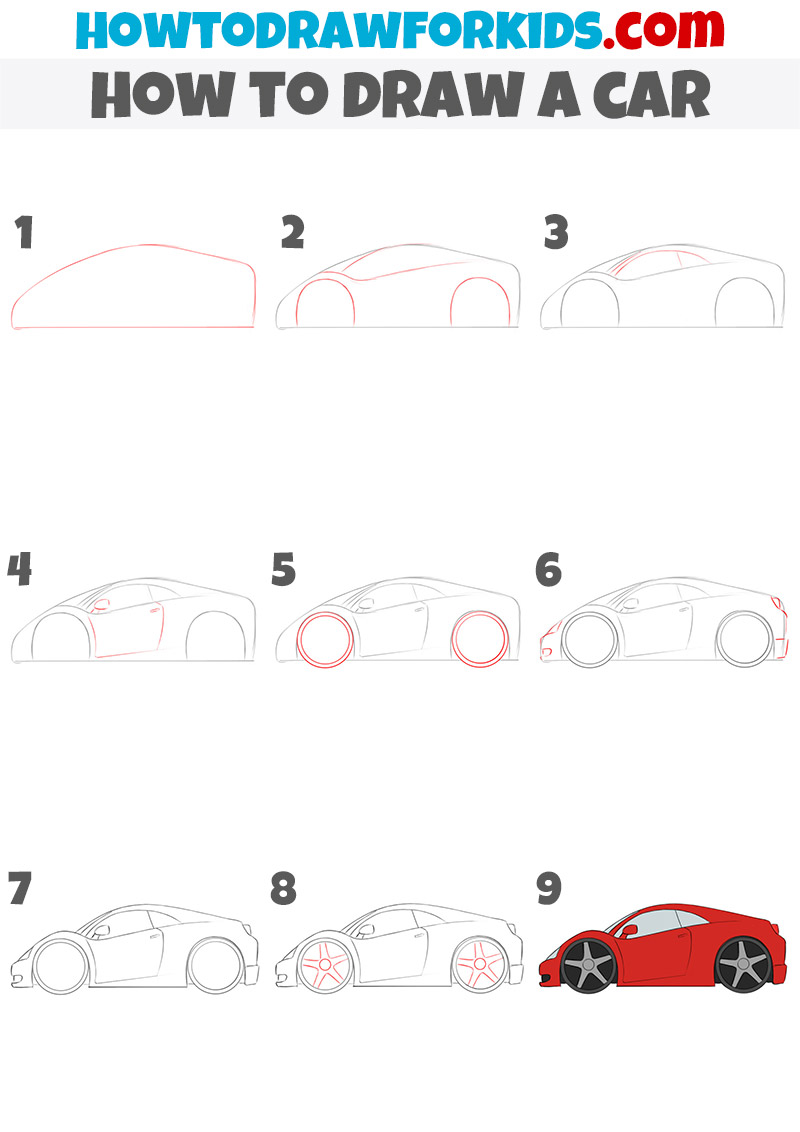 Method 6: Detailed Red Car Drawing
This method of drawing a car is more detailed and thanks to this the result looks more realistic. There are 12 steps in this tutorial, but each step has small details. You need to take your time and carefully follow my steps at each stage.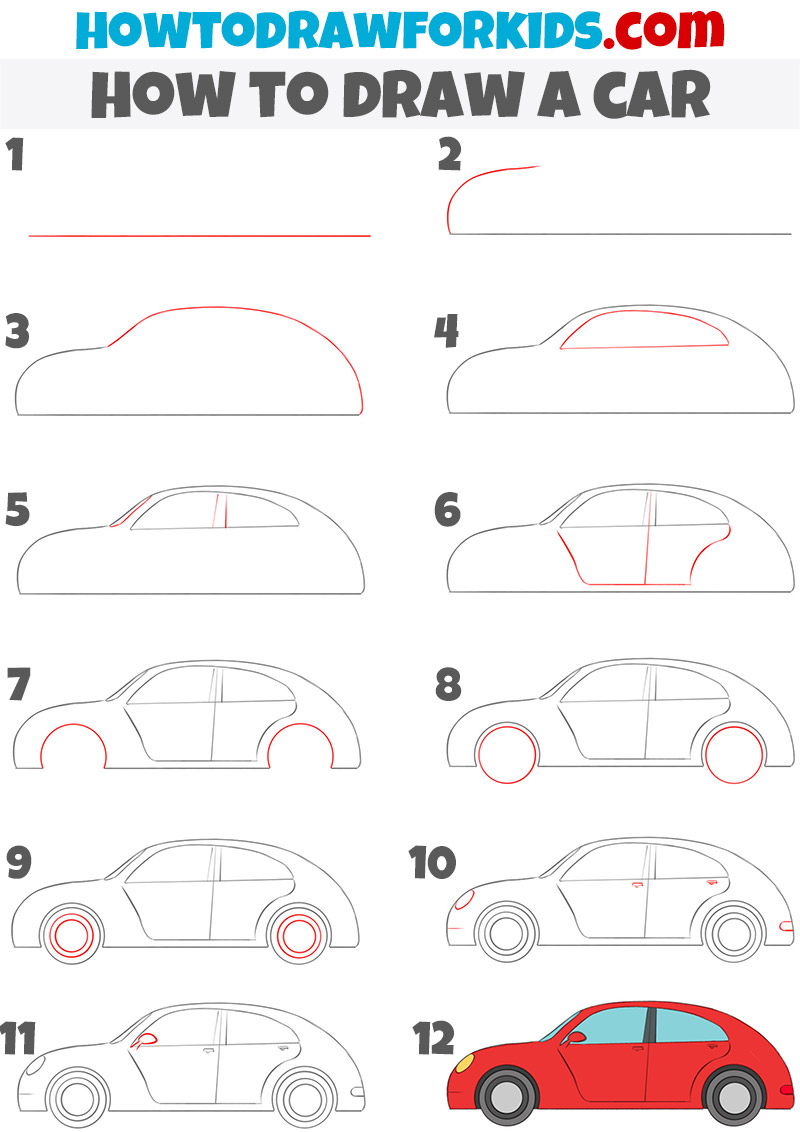 Method 7: How to Draw a Car for Kindergarten
Now I will show you how to draw a car for kindergarten. This is the easiest method! In the drawing you see a convertible. This model looks quite stylish, despite the fact that it is very simple and does not require much effort to draw.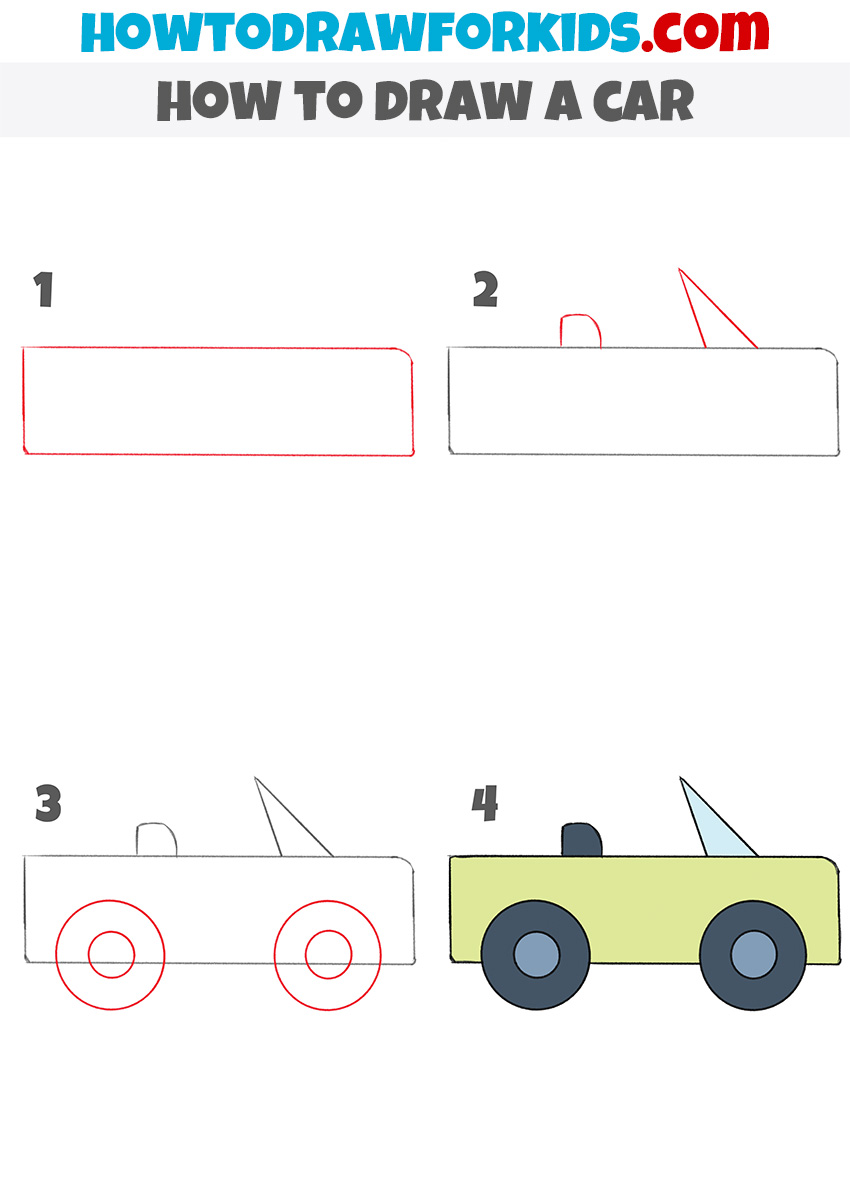 Conclusion
That's all friends! I hope you enjoyed this tutorial! There are many more lessons on drawing different car models on my website. Be sure to check them out too to improve your artistic skills.