In this unusual and fascinating drawing lesson you will learn how to draw a wind turbine. This guide will definitely be very interesting for you!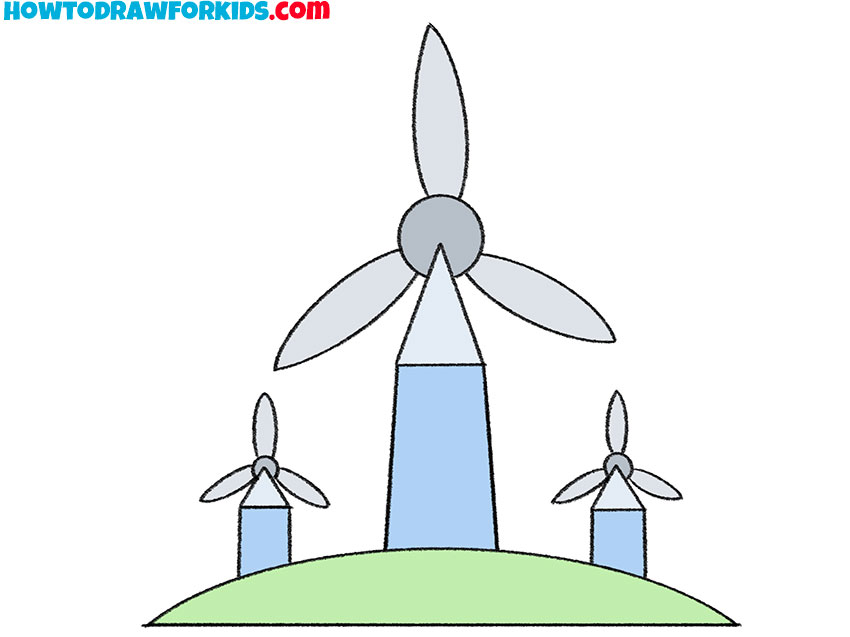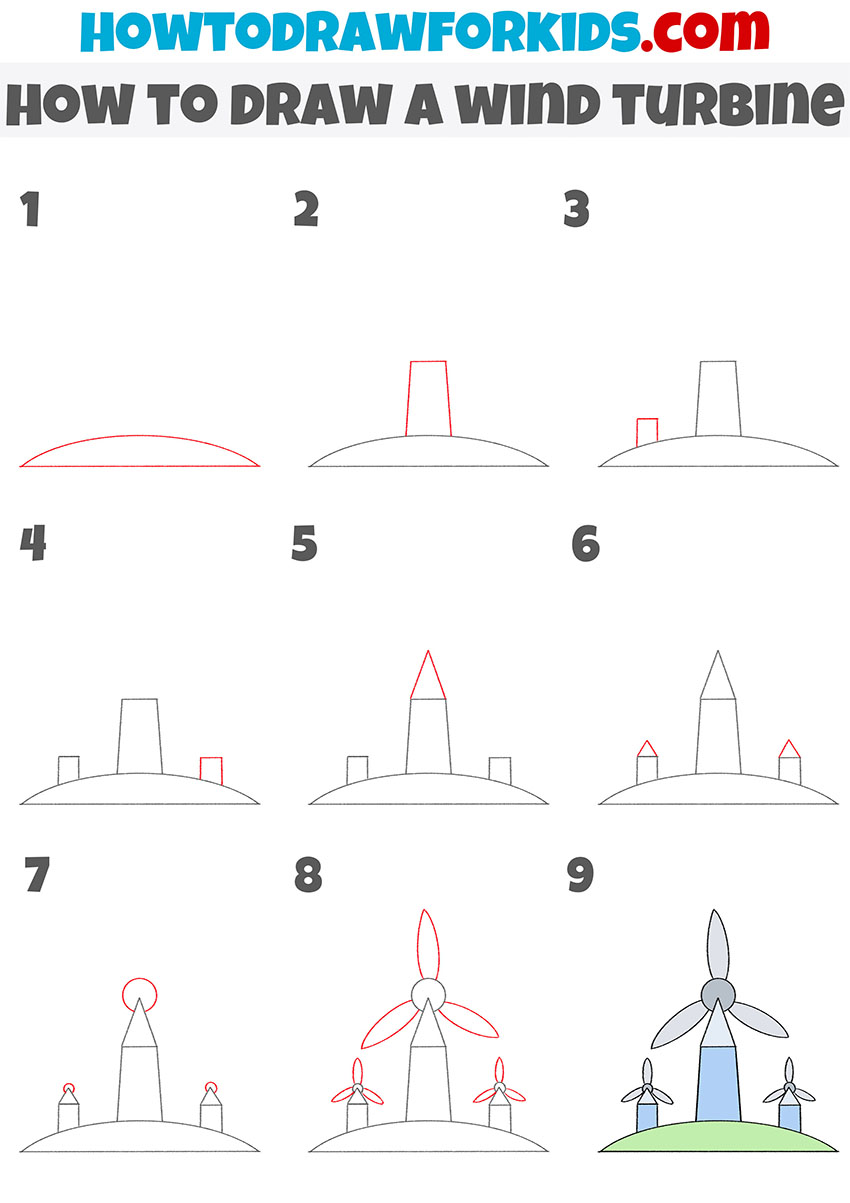 So, a step-by-step drawing tutorial on how to draw a wind turbine is ready. A wind turbine is a device that converts the wind's kinetic energy into electrical energy. Wind turbines are manufactured in a wide range of sizes, with either horizontal or vertical axes. Smaller wind turbines are used for applications such as battery charging for auxiliary power for boats or caravans, and to power traffic warning signs. Larger turbines can contribute to a domestic power supply while selling unused power back to the utility supplier via the electrical grid.
I think you were interested to learn this important information about wind turbines. In this tutorial, you will first draw the ground, and then add three wind turbines to it.
If you already want to start drawing a wind turbine, then prepare your drawing materials and get to work.
Materials
Pencil
Paper
Eraser
Coloring supplies
Time needed: 20 minutes
How to Draw a Wind Turbine
Draw the ground.

First of all, you should draw an arch and connect its ends with a horizontal straight line.

Depict the lower part of the wind turbine.

Above the previously drawn arch, draw a figure similar to a trapezoid without a lower base.

Add the bottom of another wind turbine.

On the left side, draw two vertical straight lines and connect their ends with a horizontal line.

Draw the bottom of the third wind turbine.

To do this step, add the same element on the right as the one drawn in the previous step.

Depict the middle part of the first wind turbine.

On top of the wind turbine placed in the middle, draw a triangle without a lower base.

Add the middle parts of the other wind turbines.

Depict two identical figures on the other two wind turbines using straight lines.

Paint the rotors for the blades on each wind turbine.

Add incomplete circles on each of the wind turbines. One of them is big, the others are smaller.

Picture the blades of wind turbines.

Depict pointed details at the top of wind turbines. Each turbine should have three blades.

Color the drawing.

To color wind turbines, use green, different shades of blue and different shades of gray.
Traditionally, I have prepared a short PDF version of this tutorial for your convenience. Download this file to come back to this lesson when you want to draw again.