This is a fascinating lesson on how to draw Uncle Sam. I am sure that this lesson will be very interesting for you.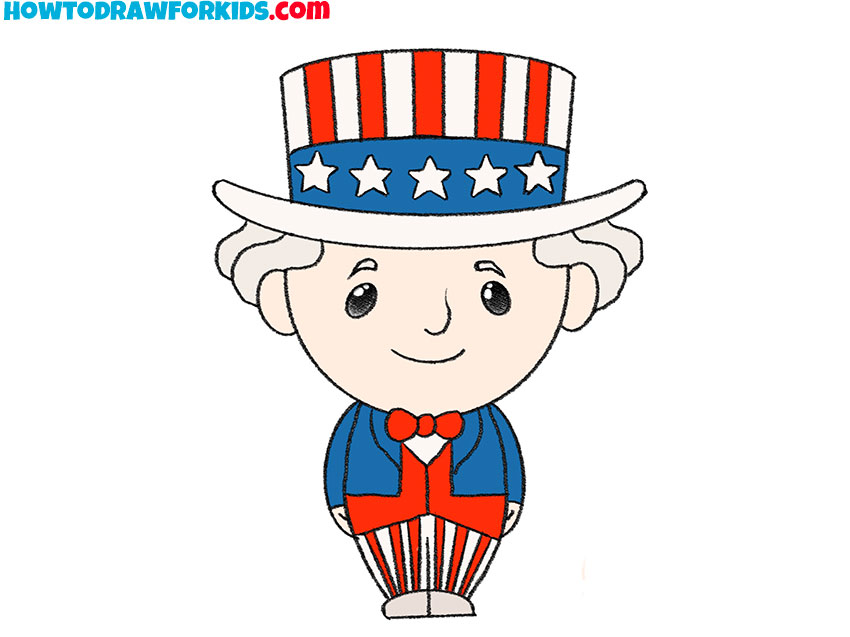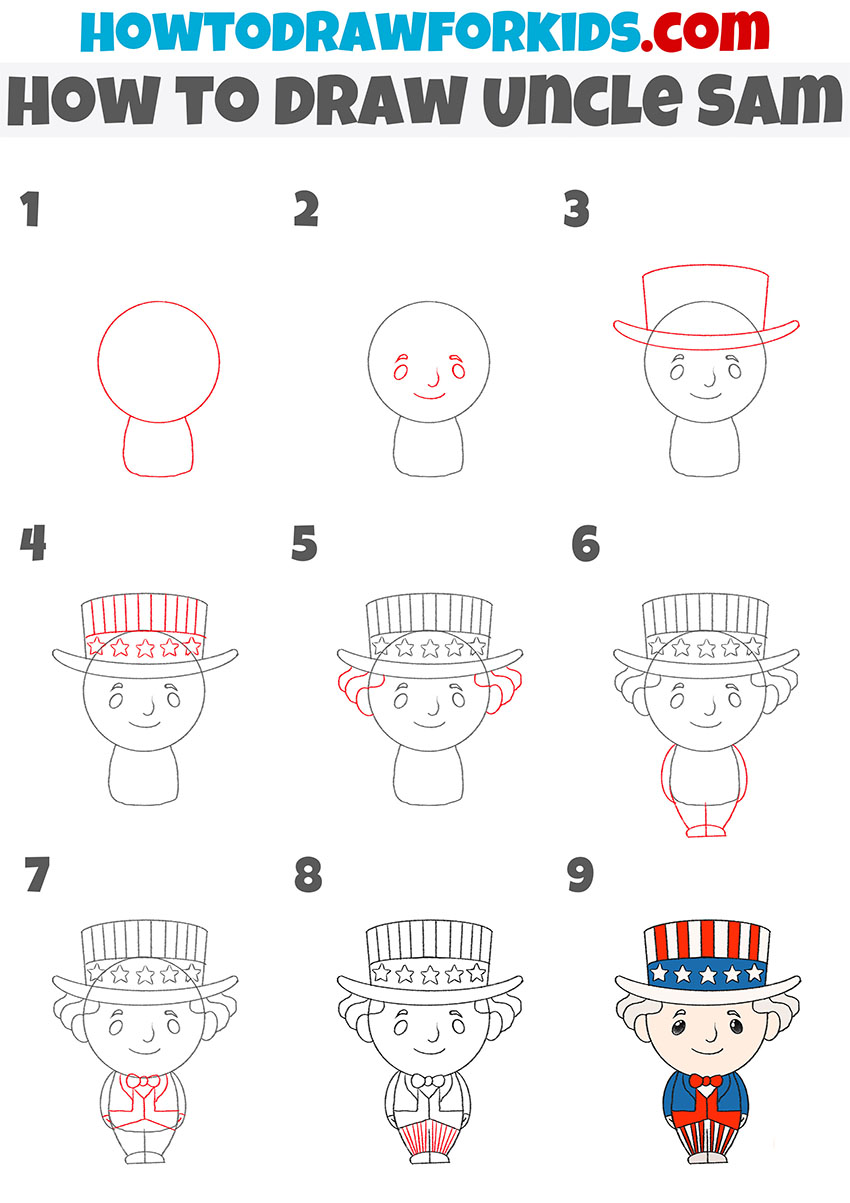 So, in this unique and very fascinating drawing lesson, I would like to tell and show you how to draw Uncle Sam step by step. Uncle Sam is a personified popular symbol of the United States of America. It is considered that the expression Uncle Sam is derived from the initial letters of the words United States. He has come to represent a patriotic ideal in popular culture.
Uncle Sam is typically portrayed as an older man with a long white goatee and a top hat, he's almost always decked out in red, white, and blue attire. In this lesson, you will learn to draw a cartoon version of the image of Uncle Sam.
I created this lesson especially for children and beginner artists, so it will be quite easy to complete it. So you don't have to worry that you won't be able to handle this drawing. Have a great drawing!
Materials
Pencil
Paper
Eraser
Coloring supplies
Time needed: 20 minutes.
How to Draw Uncle Sam
Draw the outline of Uncle Sam's head and torso.

Depict the outline of the head as an oval and also add a torso below the head using curved lines.

Add the facial features.

Image eyes as two identical ovals and add eyebrows, nose, and mouth using curved lines.

Outline Uncle Sam's hat.

Use straight and curved lines of different sizes to draw this element.

Add the decorative elements to the hat.

At the top of the hat, draw ten straight lines, one curved line, and outlines of the five stars.

Draw Uncle Sam's hair.

On the right and left sides of the character's head add symmetrical curved wavy lines.

Add the outlines of the character's arms and legs.

At the top of the torso, draw arcs and add straight and curved lines at the torso bottom.

Picture the elements of the costume.

Draw a bow tie, add a collar, sleeves, and jacket outlines using straight and rounded lines.

Add the decorative elements.

On Uncle Sam's trousers, draw many straight lines.

Color the drawing.

To color this character, you have to use red, blue, gray, and black.
This lesson is finished and now you know how to draw this character. Traditionally I have prepared for you a PDF file in which you can see a short version of this lesson and other additional interesting and useful materials.