Want to learn how to draw a sofa in just nine easy steps? So you will really like this step-by-step guide!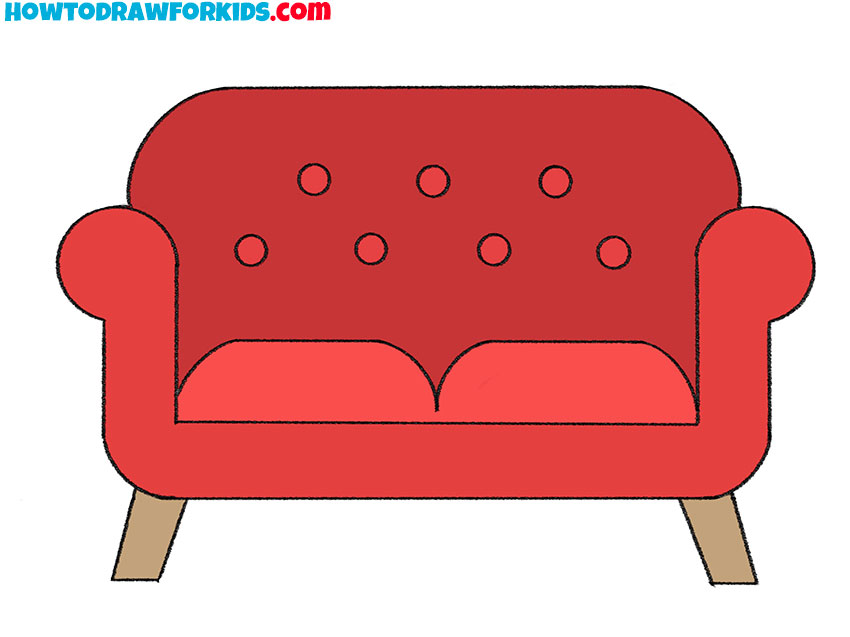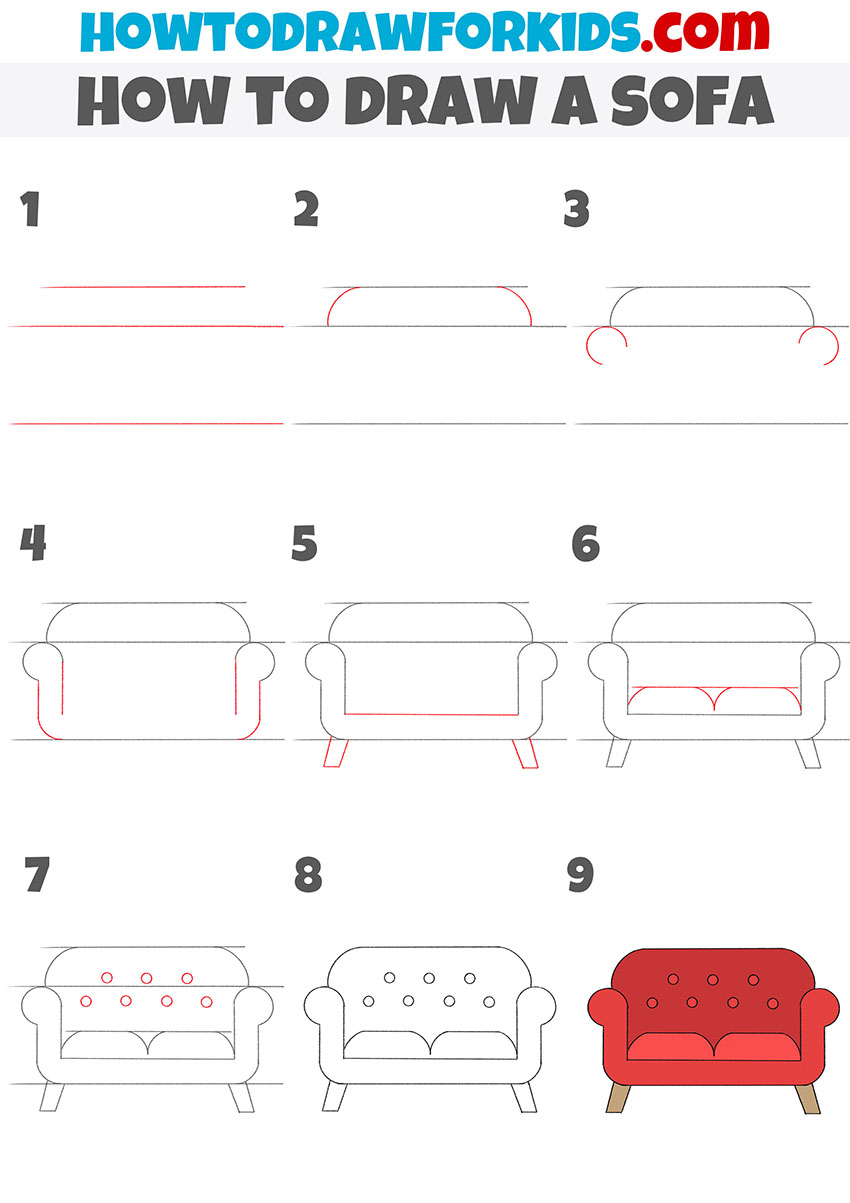 Now I will show you how to draw a sofa. This lesson will be simple and useful, like many other lessons presented on this site.
In this tutorial, you will learn how to draw a sofa step by step. Thanks to a simple step-by-step guide, you will once again train your abilities and you can apply the acquired skills in the future, for example, when you want to draw an interior.
In this picture, you see a small standard sofa. The sofa has a high seat, rounded armrests, and a wide back. This sofa is very comfortable, it does not take up much space, it can be placed in any room of the house or office, for example.
When doing the lesson, make sure that both sides of the sofa are symmetrical. For coloring, you can choose the color that is suggested in the instructions or you can use any other shade of your choice.
Materials
Pencil
Paper
Eraser
Coloring supplies
Time needed: 30 minutes
How to Draw a Sofa
Draw auxiliary lines.

Depict three even horizontal lines in the same way as shown in the example.

Add the side outline of the back of the sofa.

To do this, you need to draw rounded lines around the edges.

Sketch out the armrests.

Use smooth curved lines to depict the armrests on each side.

Depict the sides of the sofa.

From the armrests, draw smooth lines down.

Draw the bottom of the seat and sofa legs.

Depict a horizontal line between the side pieces of the sofa and add legs at the bottom.

Sketch out the seat.

Draw a horizontal guideline and using rounded lines draw two seats on the sofa.

Add decorative elements.

Consistently depict several small circles.

Correct inaccuracies.

Remove all auxiliary lines.

Color the drawing.

Use red for sofa upholstery. Color the legs brown.
Another drawing lesson was completed. I hope that you like the result of the work. Now you know how to draw a sofa quickly and easily. Use the acquired skills in your next drawings. By the same principle, you can draw an armchair or a large sofa. To do this, you need to change the width of the back. Practice and try different options.
I remind you that you can download a short version of the lesson in PDF format for free. Use this file whenever you want to return to the lesson again.