Now I will show you how to draw a snowman step-by-step. This is a simple creative task that you can easily handle.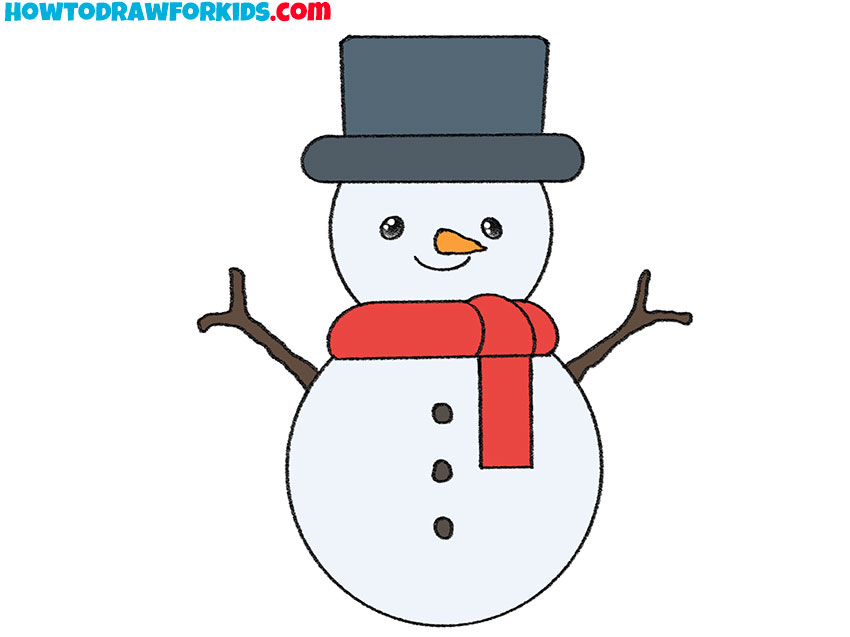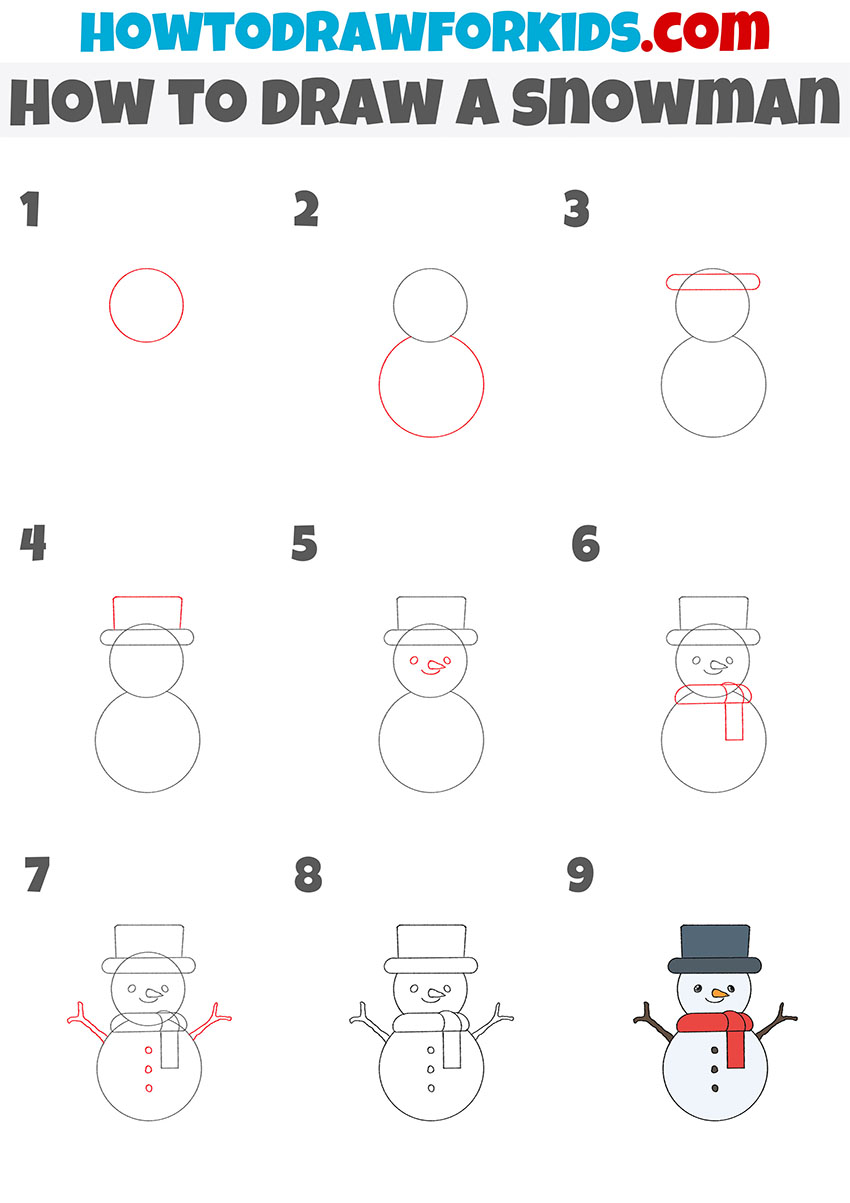 I want to bring to your attention an accessible instruction in which I will show in detail how to draw a snowman. When a lot of snowfalls, children, and adults make a snowman.
First, you need to prepare two large snow globes and then add the rest of the elements. In this drawing, the snowman has a wide hat and a bright red scarf. Tree branches are used as hands. The nose is a carrot.
I hope you enjoy drawing such a funny snowman. Moreover, it is very easy to do so. I think that you will quickly draw a snowman, even if you have not had to draw this object before.
Materials
Pencil
Paper
Eraser
Coloring supplies
Time needed: 30 minutes
How to Draw a Snowman
Draw the head.

Depict a straight circle.

Add the torso.

At the bottom, depict a larger diameter circle.

Depict the brim of the hat.

Use straight and rounded lines to draw the wide brim of the hat.

Add the rest of the hat.

The top of the hat is rectangular.

Draw elements of the face.

Sketch out the eyes, nose, and mouth.

Depict the scarf.

On the neck draw the scarf of the same shape as in the example.

Add the arms and buttons for the torso.

With the help of jagged lines depict two arms and add three small circles on the torso.

Correct inaccuracies.

Carefully remove all extra lines in the drawing.

Color the snowman.

Color the hat dark blue, scarf red, arms gray, nose orange.
The lesson has come to an end and now you can evaluate the result of your work. If you were careful and careful, then you should get a beautiful drawing. Share your impressions in the comments, I would be interested to know your opinion.
Finally, I suggest downloading a short version of the lesson as a PDF file. Save this file so you can return to this lesson at any time.
Making a snowman is a favorite winter pastime. Adults and children are happy to create various figures from the snow. The body of the snowman consists of three parts.
The bottom part is the widest as the wide base provides more stability. The middle part is slightly smaller, and a small head is located at the top. Usually the hands of a snowman are depicted in the form of branches. The cap and a scarf are used as decoration.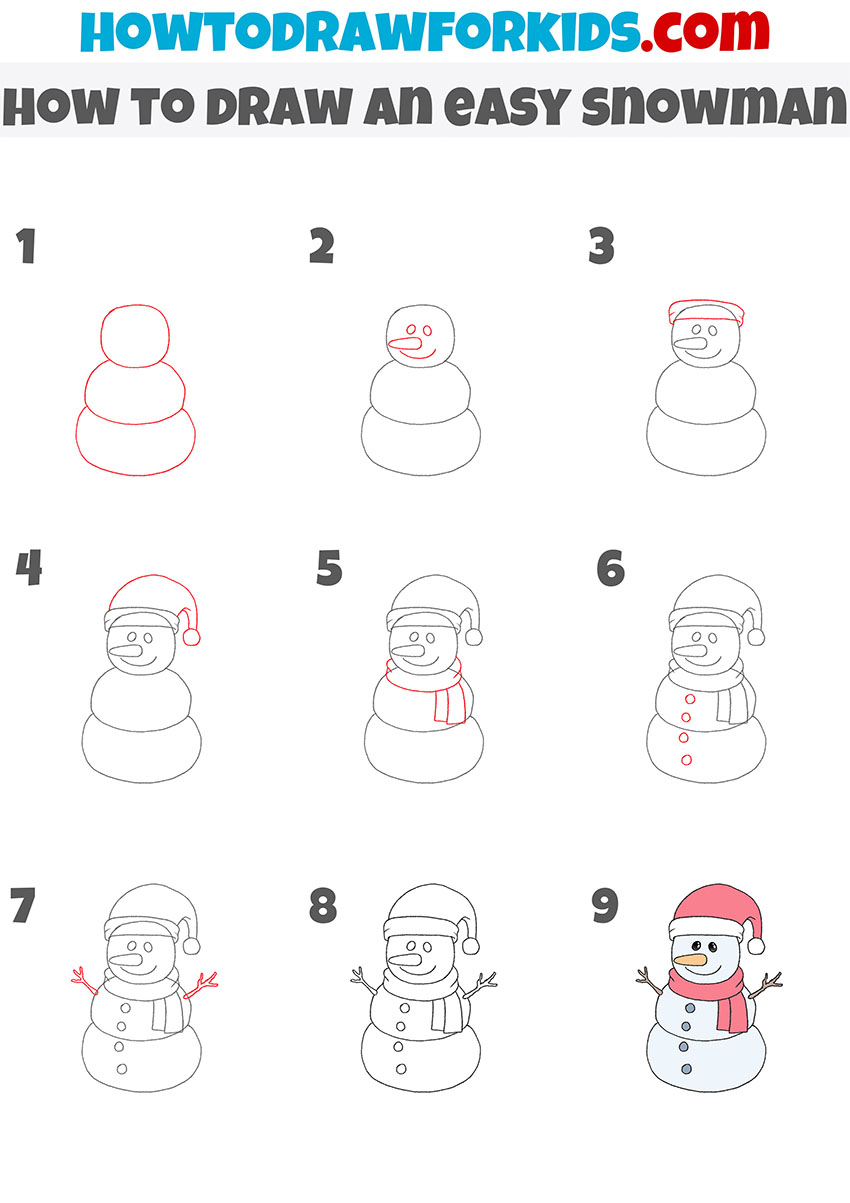 How to Draw a Snowman for Kids
In this drawing lesson we tried to create a more realistic sketch. It also looks a little more vibrant and three-dimensional than the snowmen from previous drawing guides.