How to Draw a Christmas Tree
In this guide, I will tell you how to draw a Christmas tree. Just repeat these simple steps and you will get great results!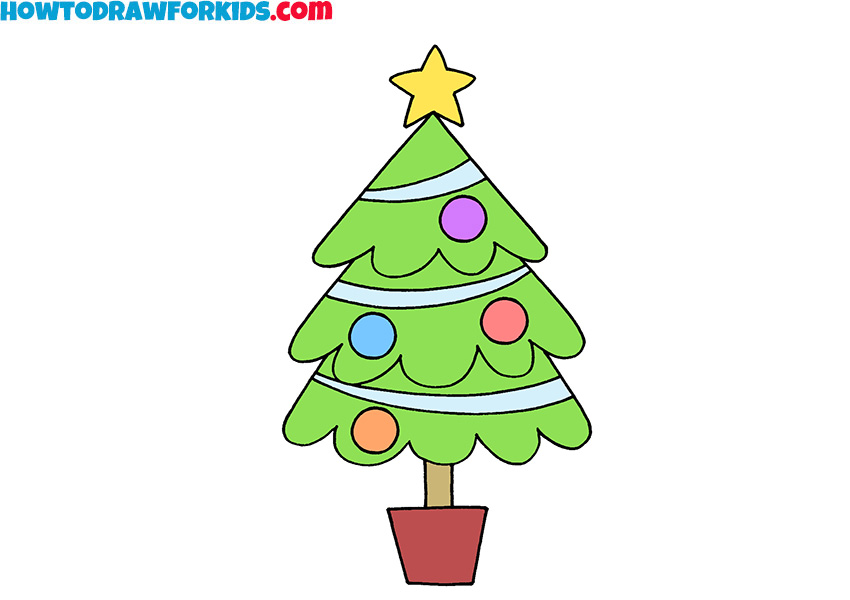 The Christmas tree is a real symbol of the winter holidays. Since childhood, each of us remembers the association between this tree and many pleasant things, such as gifts, delicious food, and beautiful snowy landscapes.
The Christmas tree is quite an ancient attribute of the holiday. We can see the first mention of this in the literature of the late Middle Ages. Despite the fact that this tree was originally associated with Christianity, today the Christmas tree is a symbol of joy and happiness for people of all religions and beliefs.
So grab your favorite painting supplies and put on some nice Christmas music. Hope you draw a great Christmas tree! By the way, do not forget to write in the comments about how well you got the result.
Time needed: 20 minutes
How to Draw a Christmas Tree
Draw a star.

This shape is located at the top of the paper sheet.

Depict the top of the tree.

This is the first and smallest triangle of all the triangles in this tutorial.

Add another piece of the tree.

The top of this triangle is overlapped by the triangle from the previous step.

Draw the last piece of the tree.

This is another triangular shape with a rounded bottom edge.

Depict a bucket.

Choose any shape you like.

Draw the trunk of the tree.

Connect the outlines of the tree and the bucket using two short, straight lines.

Add Christmas garlands.

You can choose the design of the garlands to your liking.

Draw Christmas decorations.

I prefer Christmas tree decorations of the same shape, however, you can draw any shapes.

Color the Christmas tree.

The traditional colors for Christmas trees are green, yellow, and red.
Do not forget to download a pdf file that will help you draw this beautiful tree even without the Internet. Also here you will find some useful bonuses for drawing.