Today I will tell you how to draw a snowflake. Winter is the perfect time to draw everything related to snow. That is why I created this drawing guide, which is adapted for aspiring artists.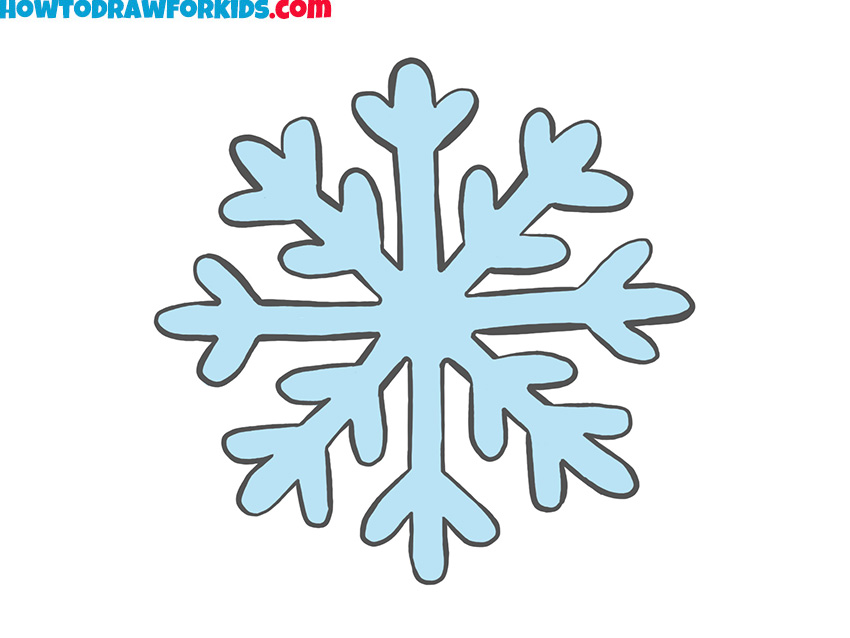 A snowflake is a rather unusual drawing object. Despite the cartoonish and simplistic style, you have to do a little bit of basic geometric shapes.
It will be most useful for your skills to draw these circles and lines without aids. Indeed, without using a ruler it will be a little more difficult and longer, however, after a few such lessons, you will notice the level up of your artistic skills.
Therefore, I suggest that you take your favorite pencils and paper, put on some nice music and try it out.
Time needed: 25 minutes
How to Draw a Snowflake
Draw a circle.

This is what the base of the snowflake looks like.

Add another circle.

Place this shape inside the path from the previous step.

Draw another small circle.

This shape should be located in the very center.

Add the last circle.

It should look like a target.

Draw the elongated parts of the snowflake.

As you can see, these are elongated shapes that go through the center of the picture.

Add patterns in the shape of a corner.

Try to maintain symmetry in every part of the design.

Draw diagonal patterns.

Depict small rounded cylinders like in my reference.

Add the last details.

Draw rounded shapes opposite the cylinders from the previous step.

Color this snowflake.

Light blue is a great choice in our case.
Don't forget to look into this pdf file. Here you will find a short version of the drawing lesson and a few drafts that will make your work more comfortable.