Learn how to draw Tigger with this easy step by step guide. This tutorial is very simple and useful, so you will really like it.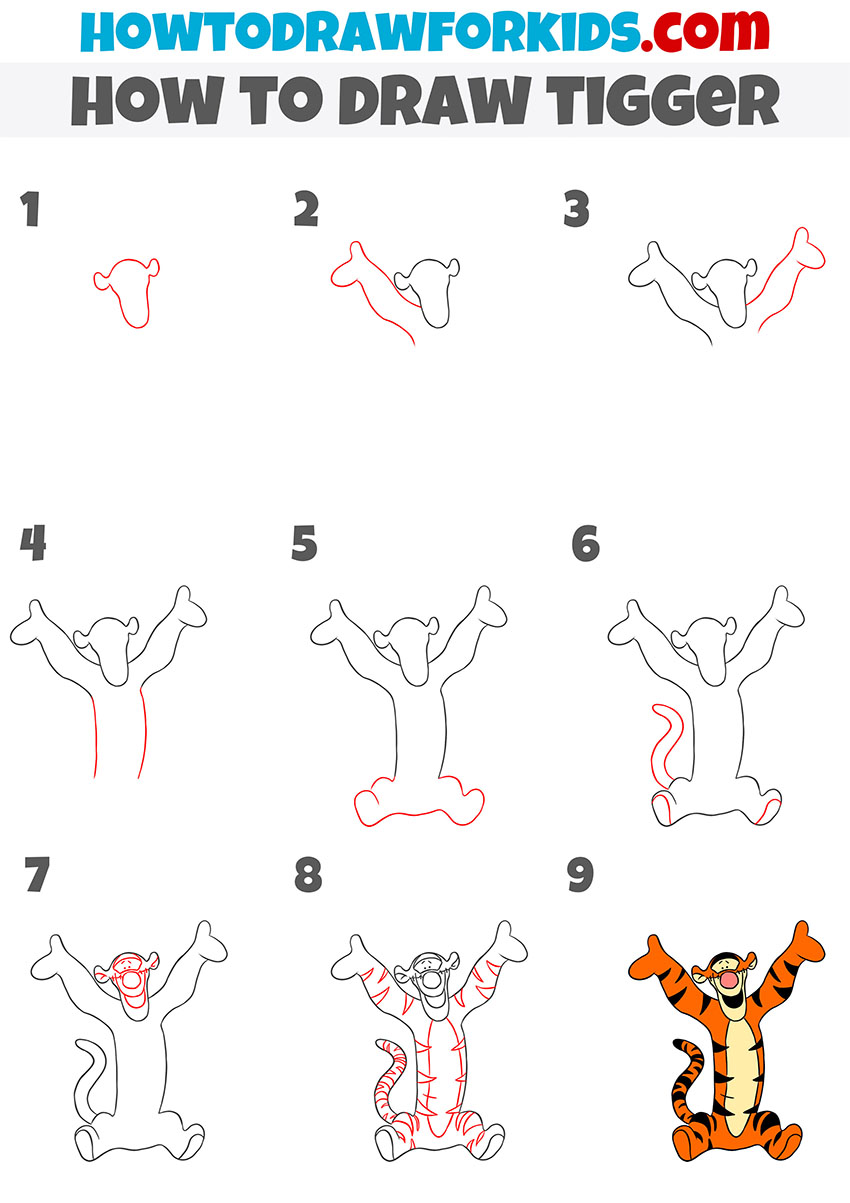 In this lesson, I want to show you how to draw Tigger. This is everyone's favorite character from the cartoon about Winnie the Pooh. The tiger is cheerful, agile, and energetic. This character is constantly on the move and loves to bounce.
The Tigger has many fans. After the release of the cartoon, the image of the Tigger could be seen on various objects, and toys appeared in the image of this character.
In the picture, the Tigger raised its paws up and smiles. This cute character looks very funny. Try to correctly depict the emotions of the Tiger in your drawing. During the lesson, be careful and attentive, use small tips to get a good result.
Materials
Pencil
Paper
Eraser
Coloring supplies
Time needed: 30 minutes
How to Draw Tigger
Draw the head.

The head is pear-shaped, draw small ears on the sides.

Depict one arm.

With the help of smooth lines draw the arm on the right side.

Add the second hand.

Repeat the previous step and on the other side draw the second arm of the same shape.

Sketch out the torso.

From the hands, depict down two smooth rounded lines.

Draw the legs.

With a smooth line depict two legs in a sitting position.

Depict the tail and soles of the feet.

Draw the tail with a curved line. Add a small smooth line on each sole.

Add details.

Draw the eyes, nose, mouth and outline the inner contour of the ear.

Add more details.

On all parts of the body sketch out stripes using short lines.

Color the Tigger.

Choose from beige, orange, black, and pink.
Tigger is ready! I hope you had a good time and gained useful skills. At the end of the lesson, I want to remind you that, by tradition, I have prepared for your convenience a short version of this lesson in the form of a PDF file. Download this file and use it anytime.