How to Draw Winnie the Pooh
Today, with this simple new drawing lesson, you will be able to learn how to draw Winnie the Pooh step by step.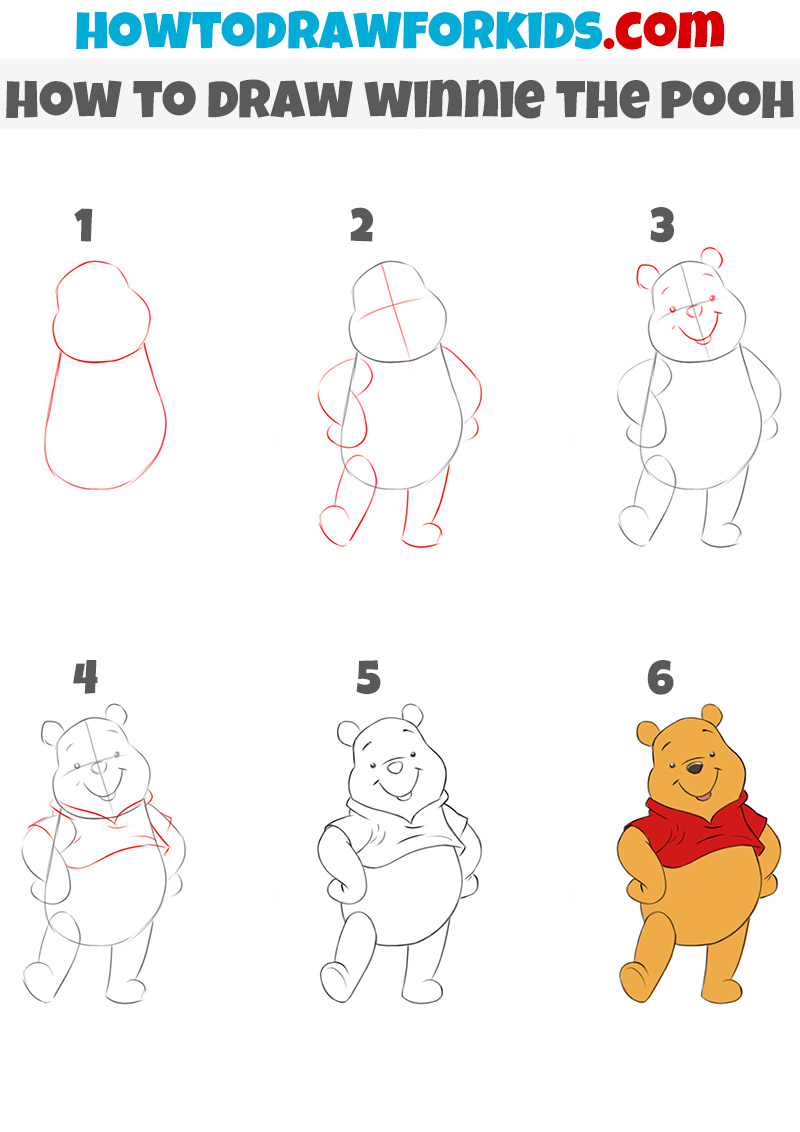 In this super simple six-stage instruction, I'll show you how to draw Winnie the Pooh. Winnie the Pooh is actually a classic teddy bear. This character was created back in 1926 on the pages of stories created by the writer Alan Milne.
Over the years, Winnie the Pooh has repeatedly changed his appearance, appearing on the pages of books, films, games, and other works of culture.
In this instruction, we will show you how to draw Winnie the Pooh in its classic incarnation, drawn by Disney artists.
You are ready? If so, let's get started!
Materials
Pencil
Paper
Eraser
Coloring supplies
Time needed: 1 hour and 20 minutes
How to draw a Winnie the Pooh
Draw the torso and head

First, outline the contours of the head and torso. Use rounded shapes. Note that the head should be slightly tilted. The body should smoothly expand downwards.

Depict the limbs of Winnie the Pooh

In this stage, depict the hands and legs of Winnie the Pooh. Use only smooth and rounded lines. Note that the arms must be brought very tightly to the body.

Add facial features

In this stage, depict the features of our bear cub. Draw the eyes that look like two points. After that, draw a nose and a smiling mouth. Note that the eyes are very far apart.

Draw clothes

Have you ever thought about what kind of clothes Winnie the Pooh prefers? It's a cross between a short tank top and a polo shirt. In this stage, draw the contours of this strange garment.

Remove extra lines

We already have all the necessary elements of the appearance of our character. And so in this stage, erase all the construction and draw the final lines. In this stage, also add some small details, such as the folds of the fabric on the T-shirt and the contours of the feet.
 

Color your sketch

Surely you remember this cozy dark yellow color of Winnie the Pooh. Do not forget to leave white highlights on the eyes and on the nose to make your Winnie the Pooh drawing look complete.
How to Draw Winnie the Pooh Step by Step
Completing this lesson will be very helpful for each of you, as it will give you practice in identifying areas of light and shadow. Thanks to the correct image of the shadow and the use of various shades of colors, you can depict this drawing very beautiful and realistic.