How to Draw a Pickup Truck
In this tutorial I will show you how to draw a pickup truck. With the help of this guide, you will greatly improve your creativity.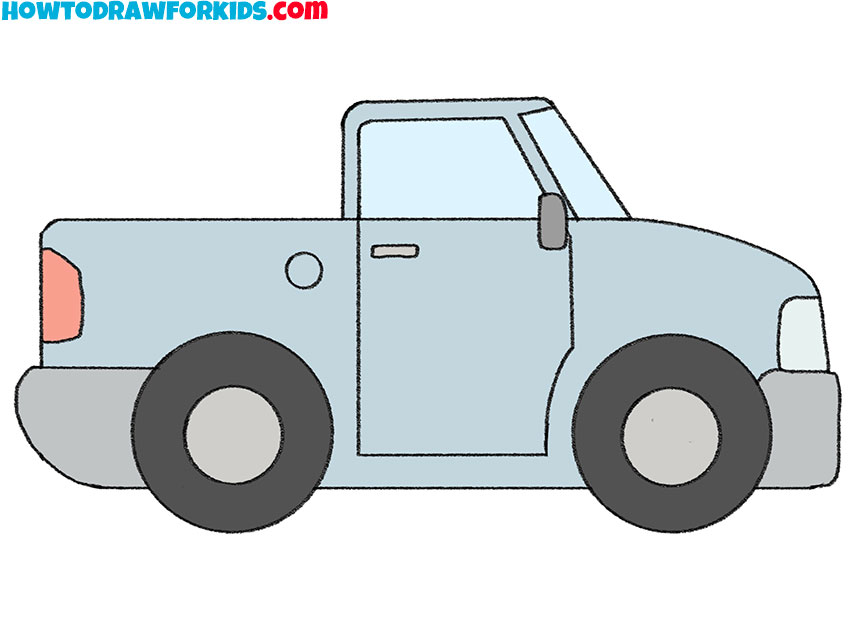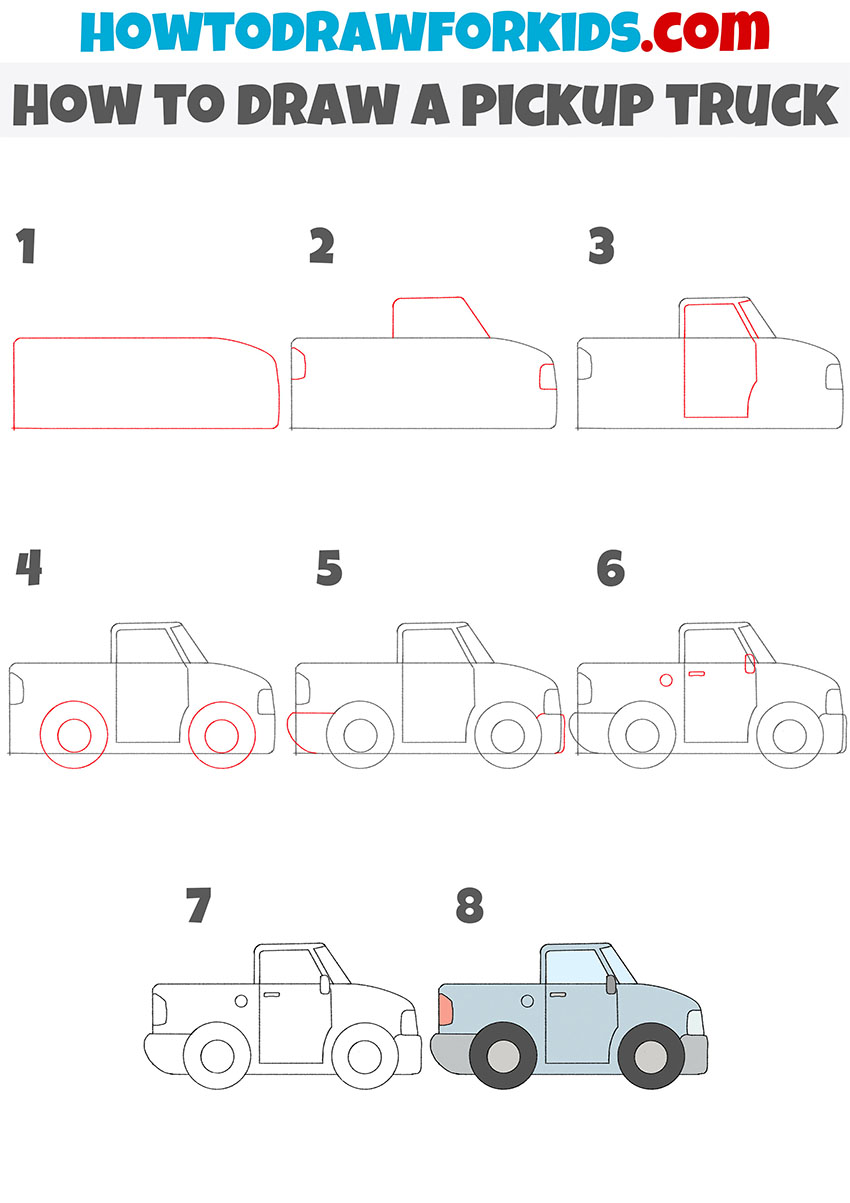 If you are interested in the topic of transport, then you will be happy to complete a new lesson on how to draw a pickup truck. This is a small truck with a closed cabin and an open cargo area. Such a car is an excellent assistant both in the city and in the countryside.
During the lesson, try to observe all proportions and carefully draw the lines marked in red. For coloring, you can choose the same colors that are suggested in the instructions or any other colors of your choice.
If you master this lesson, you will be able to draw more complex models of trucks in the future. Check if you have all the art supplies at the ready and start the lesson.
Materials
Pencil
Paper
Eraser
Coloring supplies
Time needed: 30 minutes
How to Draw a Pickup Truck
Draw the body of the car.

Depict a rectangle with one top corner slightly rounded.

Add the headlights and driver's cab

With the help of straight lines to depict the driver's cab, add the front and rear lights.

Depict the door and the window.

Draw the visible part of the front window and sketch out the door.

Sketch out the wheels.

Draw the front and rear wheels using circles of different diameters.

Draw the bumper.

With the help of several smooth lines depict the front and rear bumper.

Add details.

Draw the side mirror, door handle and gas tank opening.

Correct inaccuracies.

Correct the mistakes if necessary and remove any extra lines in your drawing.

Color the drawing.

You will need different shades of gray, as well as blue, pink, and black.
Now you have completed all the steps in this tutorial, and you know how to draw a pickup truck. Show the drawing to your friends and share the information about this lesson. Now download a PDF file with a short version of this lesson so that the lesson is available to you at any convenient time.
How to Draw a Pickup Truck: More Practice
Now let's try to draw a truck using a slightly different set of steps. In addition, we will try to master drawing a truck in a slightly different artistic style.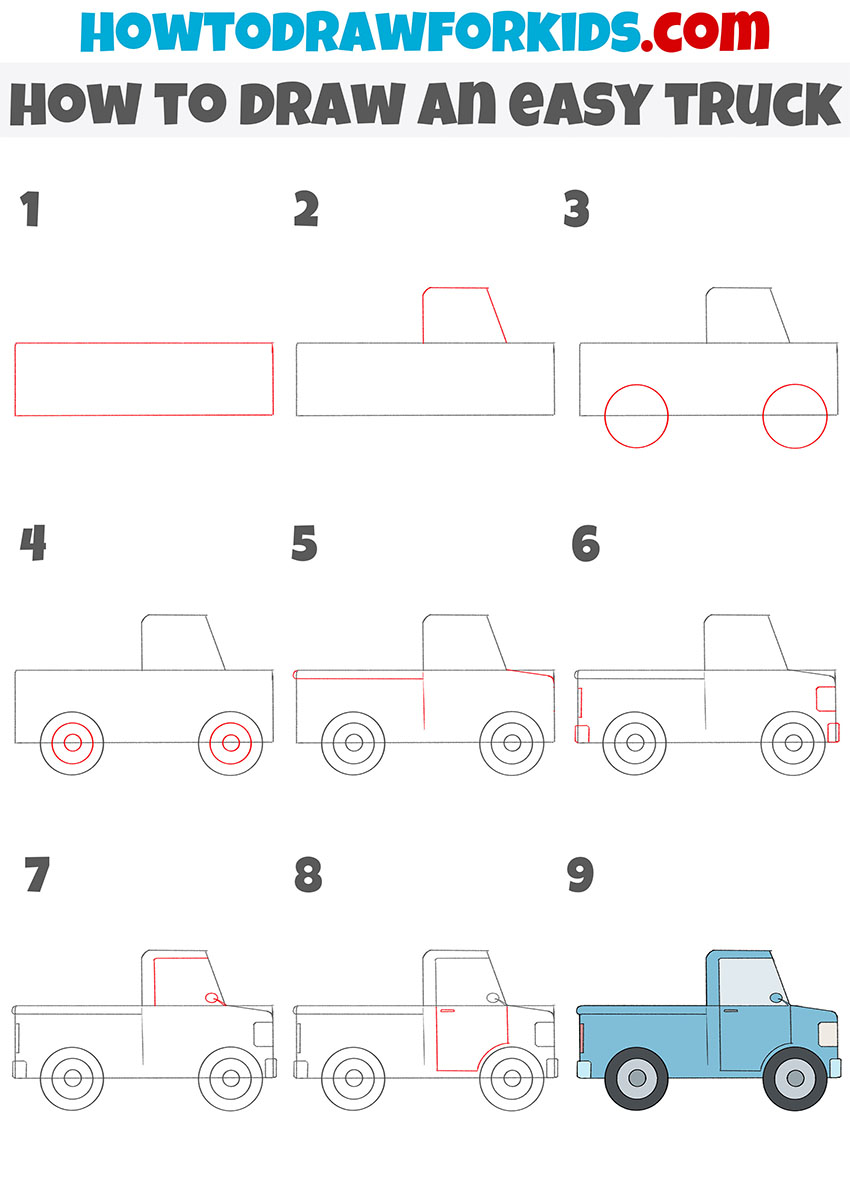 Truck Drawing Tutorial: Alternative Method
The more styles available to you as an artist, the better. Above, we drew two trucks that, although different from each other, were made in a fairly similar style. Now we will try to depict a pickup truck in a completely different style.