In this tutorial, I will show you how to draw a jam. Use this simple guide to improve your creative skills!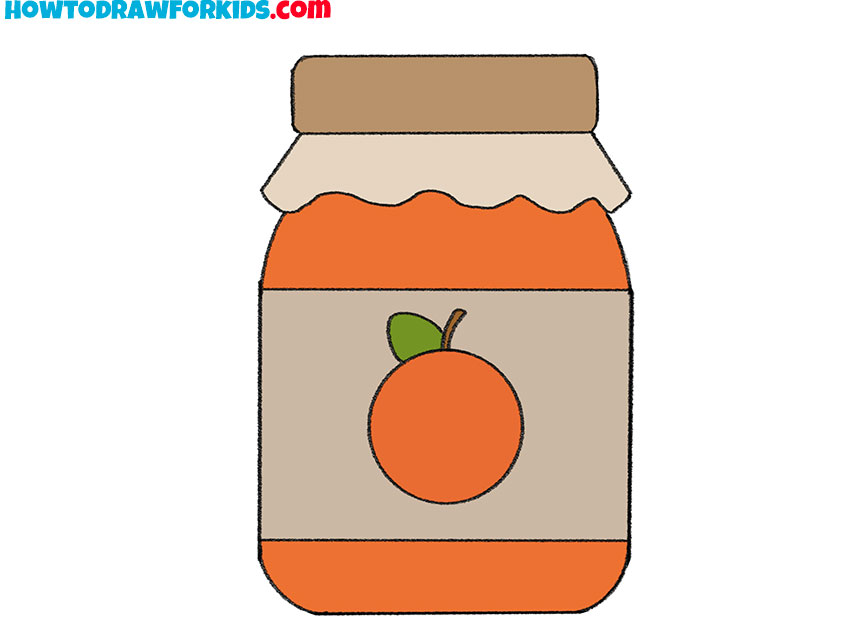 If you love sweets and want to learn something new, then you will love this lesson. Here I will show you how to draw jam step by step.
This is a traditional dessert, which is berries or fruits boiled in sugar syrup. The picture shows a jar with a label in the middle, there is a wide lid at the top.
The most important thing in this lesson is to correctly depict the shape of the can, you will draw all the other elements without difficulty. The label has a picture of an apple, so you can guess it's apple jam.
If you wish, you can draw any other jam, for example, cherry or strawberry. To do this, you need to draw a different image on the label and paint the jam in a different color.
Materials
Pencil
Paper
Eraser
Coloring supplies
Time needed: 30 minutes
How to Draw a Jam
Draw the sides of the jar.

Depict two vertical lines of the same length.

Depict the bottom of the jar.

Add rounded bottom edges and draw a horizontal line at the bottom.

Draw the top of the jar.

Sketch out rounded lines on each side.

Depict the bottom of the wrapper.

At this stage, you need to draw a wavy line.

Add the rest of the wrapper.

Use some straight lines to depict this element.

Sketch out the lid of the jar.

The lid is rectangular in shape with rounded corners.

Depict the label.

Draw two horizontal lines.

Add the image on the label.

Draw a circle, and add the leaf and the stem at the top to depict the apple.

Color the jam.

Use shades of beige for the lid and label, orange for the jar and apple, and green for the leaf.
It was an interesting lesson in which you learned how to draw jam. I hope that you have followed all the drawing steps correctly and are satisfied with the result. Use the acquired skills in your next drawings. Pay attention to other lessons that are presented on this site. Improve your artistic skills with my simple instructions.
You can now download a PDF of the short version of the lesson for free. This way you can return to this lesson at any time.