In this tutorial, I will show you how to draw a cherry. You will definitely find this lesson useful! Start drawing and enjoy.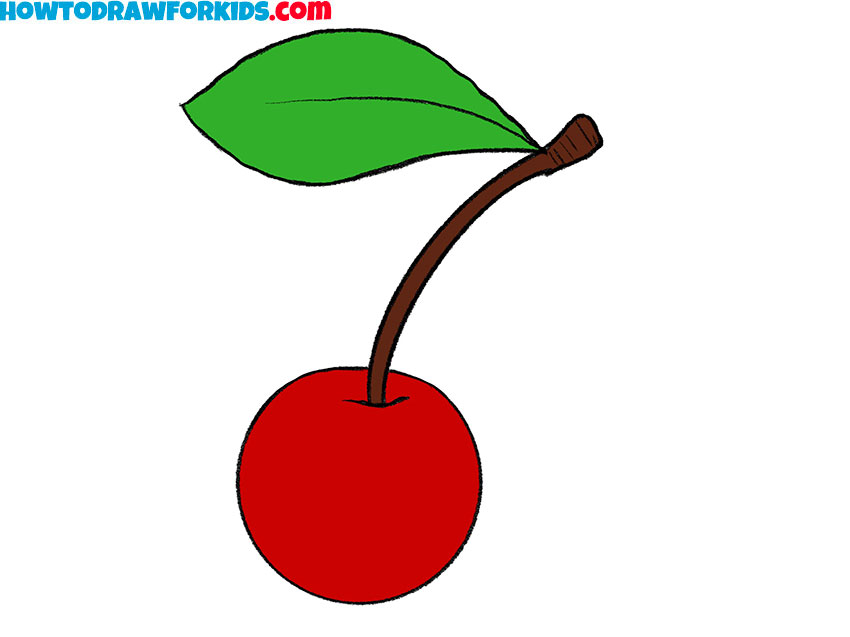 So let's start this tutorial on how to draw a cherry. Cherries grow on trees, like peaches and plums, and develop from pink or white flowers that bloom in early spring. Cherries are popular and often used in the industries of jams, jellies, ice-creams, marmalades, sauces, and juices. Around two million tons of cherries are produced each year. The USA is one of the largest cherry growers in the world. A cherry tree can survive and bear fruit for 100 years.
This drawing lesson includes seven steps. The simplest elements that you can easily repeat will be used here. This lesson will be interesting for children and aspiring artists.
So prepare all the necessary supplies and get to work.
Materials
Pencil
Paper
Eraser
Coloring supplies
Time needed: 20 minutes
How to Draw a Cherry
Depict the outline of the cherry.

Draw it in the shape of a circle, as shown in the illustration.

Draw the stem.

Use a few smooth curved lines to add a stem at the top of the cherry.

Depict the volume of a cherry.

Add three horizontal short curved lines as shown in the illustration.

Outline a leaf.

This is really easy to draw. It looks like an asymmetrical rounded shape with two pointed ends.

Add details.

Draw the roughness on the stalk and leaf. Avoid placing the lines too tightly on the stem.

Erase the auxiliary lines.

Take an eraser and remove all unnecessary lines from our drawing.

Color the drawing.

To color a cherry, take the green, red and brown colors.
Great! Now you know how to draw a cherry. You can use the acquired skills in your subsequent work. For example, you can paint a beautiful still life with a cherry. If you liked this tutorial, share it with your friends. Leave comments with your feedback, questions, and ideas for new drawings. Subscribe to us on social networks. Also, do not forget to download the PDF version of the lesson. You can use this file at any time.
How to Draw a Cherry Step by Step
By learning how to draw a cherry with this simple step-by-step tutorial, you will be able to depict it as the main subject of your drawing, and you can also draw a cherry growing on a tree, draw a garden, draw a still life, depict a cherry as a decoration for any dessert.