In this tutorial, I will show you how to draw a jar for kindergarten. This tutorial is very simple and contains only four steps.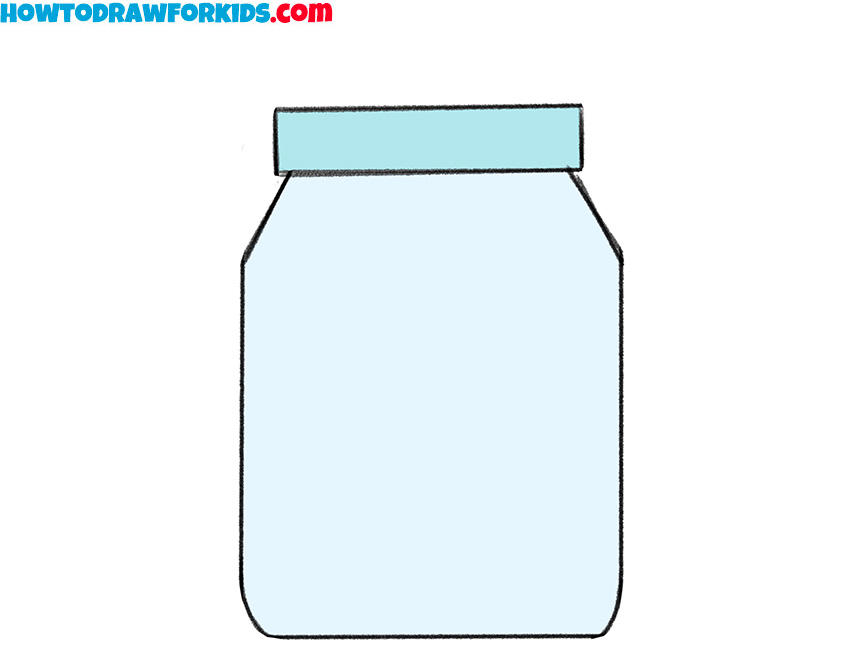 In this lesson, I propose to draw an object of our everyday life. Here I will show you how to draw a jar for kindergarten. The picture shows an ordinary glass jar with a lid. Such a jar can be used in everyday life for various purposes. You can pour liquid into a jar or store cereals in it. Also, in such a jar, you can prepare jam or canned vegetables.
This tutorial includes a few simple steps, and any aspiring artist can easily complete this task. Each stage consists of simple lines. In order to do this lesson well, you should be able to draw straight lines. You also need to ensure that both sides of the can are symmetrical. Try to make straight lines without using a ruler or any other handy tools.
The jar is light blue, that is, the jar is empty and made of transparent glass. You can paint liquid or other contents in the jar if you like. Draw the jar in the usual way and then add content. For example, inside a jar, you can draw berries, tomatoes, cucumbers, or compote.
Materials
Pencil
Paper
Eraser
Coloring supplies
Time needed: 10 minutes
How to Draw a Jar for Kindergarten
Draw the body of the jar.

The jar has a rectangular shape. The lower edges are slightly rounded.

Depict the neck.

To do this, draw two straight lines along the sides and a horizontal line at the top.

Add details.

In this step, draw the lid of the jar.

Color the drawing.

Choose a blue color to color the jar.
Now you can draw a regular glass jar. These skills will come in handy when drawing still life. For example, you can draw a jar of jam on the table, and draw fruit near the jar. You can also reshape the jar and draw a wider or taller jar. Train your imagination and paint still lifes using various objects.
At the end of this tutorial, I'll ask you to leave your feedback in the comments. Tell us what other household items you would like to draw. I will take into account your wishes when drawing up the following lessons.
Also, don't forget to download the PDF version of the tutorial. This file contains useful tools to help young artists improve their drawing skills.