I invite you to a lesson in which I will show you how to draw a restaurant. With this lesson, you will greatly improve your creativity.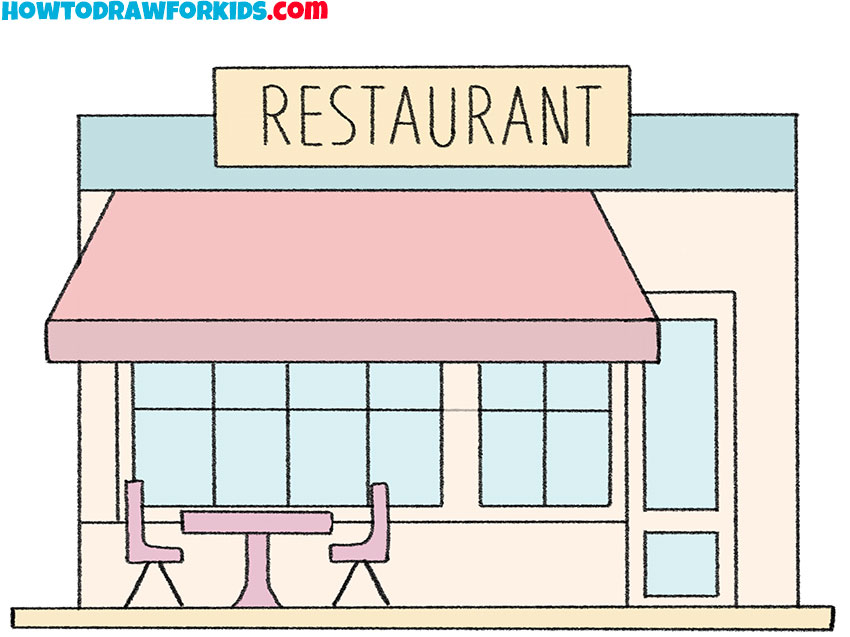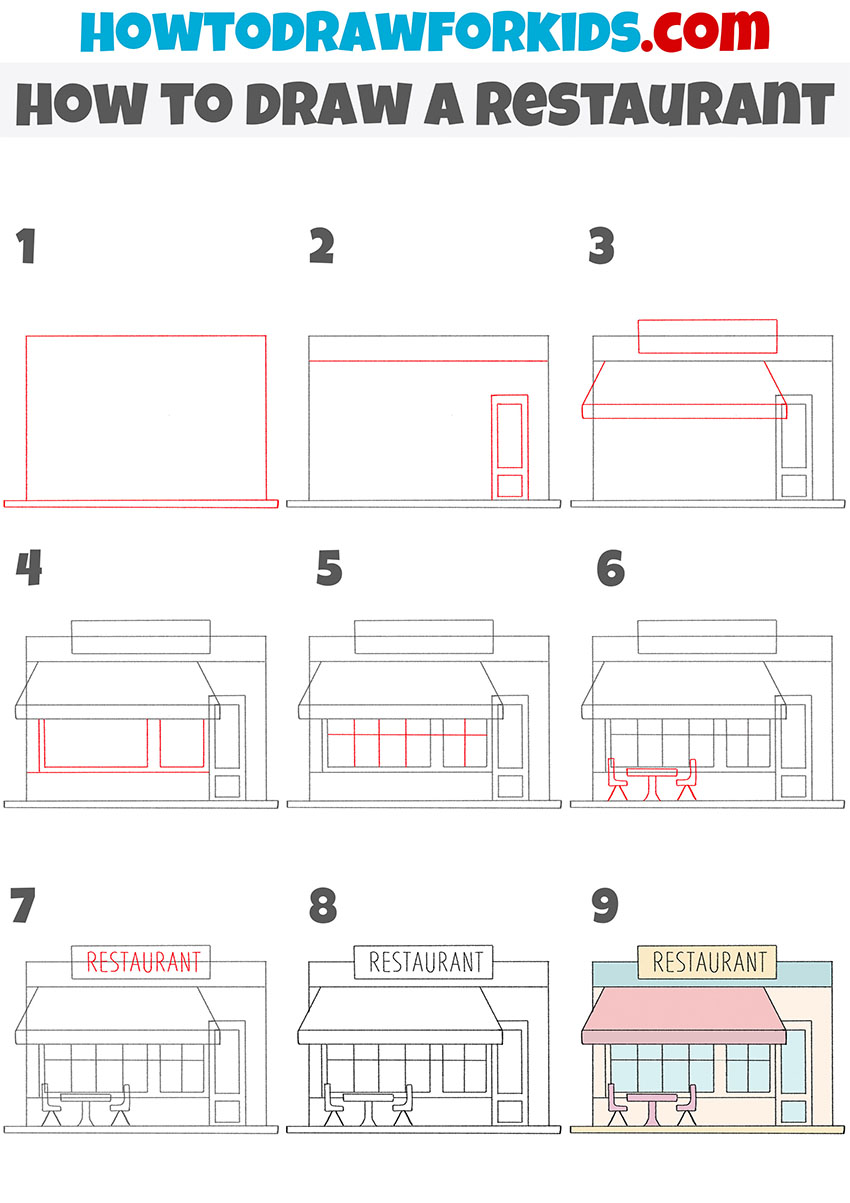 So, in this lesson I want to show you how to draw a restaurant step by step. I tried to make this instruction as simple and clear as possible so that you get an excellent result the first time.
The restaurant is a public catering establishment where a visitor can order various complex dishes. Restaurants usually have a cozy atmosphere. Many restaurants have a music stage and some other entertainment.
The picture shows the front of the restaurant. There is a table and chairs in front of the window, in the upper part there is a wide canopy and at the very top there is an advertising plate.
Materials
Pencil
Paper
Eraser
Coloring supplies
Time needed: 30 minutes
How to Draw a Restaurant
Draw the base.

Depict a straight rectangle with straight lines. Add the narrow strip at the bottom.

Add the outline of the roof and the door.

Draw a horizontal line across the top of the drawing. Draw the rectangular door.

Depict the canopy and sign.

Draw the wide canopy in the shape of a trapezoid. On the roof of the restaurant, draw an elongated rectangle.

Sketch out the outer outline of the windows.

Use straight lines and draw two different sized windows.

Detail the windows.

On each window, draw a horizontal line and draw some vertical lines.

Draw the table and chairs.

Depict the table and two chairs of the same shape as in my example.

Add the inscription.

Carefully write the word "restaurant" on the sign.

Correct inaccuracies.

If you notice mistakes, then immediately correct them and remove all unnecessary lines in your drawing.

Color the drawing.

For coloring, use several bright colors.
It was a fascinating lesson on how to draw a restaurant. You can use the acquired skills in the future when you want to draw a city landscape. At the end of the lesson, I suggest you download a PDF file for free, in which you will find a brief instruction and additional training materials.