In this tutorial, I will help you learn how to draw a palm tree. I have compiled a couple of small steps that we will go through together.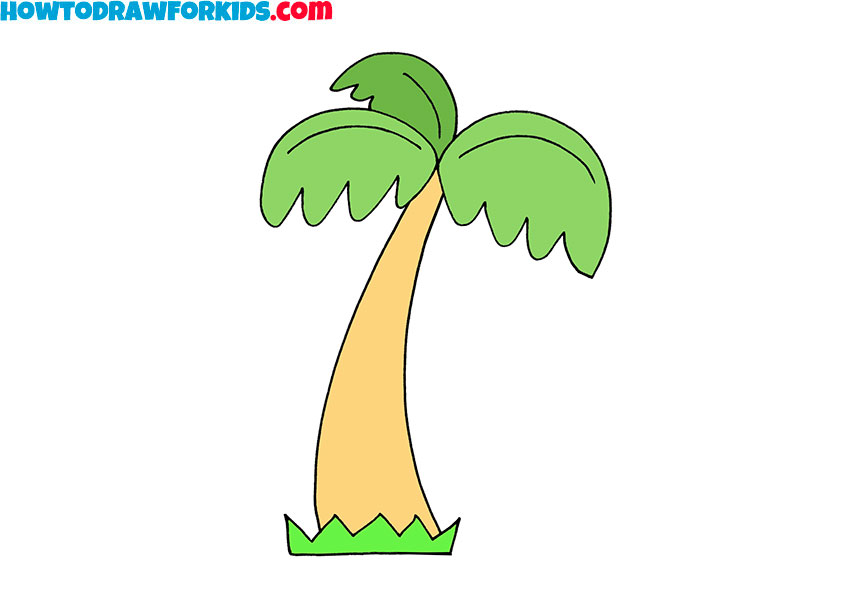 In this simple and fun palm tree drawing tutorial, I will show you how to draw a palm tree with large, succulent leaves. They will help you to hide from the sun, which is present where palm trees grow. I must say that drawing today's plant is not at all difficult. And it will be a pleasure to paint the result.
Well, do you want to start drawing as soon as possible? Then proceed, because who knows, maybe after you draw a palm tree, you will go to the sea? After all, all our thoughts are material. What you think about will come true. Dream about the sea, paint happiness and everything will be fine!
At the end of the lesson, there is a PDF file that you can print and draw wherever you want. Sit back, we're getting started!
Materials
Pencil
Paper
Eraser
Coloring supplies
Time needed: 17 minutes
How to Draw a Palm Tree
Start with greenery.

Draw the beveled hemisphere with rounded teeth. On top add an arc-curved strip.

Symmetry is optional.

Add one more leaf. A slight asymmetry in the figure is permissible.

The third is not superfluous.

Above the left palm leaf, draw the third.

Add the stem.

It's time to draw the long, wide at the bottom, and narrow at the top of the stem.

Let's add details.

At the base of the palm tree, you can draw grass or sand.

Coloring.

We'll need different shades of green and brown.
That's all, look what a gorgeous palm tree we have! No worse than the real one. If you wish, you can come up with a background and draw a desert, or maybe a sea coast. But you never know where such an unpretentious plant like a palm tree can grow. Many, even plant it in a pot at home.
And also do not forget that you can download this palm tree drawing tutorial in the PDF format convenient for you.
I wish you creative success!