With this lesson you will learn how to draw a boxer quickly and easily. Start this simple guide and you will really like it.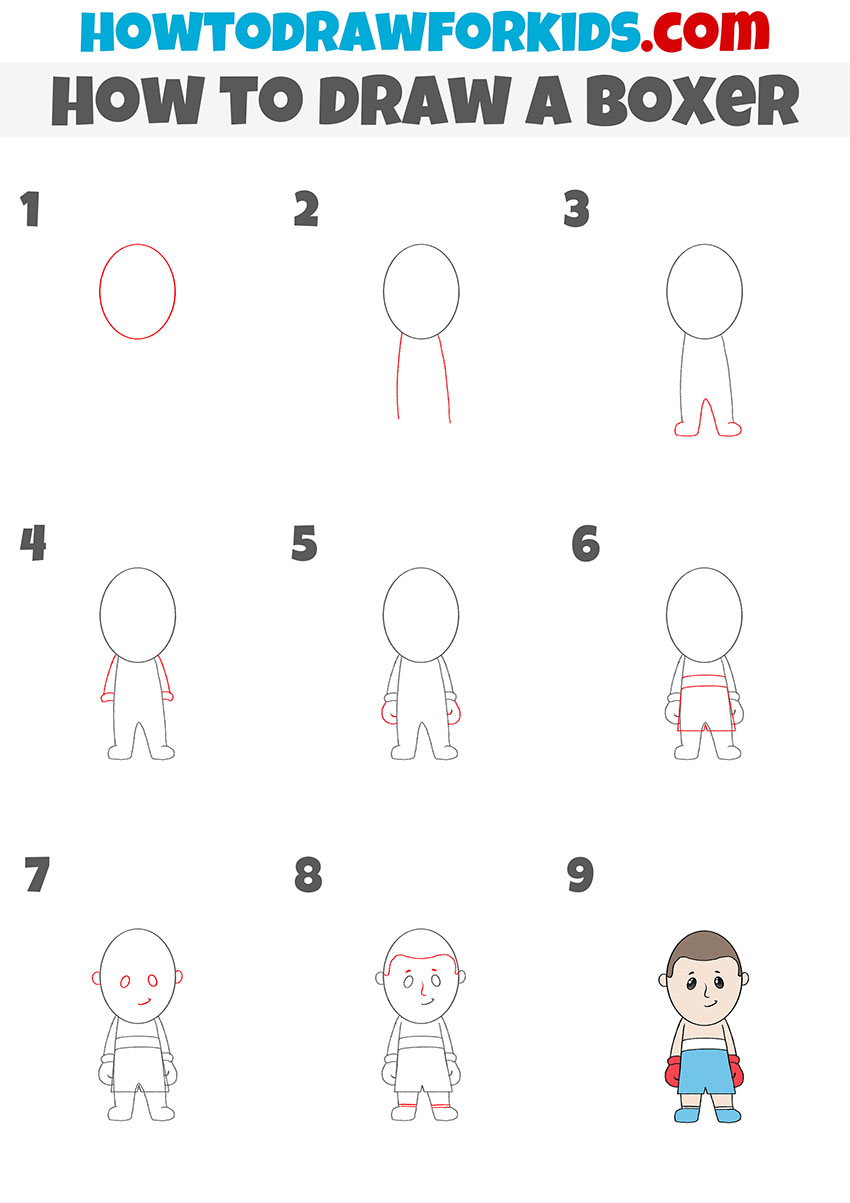 In this tutorial, I will show you how to draw a boxer. I am sure that this lesson will help improve your creativity.
If you are interested in sports subjects and you like to draw figures of people, then you will certainly like this lesson. This step-by-step tutorial shows you in detail how to draw a boxer.
Boxing is a fistfight in which athletes adhere to certain rules. In the picture, you see a boxer who is dressed in sports shorts, sneakers, and gloves.
This lesson will be useful for you, as you will once again practice drawing a human figure. Be consistent and attentive, memorize all the drawing steps in order to apply the acquired skills in the future.
Materials
Pencil
Paper
Eraser
Coloring supplies
Time needed: 30 minutes
How to Draw a Boxer
Draw the head.

This is a simple step in which you should draw an even oval.

Depict the torso.

From the head, draw down two smooth lines.

Sketch out the legs.

The boxer's legs are short and the feet point in opposite directions.

Draw the arms.

From the head, drawdown two lines along the torso. Below draw the gloves.

Add the rest of the gloves.

Draw smooth rounded lines and add the outline of the thumb.

Draw sports shorts.

Use straight lines to depict shorts and the wide belt.

Depict the ears and facial features.

Draw small oval ears. Sketch out eyes and mouth.

Add details.

On the face, add the nose and eyebrows. Draw the outline of the hair. Depict the shoes.

Color the boxer.

Choose any color for the drawing.
You can now download the short version of the lesson in PDF format so that you can return to this lesson at any convenient time.
How to Draw a Boxer in a Fighting Pose
So, above I showed you how to draw a boxer in a static frontal pose. Now let's try to draw a boxer in a fighting pose.
This boxer drawing lesson will help you understand how to draw a dynamic person and how to create a sense of movement on a piece of paper.
Unlike the previous lesson, here we will not use additional auxiliary lines, but will try to draw the boxer detail by detail.