Do you want to learn how to draw a human? Make it easier than ever with this easy, step-by-step drawing tutorial. I promise you!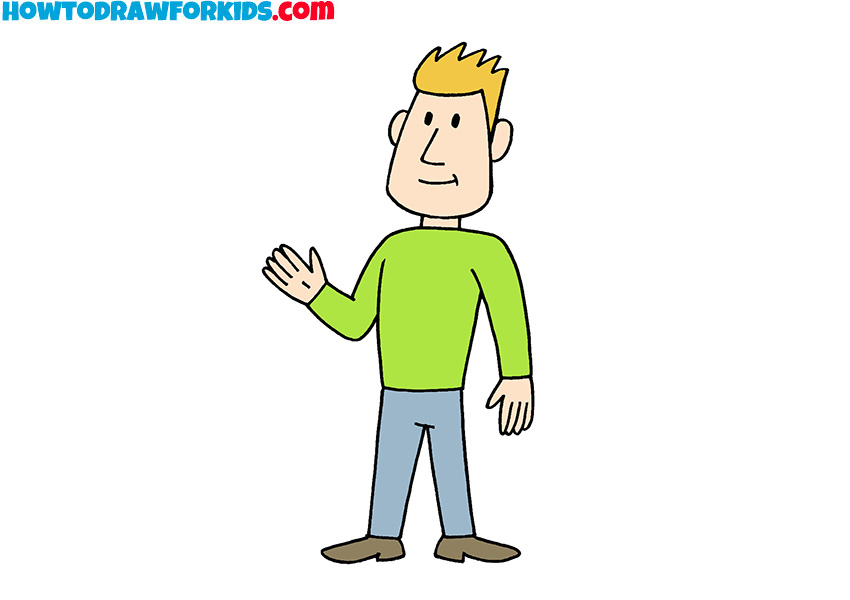 This guide on how to draw a human is the easiest you could ever read. It consists of only nine easy steps and contains the basic rules for drawing a man.
Many young artists are afraid to draw a person, thinking that for this you need to know well all the features of the structure of the human body. This is not necessary at all.
Repeating all the steps of the lesson after me and turning on your imagination a little, you will get an excellent result. You can show off your drawing even if you are drawing a person for the first time.
Materials
Pencil
Paper
Eraser
Coloring supplies
Time needed: 15 minutes
How to Draw a Human
Draw the head.

In the first step, sketch out the shape of the head.

Depict the hair.

Draw the hair in a zigzag. Cool hairstyle turned out, right?

Draw the details of the face.

Sketch out the eyes, nose, and mouth.

Depict the torso.

Draw the cylinder-shaped torso.

Add details.

Connect the torso and head with your neck. Don't forget to draw the ears.

Depict the limbs.

Sketch out the legs and arms of the human.

Add more details.

Draw the fingers on the hands. At the bottom of the picture, depict the shoes.

Remove the guidelines.

You are almost done. As always, I create this step so that you check your sketch.

Color the drawing.

You can choose any colors for the skin, clothes, and hair.
Well, the lesson is over and you can enjoy your drawing. I have created a PDF version of this tutorial for you. It contains the coloring page, tracing worksheet, and grid drawing worksheet.