I'm ready to present to you a new drawing lesson on how to draw eyebrows step by step. This lesson consists of six simple steps.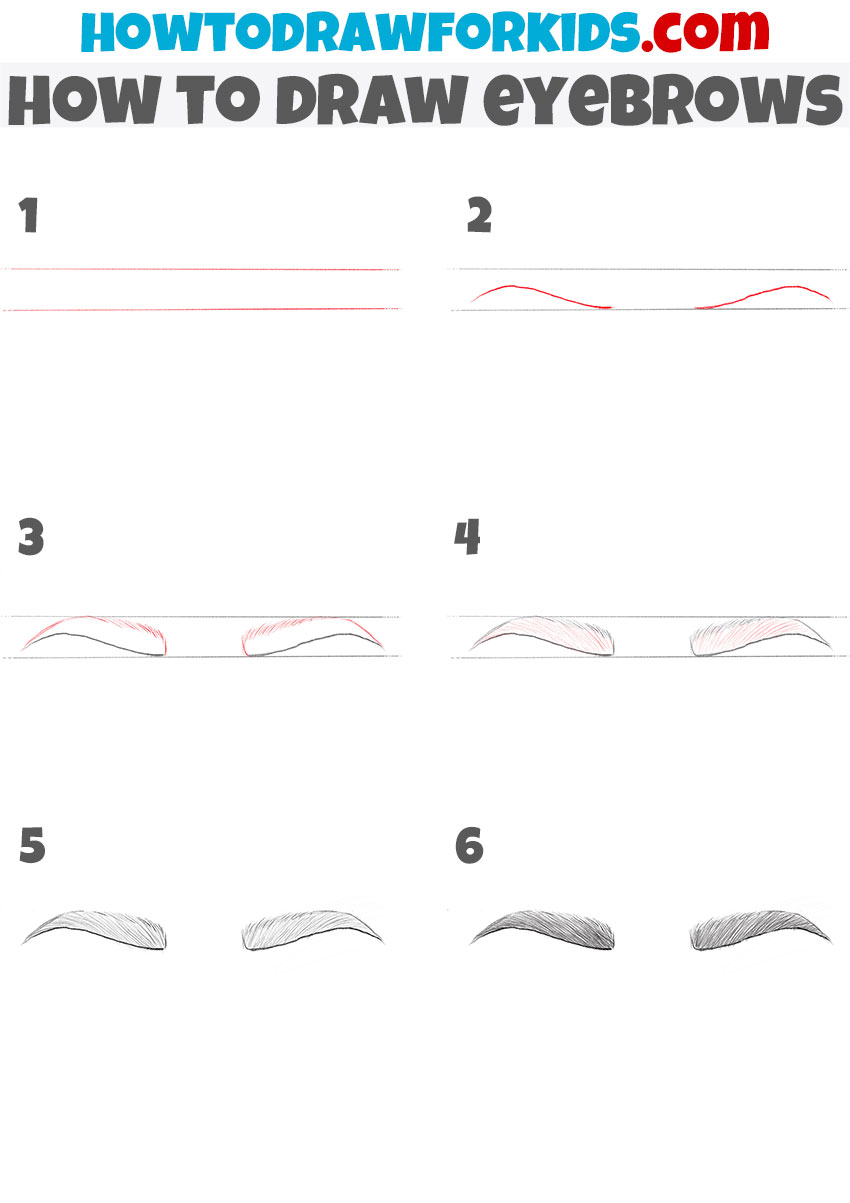 In this drawing tutorial, you will learn how to draw eyebrows. I am sure that you will find this lesson very enjoyable, memorable and useful. I have specially prepared this lesson in a way that it can be handled by a child or a novice artist with no drawing experience.
An eyebrow is an area of short hair above each eye. Experts say that eyebrows have two main purposes: keeping moisture out of our eyes and communication. Physically, eyebrows are there to help keep our eyes clean and clear. Eyebrows are an important part of human expression and communication. They allow us to show our emotions. One raised eyebrow expresses skepticism or interest. Two raised eyebrows can express surprise.
Why do you think we need eyebrows? You can suggest the answer in the comments, but now let's get down to drawing eyebrows.
Materials
Pencil
Paper
Eraser
Coloring supplies
Time needed: 20 minutes
How to Draw Eyebrows
Draw auxiliary lines.

Draw two straight lines to mark the borders of the eyebrows and then draw them correctly.

Outline the lower limits of the eyebrows.

Depict these details as curved lines resting on the bottom straight line.

Draw the top line of the eyebrows.

Use frequent short strokes to depict the hairs on the top line of the eyebrows.

Fill in the inside of the eyebrows.

Draw out the hairs with lots of short lines, pointing in one direction inside each eyebrow.

Erase the auxiliary lines.

Take an eraser and wipe away the auxiliary horizontal straight lines.

Add the finishing touches to the drawing.

Now give the eyebrows a thicker look by adding more hairs inside them.
Great job! Now you know how to draw eyebrows. Share this lesson with your friends and draw with them. Subscribe to social networks so as not to miss new interesting lessons. Don't forget that you can download and print a PDF that contains a short tutorial and some helpful tools. Download the PDF for free and take drawing lessons whenever you want!
Also, during the lesson, make sure that the eyebrows are symmetrical. Keep the sequence of steps and try to carefully draw all the lines to get a great result. Be careful and take your time during the lesson.