In this step-by-step tutorial, you will learn how to draw a human head in just nine easy steps. I'm sure you'll really like this guide.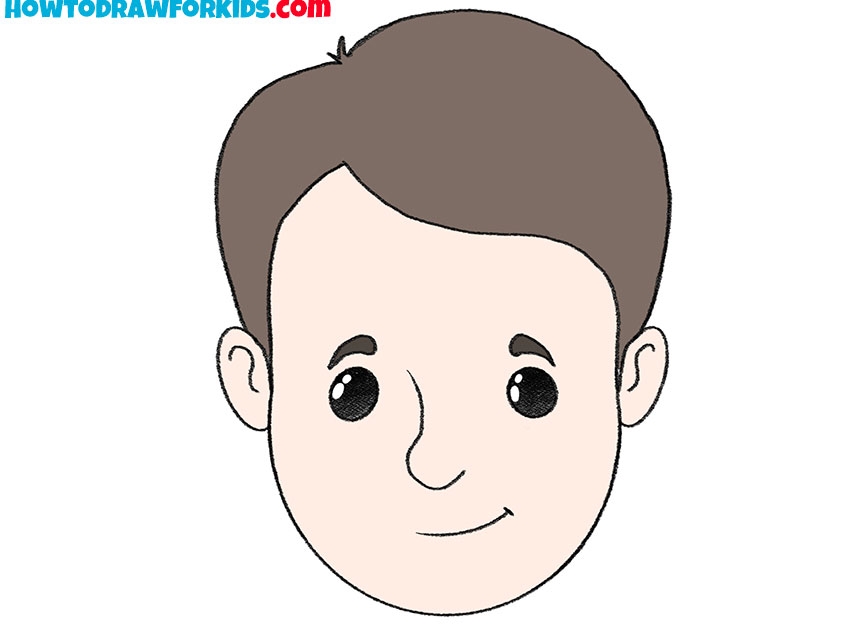 In this tutorial, I will show you how to draw a human head. Undoubtedly, the lesson will be useful for you, and you will gain new skills in drawing people.
This step-by-step tutorial is designed especially for beginners and shows a very easy way to draw a human head. As an example, I chose the head of a young boy.
The guy looks very handsome and has nice features. In this lesson there will be no complex construction, simple lines are used here that you can easily repeat. As a result, you will get a good result, even if you have little experience in drawing. Be careful at every stage of drawing and try to draw the same lines as in my example.
Materials
Pencil
Paper
Eraser
Coloring supplies
Time needed: 30 minutes.
How to Draw a Human Head
Draw an oval for the face.

At this stage, depict a smooth, rounded line.

Add the eyes.

Draw two small ovals.

Depict the eyebrows.

Above the eyes, draw short eyebrows in the shape of a curved drop.

Sketch out the nose.

Depict one curved line down the middle of the face.

Draw the mouth.

Depict a smooth line and add the short crease on the side.

Add the ears.

The ears are oval. Use a curved line to draw the inside of the ear.

Draw the bottom outline of the hair.

Depict smooth, curved lines to outline the hair above the forehead.

Add the rest of the hair outline.

Using smooth lines, depict the rest of the hair.

Color the human head.

Choose any colors. Don't forget to add highlights to the eyes.
For your convenience, I have created a short version of the lesson as a PDF file. This will help you return to the lesson at any time.