Instructions on how to draw an easy nose includes eight easy steps. Be careful during the lesson and observe symmetry.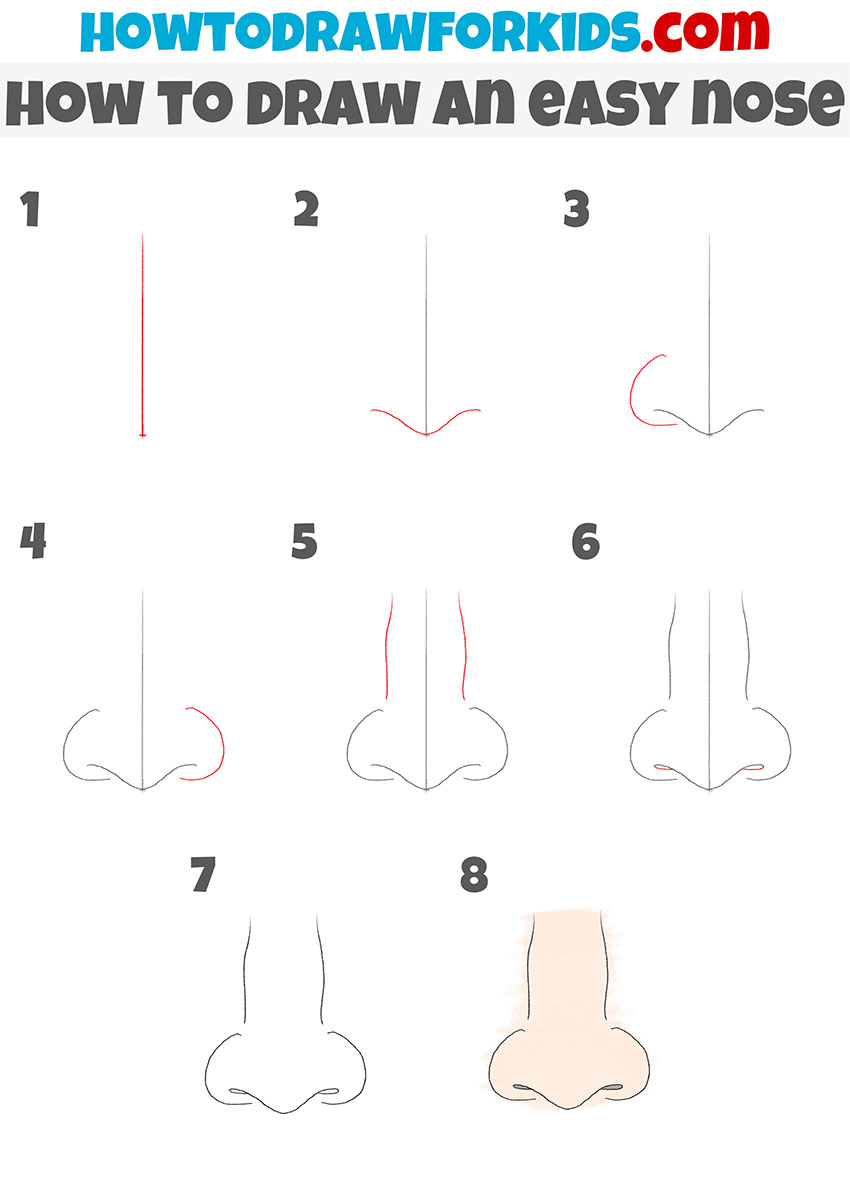 In this tutorial, you will learn how to draw an easy nose. The instruction will really be very easy, and you will quickly cope with this task.
Any beginner artist wants to learn how to draw human facial features and in this tutorial you will learn how to draw an easy nose.
All drawing steps are very clear and easy to follow. You can use the acquired skills in the future when you want to draw a person face in full. If you want to draw the face of a real person, then always consider individual characteristics.
Materials
Pencil
Paper
Eraser
Coloring supplies
Time needed: 20 minutes.
How to Draw an Easy Nose
Add the guideline.

Draw a straight vertical line that will define the center of the nose.

Add the bottom outline of the nose.

Using a smooth curved line, depict the tip of the nose.

Sketch out one nostril.

On the left side, draw a smooth, rounded line.

Add the second nostril.

Repeat the previous step and depict the same nostril on the left side.

Depict the top of the nose.

Carefully draw two smooth, curved lines on either side of the center line.

Draw the nasal openings.

On each nostril, draw short rounded lines.

Correct inaccuracies.

With the eraser, carefully remove the auxiliary line.

Color the easy nose.

Choose any color for the skin.
The next lesson has come to an end, and now you know how to draw a light nose. I recommend to practice additionally and make a few more similar drawings. You can change the shape of the nose a little each time. Practice more often, and you will notice that over time you will become much better at drawing.
At the end of the lesson, I suggest you download the PDF file that I have prepared specifically for your convenience. In this file you will find a simplified version of the walkthrough and additional useful content.