In this drawing lesson, you will learn how to draw X-men step by step. This lesson will definitely not leave indifferent any of you.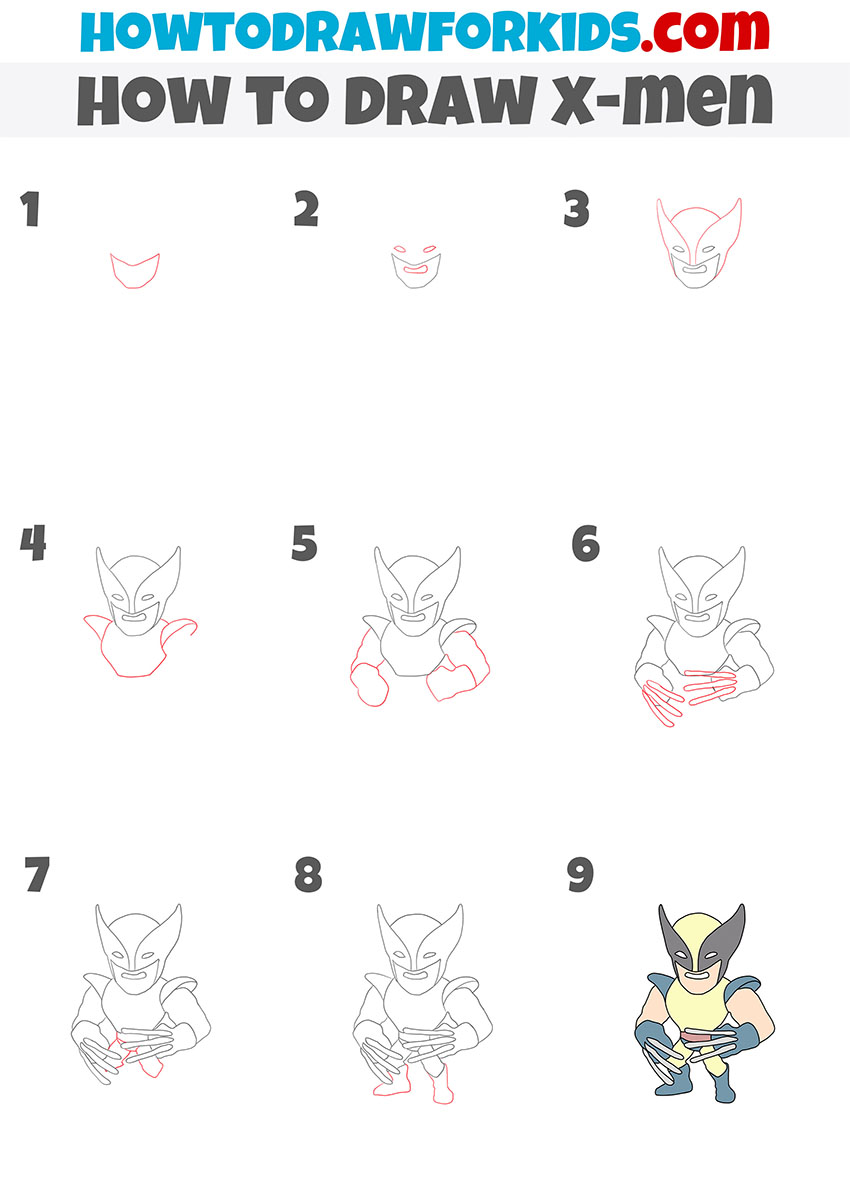 I bring to your attention an excellent and very useful drawing lesson, in which I will tell and show you how to draw X-Men step by step. This tutorial is great for beginner artists and kids, as it only consists of fairly simple steps with detailed descriptions.
Also, this lesson allows you to practice depicting the emotions and postures of a person. When you learn how to draw X-Men with the help of this lesson, you will be able to complement your drawing of a movie scene, add images of other characters, and also depict this as the main subject of the drawing.
Please note that the X-Men you will draw with this tutorial is in cartoon style. If you are already interested in this lesson and want to get started as soon as possible, then you can now prepare the art supplies that you will use to draw and get to work. I wish you inspiration, and I am sure that you will easily cope with this work and be satisfied with the result of your efforts.
Materials
Pencil
Paper
Eraser
Coloring supplies
Time needed: 30 minutes
How to Draw X-Men
Draw the bottom of the X-Men's head.

To complete this step, draw one shape using two curved lines of different lengths.

Add the facial features of the X-Men.

Inside the previously drawn shape, draw the mouth, and also add two eyes at the top.

Finish drawing the character's head.

On the sides of the head and around the eyes, draw curved lines, and then connect them at the top with an arc.

Depict the upper torso and X-Men suit.

Below the previously drawn head, add curved lines of different lengths, as shown in the image.

Add the character's arms.

On the sides of the drawn elements, depict two arms bent at the elbows using curved lines.

Add elements on the arms.

On each arm, depict three elements using curved lines.

Draw the lower part of the torso and part of the legs.

The lower torso and legs look quite small compared to the size of the head and torso.

Finish drawing the X-Men's legs.

Depict the shoes using curved lines. The legs of the character are directed in different directions.

Color the drawing.

To color X-Men, use beige, gray, yellow, red, and also blue.
For your convenience, I have prepared a PDF file in which you can find a short version of this tutorial and additional useful materials for completing it. Download this file to return to the lesson at any time.