In this drawing lesson, I will tell you how to draw Slappy step by step. This instruction will be simple and understandable for you.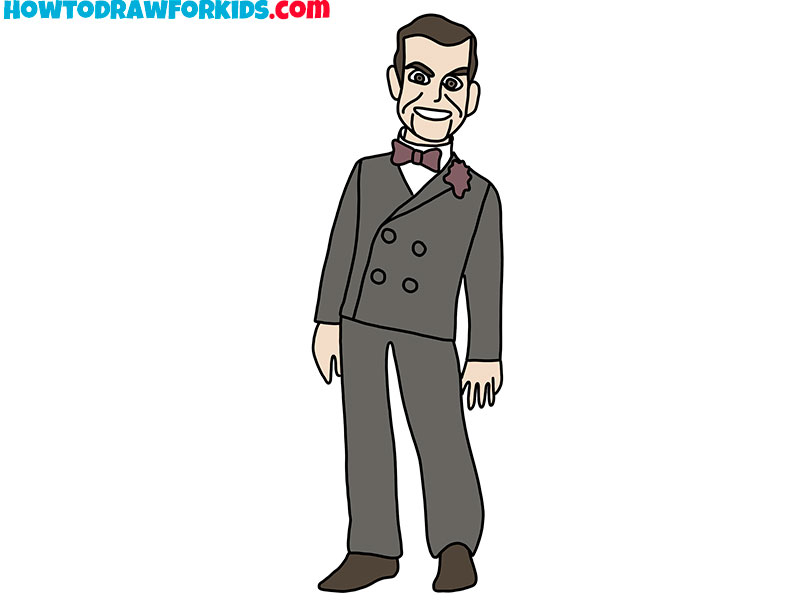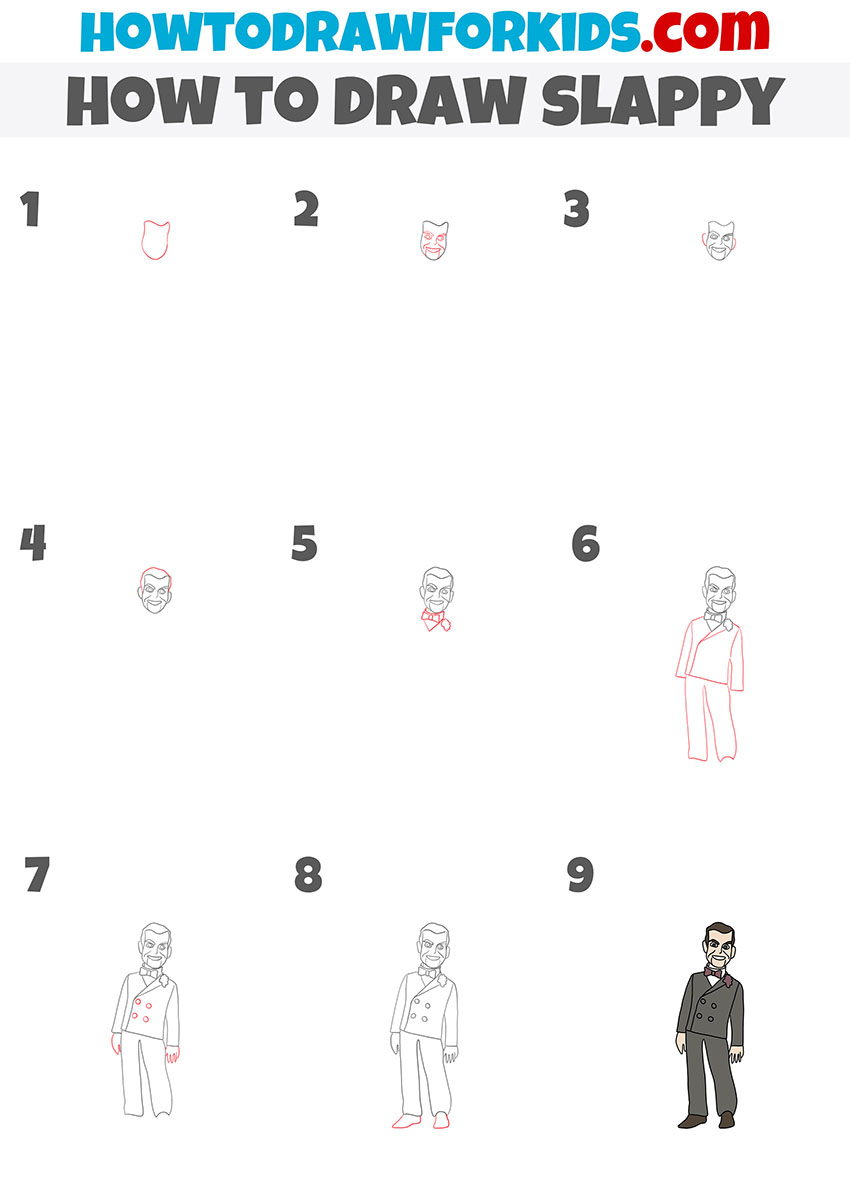 I am glad to bring to your attention this fascinating drawing lesson in which you can learn how to draw Slappy step by step. This drawing lesson consists of nine steps, each of which has a detailed description. Surely, you are familiar with the character that you will learn to draw with the help of this drawing lesson. Slappy is the main character of the famous TV series. Beginning artists and children will love this lesson.
Slappy is a fictional character and antagonist in the children's series Goosebumps by R. L. Stine. He is one of the series' most popular villains, and the main antagonist of the Night of the Living Dummies saga. Slappy is a ventriloquist dummy that comes to life with special words. Slappy is one of the most iconic characters in the Goosebumps series, appearing in numerous books, one of Stine's series is even called "Goosebumps SlappyWorld".
Slappy, which you will draw with the help of this instruction, is depicted in a cartoon style. So, if you are already interested in this lesson, and you want to quickly learn how to draw Slappy step by step, then I recommend that you prepare art supplies right now and start drawing. I wish you inspiration, and I am sure that you will get an excellent result of your work.
Materials
Pencil
Paper
Eraser
Coloring supplies
Time needed: 30 minutes
How to Draw Slappy
Outline the Slappy's face.

Draw the outline of this character's face using curved lines of varying lengths.

Add the Slappy's facial features.

Draw the eyes, eyebrows, nose, mouth, and wrinkles inside the outline of the face.

Depict the character's ears.

On the right and left sides of the drawn head, add symmetrical arcs of the same length.

Finish drawing the character's head.

To draw the hairstyle, draw a wavy line above the outline of the face.

Draw the neck and costume elements.

Below the head, draw the neck, collar, bow tie and decorative element, as shown in the picture.

Sketch out the Slappy's torso and costume.

Below the drawn elements, draw the outlines of the jacket and trousers.

Finish drawing the costume and draw the character's arms.

Depict the hands and add the buttons on the suit in the form of four identical circles.

Finish drawing the Slappy's legs.

At the bottom of the outlines of the character's trousers, depict the boots using curved lines.

Color the drawing.

To color the Slappy, use different shades of gray, black, brown, and dark burgundy.
Don't forget to download the PDF file, which contains a short version of this lesson, as well as additional practice materials to help you complete it.