How to Draw a Cartoon Face
In this simple tutorial, you will learn how to draw a cartoon face quickly and easily. This guide consists of only nine steps with useful tips.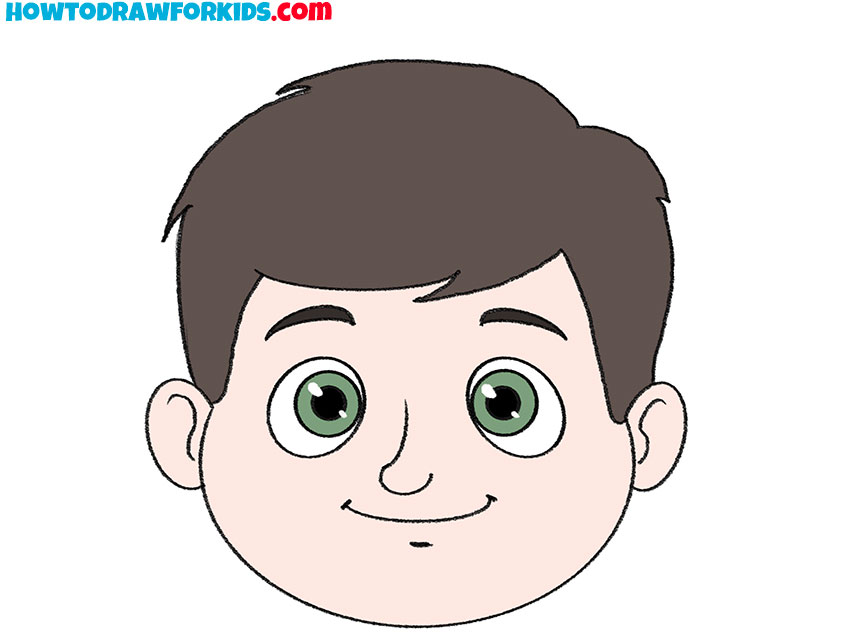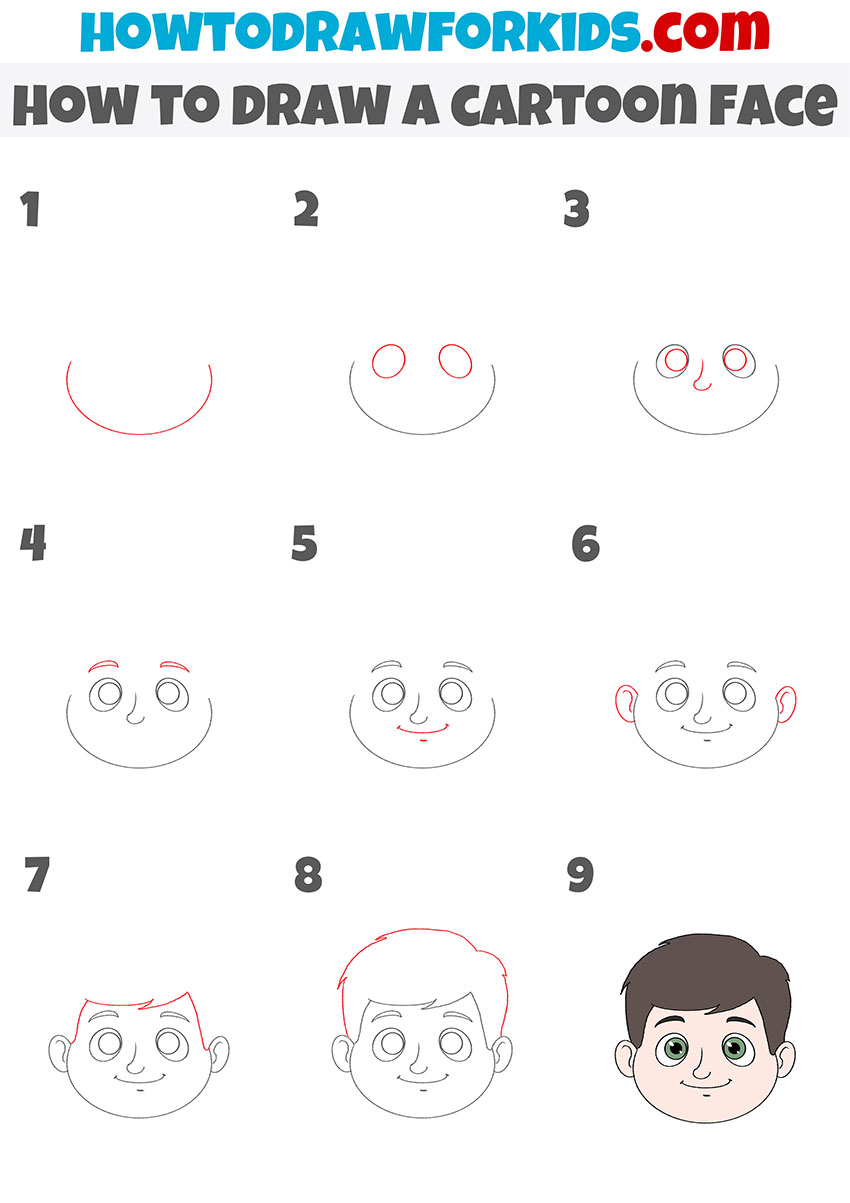 Now you have to complete a new lesson that will train your creativity and here you will learn how to draw a cartoon face. As an example, I chose the face of the boy.
The face does not look realistic, but it is very funny. This lesson will use simple elements that you can easily repeat, even if you have little experience in drawing.
Be consistent and remember all the drawing steps so that in the future you can successfully use the acquired skills. For coloring, you can choose the same colors as in the example, or you can choose other colors of your choice.
Materials
Pencil
Paper
Eraser
Coloring supplies
Time needed: 30 minutes
How to Draw a Cartoon Face
Draw the bottom outline of the face.

Depict a smooth rounded line. The lower part of the face is wide.

Sketch out the eyes.

Depict two even ovals of the same size.

Add the iris and nose.

Inside each eye, draw a circle and use a curved line to draw the small nose.

Sketch out the eyebrows.

Above the eyes depict the eyebrows using short smooth lines.

Draw the mouth.

With the help of a smooth rounded line draw the mouth and add the short crease on the chin.

Depict the ears.

On the sides draw the ears, which have a rounded shape.

Draw the hair above the forehead.

Sketch out the hair with several lines of different shapes.

Add the rest of the hair.

Depict the rest of the hair on the head with smooth lines.

Color the cartoon face.

Choose any color for the drawing.
The lesson is over and now you know how to draw a cartoon face. Show the drawing to your friends and evaluate the result of the work together. Invite your friends to do drawing lessons together. It will be fun and interesting!
For your convenience, I have prepared a PDF file in advance, in which you will find brief instructions and you can return to this lesson at any time, even if there is no Internet access.
Cartoon Face: Conveying the Age of the Character
In the first drawing lesson on this page you could see a very small cartoon character. But in cartoons there are not only children, but also adults. Let's see how to draw the face of an adult cartoon character.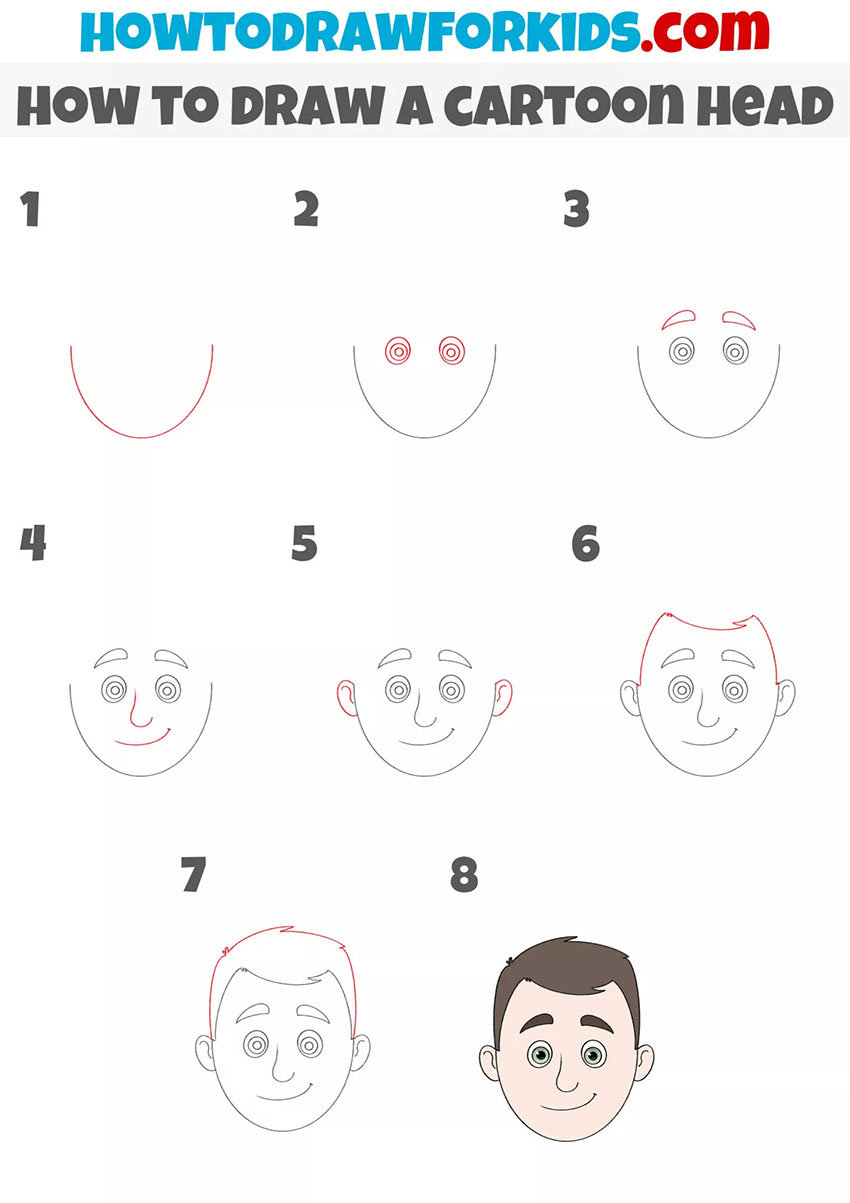 Cartoon Face: Drawing in Different Styles
Above you saw two faces of cartoon characters, which were essentially made in the same style. Let's try to draw a cartoon face in a slightly different style and using slightly different steps.