With the help of this lesson, you will get very useful drawing skills and quickly learn how to draw cartoon eyes!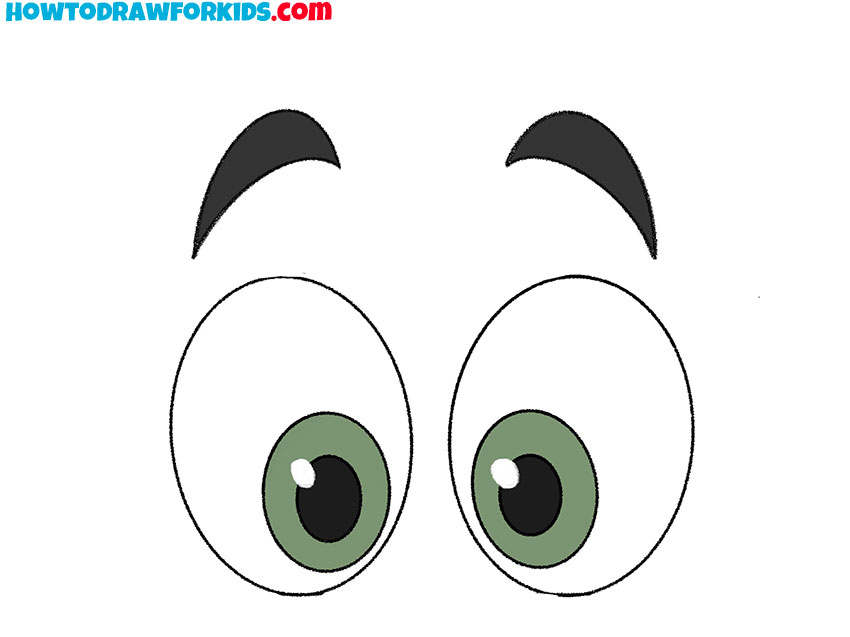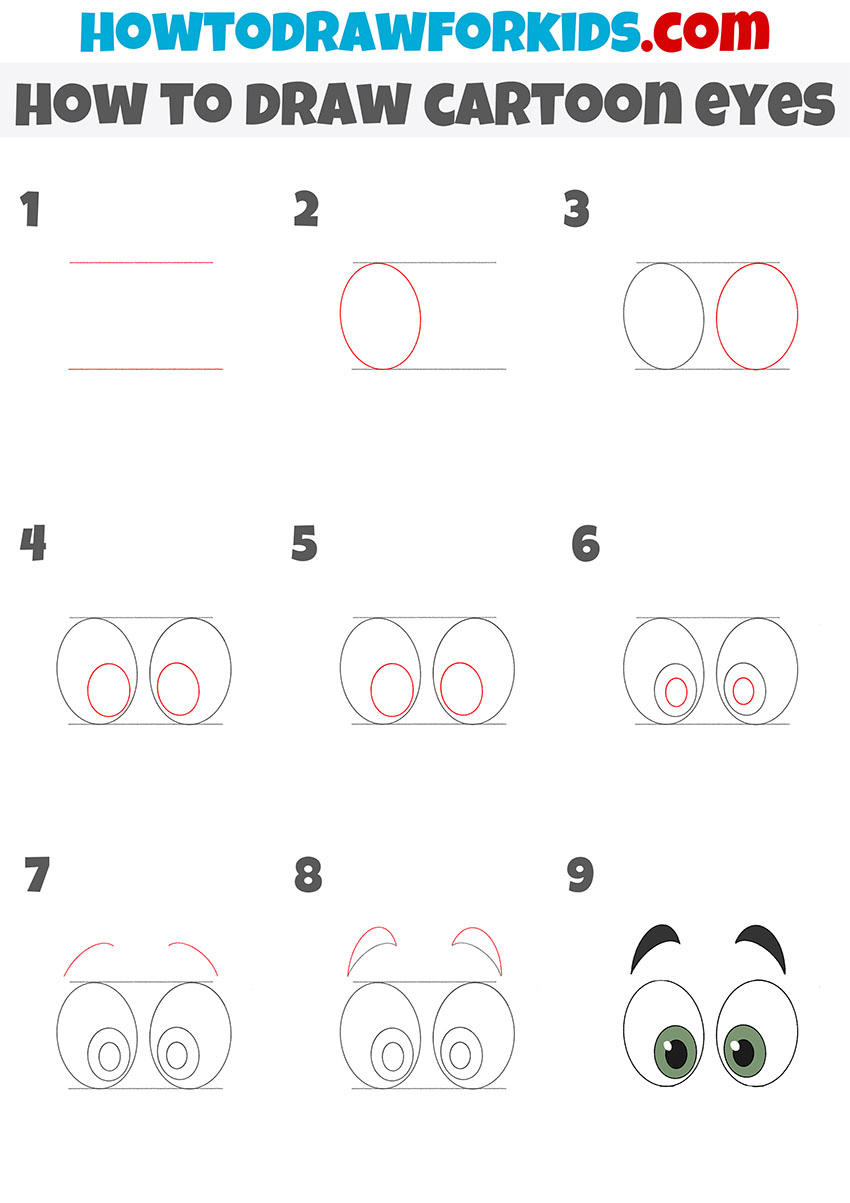 I have prepared for you a new interesting lesson in which I will show you in detail how to draw cartoon eyes. The lesson is designed specifically for children and beginner artists and consists of nine simple steps.
This lesson will be useful for you if you like to draw cartoon characters. With the help of simple step-by-step instructions, you will learn how to draw cartoon eyes. It is very easy to do and you will soon see for yourself.
Cartoon eyes are made up of several rounded elements, so your ability to make even circles is required here. The eyes look very funny, the eyebrows are raised high. If you try to slightly change the shape of the eyebrows, then the eyes will express a different emotion.
Materials
Pencil
Paper
Eraser
Coloring supplies
Time needed: 20 minutes
How to Draw Cartoon Eyes
Draw the auxiliary lines.

Determine the size of the eyes and draw two straight horizontal lines.

Depict the outline of one eye.

Draw an even oval between the auxiliary lines.

Add the outline of the second eye.

Repeat the previous step and depict the same oval on the right side.

Sketch out the iris on one side.

Draw a small oval inside the left eye.

Add the iris on the other side.

Draw the same oval inside the right eye.

Depict the pupils.

Draw small circles inside each eye.

Draw the bottom of the eyebrows.

Depict two identical smooth lines above the eyes.

Add the top of the eyebrows.

Draw curved lines at the top to make closed contours.

Correct inaccuracies and color the drawing.

Carefully remove the auxiliary lines and choose any colors. Add highlights to the eyes.
The drawing is ready! Now you can draw cartoon eyes if necessary. You can also show your imagination and draw the rest of the elements of the face. Share the results of your work in the comments.
Now you can download a free PDF file, which I have prepared specially for your convenience. In this file, you will find a simplified version of the manual and additional useful tools. This will help you repeat the lesson again if necessary.
How to Draw a Cartoon Eye: Adding Some Realism
The lesson has nine easy steps. Any novice artist will quickly cope with this task, especially since there will be useful tips at each stage.
In my picture, the iris is green, but you can use any other color you like. For example, you can choose blue or brown.