How to Draw Eyes Looking at You
In this lesson you will learn how to draw eyes looking at you. There are only nine easy steps in this guide with helpful hints.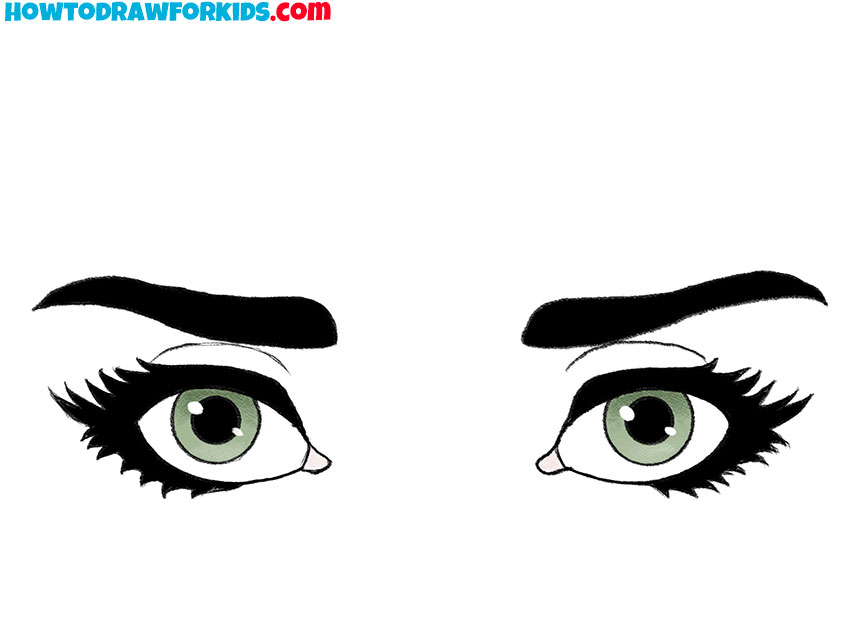 In this tutorial, I will show you how to draw eyes looking at you. This lesson will be very useful for you because in the future you will be able to draw portraits of real people and various characters if you learn how to draw eyes correctly.
The picture shows beautiful female eyes that look directly at you. You can see that the eyebrows are very expressive, there are beautiful lush eyelashes around the eyes. This gives the look a special charm.
I think that you want to start drawing those beautiful eyes as soon as possible. Do not doubt your creativity, you will quickly complete this lesson because simple lines are used here, which even a beginner can easily repeat.
Materials
Pencil
Paper
Eraser
Coloring supplies
Time needed: 25 minutes
How to Draw Eyes Looking at You
Draw an auxiliary line.

Determine the location of the eyes and draw a horizontal line.

Add the remaining auxiliary lines.

Depict two more straight parallel lines.

Draw the outer outline of the eyes.

With smooth lines draw the outline of the eyes of the same shape as in the example.

Add the main elements of the eye.

Depict the iris, round pupil and add the corner of the eye.

Sketch out eyelashes on the upper eyelid.

With a smooth line, draw the outline of the eyelashes above the eyes.

Add details.

Draw the outline of the upper eyelid and lower eyelashes.

Sketch out the eyebrows.

Depict wide eyebrows above the eyes. Make sure your eyebrows are symmetrical.

Correct inaccuracies.

Delete all auxiliary lines.

Color the drawing.

You can choose any colors. Add highlights to the eyes.
It was a simple lesson that showed how to draw eyes looking at you. Be sure to use the acquired skills in the future. Train, change the shape of the eyes and eyebrows, and change the color of the iris. Try different options and compare.
You can now download a PDF of the short version of the tutorial so you can always refer back to this tutorial.