I have prepared for you an easy step-by-step tutorial on how to draw male eyes, with which you will learn how to draw quickly.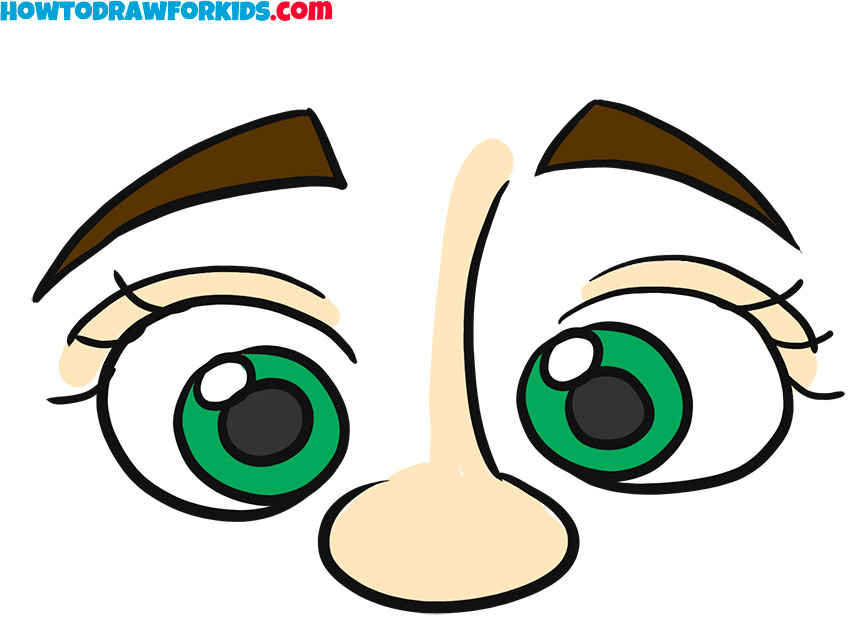 In this drawing lesson, I will tell you how to draw male eyes step by step. This tutorial will be simple enough that you can easily master it, even if you have no artist experience at all.
The eyes are a very important organ in the human body. With the help of our eyes, we are able to see those objects that surround us.
There are nine easy steps in this tutorial. I am sure that you will get a beautiful drawing. Now let's start drawing male eyes step by step.
Materials
Pencil
Paper
Eraser
Coloring supplies
Time needed: 15 minutes
How to Draw Male Eyes
Draw the outer contour of the eyes.

To draw this detail, use the rounded lines as shown in the picture.

Depict the inside of the eyes.

At this point, sketch two identical circles.

Draw the pupils.

To depict the pupils inside the eyes, you need to add two small circles.

Depict the lower part of the nose.

To draw a portion of the nose, depict a curved line below the eyes.

Draw the eyelids.

Now you need to draw two curved lines above the eyes.

Depict the eyelashes.

To draw the lashes, add three small, curved lines above each eye.

Draw the eyebrows.

The eyebrows should be positioned above the eyes. Use curved lines.

Add details.

Draw the side of the nose and highlights.

Color the drawing.

Choose whatever color you like for the skin, brows, and eyes.
Be sure to subscribe to us on social networks. If you liked this step-by-step drawing lesson, share it with your friends. Don't forget to leave a comment and tell us if you enjoyed this tutorial. I remind you that for your convenience, I have created a PDF file in which you can see a short version of this tutorial.