Guide on How to Draw The Joker From DC Comics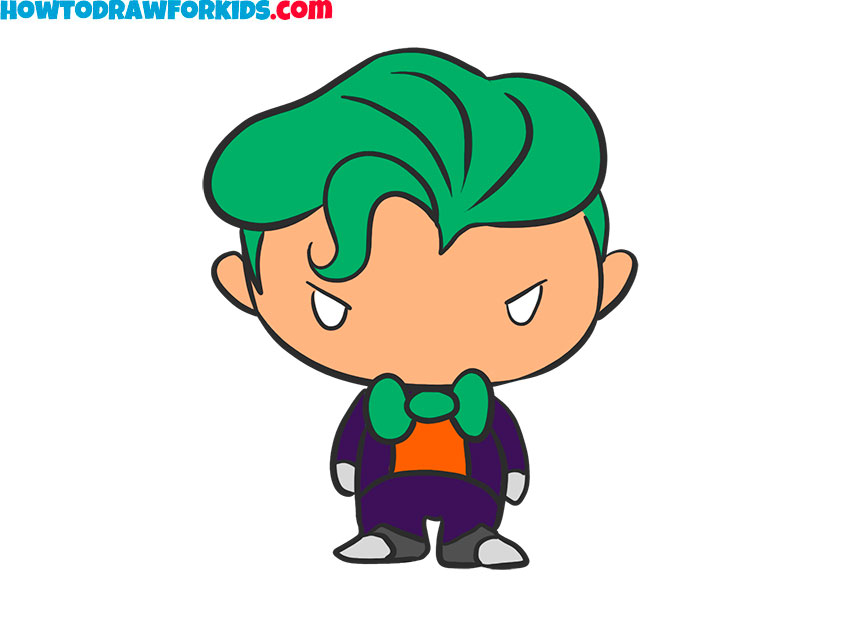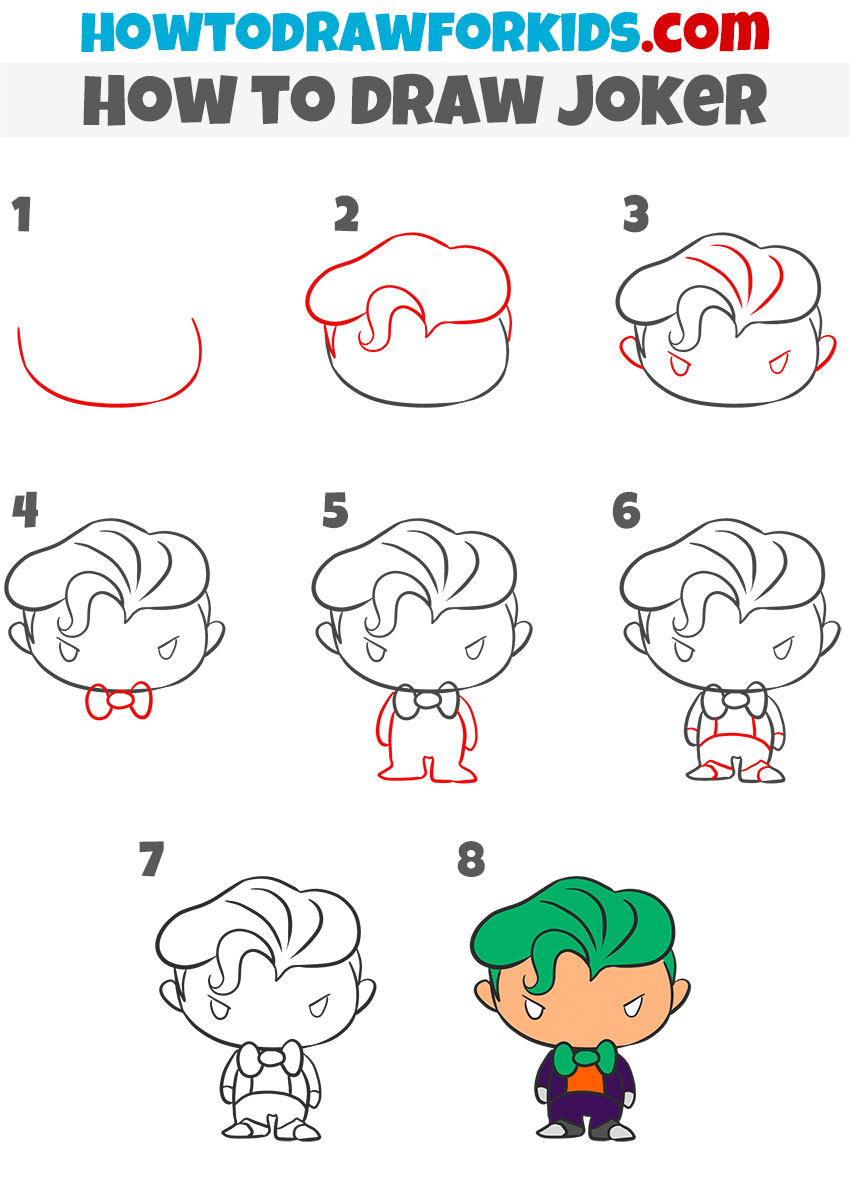 In this tutorial, I will show you how to draw the Joker. This is a famous comic book hero, supervillain, and Batman's main enemy. In the comics, the Joker is represented as a clown. The Joker looks very unusual. He is dressed in a bright suit, he has white skin, dark eyes and his hair is green. The Joker has a smile on his face, but he looks very vicious. This hero inspires fear and awe. The Joker is highly intelligent, calculating, and cunning. Insidious plans constantly arise in his head, and Batman prevented the implementation of such ideas.
In this Joker drawing tutorial, the character is drawn in a cartoon style, so you can easily cope with the task. This style is characterized by certain proportions. Please note that Joker has a large head and a relatively small torso. The arms and legs are very small. The Joker's face has an evil look, this effect is achieved thanks to the special shape of the eyes. Overall, Joker looks very funny in this picture. For coloring clothes and shoes, you can use the same colors as in the example, or you can show your imagination and choose colors yourself.
The Joker is an unpleasant character, but it is very interesting to draw. Try to portray this evil hero, and you will see that it is not difficult at all. Follow my tips and follow each step carefully.
Materials
Pencil
Paper
Eraser
Coloring supplies
Time needed: 20 minutes
How to Draw Joker
Draw the oval for the face.

Add a smooth semicircular line.

Depict the hair.

With a few smooth lines, draw the outline of the hair as shown in the example.

Add the eyes, ears, and hair details.

Draw some short lines on your hair. Draw small eyes and ears.

Portray the butterfly.

The butterfly on the neck has the shape of three ovals, which are interconnected.

Draw the torso.

Depict the torso in the same shape as in the example. Respect the proportions.

Draw clothes and shoes.

Add some short lines to indicate the outlines of the clothes and shoes.

Correct any inaccuracies.

At this point, check your drawing and remove unnecessary lines with an eraser.

Color the Joker.

Use beige for the face, green for the hair. Use purple and orange for clothing.
The lesson is over and now you can draw Joker. Hope you enjoyed this tutorial and learned some useful skills. Share your impressions of the Joker drawing tutorial in the comments.
For your convenience, I have prepared a PDF file that contains a short version of the lesson. Download the file and get creative anytime.