Today I will show you how to draw a quail. This guide will not leave you indifferent, and you will have a good time.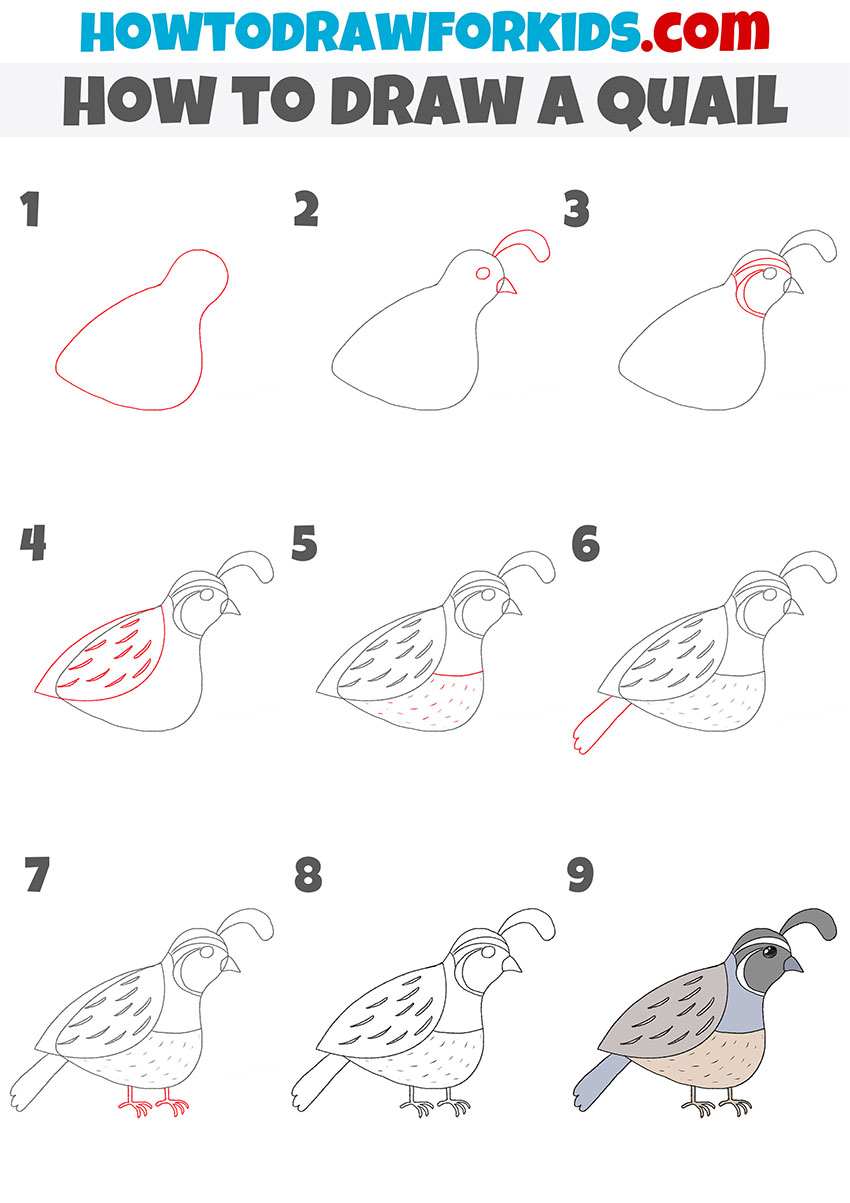 Now you have to complete a new exciting lesson in which you will learn how to draw a quail. The quail is a small bird closely related to the pheasant and partridge.
The quail has a small squat body, long pointed wings, a short curved beak, and a small crest on its head. There are many types of quails, most of which are kept as poultry.
If you carefully follow this lesson, you will acquire useful skills that will be useful to you for drawing any other types of birds. Now prepare all the art supplies you need to complete this tutorial and get to work.
Materials
Pencil
Paper
Eraser
Coloring supplies
Time needed: 30 minutes
How to Draw a Quail
Draw the outer outline of the body.

Using smooth lines sketch out the head and torso, which are one object.

Add elements of the muzzle and crest.

Draw the small round eye, the pointed beak and add the crest at the top of the head.

Detail the color of the head.

On the head, draw a few smooth curved lines, as shown in the example.

Depict the wing.

Draw the large wing on the side of the body and depict individual oblong feathers.

Detail the lower body.

Add a transverse strip on the belly and depict individual feathers using short strokes.

Sketch out the tail.

Draw the small tail using smooth and curved lines.

Depict the paws.

At the bottom of the body, add two short paws with long thin fingers.

Correct inaccuracies.

If you notice mistakes, then correct them at this stage and remove all unnecessary lines.

Color the drawing.

For coloring, use any shades of brown.
Finally, I suggest you download a PDF file that contains a simplified version of this guide.