With this tutorial you will learn how to draw a skier. Now you will once again practice drawing a human figure and acquire useful skills.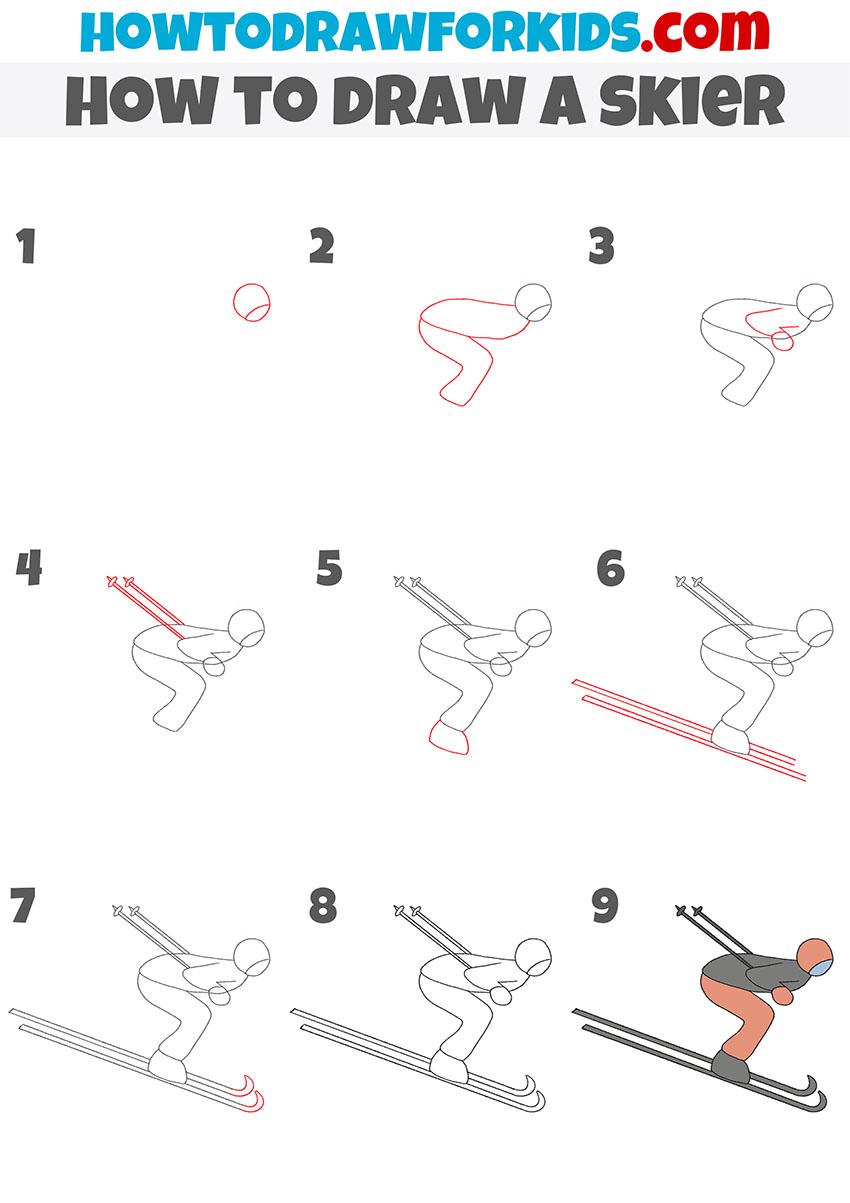 Especially for children and beginner artists, I have prepared detailed instructions on how to draw a skier step by step. This drawing method is very simple, and any beginner will quickly master it.
In the picture you see a skier at the moment of descent from the mountain. The skier is dressed in a special sports suit. Here the skier bent his knees, tilted his torso forward and bent his arms at the elbows, holding the sticks. Try to correctly depict this position of the body. Remember all the drawing steps so that in the future you can easily draw a skier if necessary.
So, check if you have all the art supplies at hand and if everything is ready, then proceed with the lesson.
Materials
Pencil
Paper
Eraser
Coloring supplies
Time needed: 30 minutes
How to Draw a Skier
Draw the head.

Depict a circle and use a smooth, curved line to outline the face.

Add the torso and legs.

Draw the torso in a horizontal position and depict the bent leg at the bottom.

Depict the hands.

With curved lines, depict the hand bent at the elbow joint. Draw the round glove.

Sketch out the ski poles.

Draw even, straight lines to depict thin ski poles. Add the sharp tips.

Draw the bottom of the legs.

Below, depict the shoes of the same shape as in the example.

Depict the skis.

With the help of several straight lines depict two long skis.

Add the front parts of the skis.

With the help of curved lines depict the pointed ends of the skis.

Correct inaccuracies.

Look at your drawing and correct the mistakes if necessary. Remove extra lines.

Color the drawing.

You will need gray, brown, and blue.
Now you know how to draw a skier, step by step. I look forward to your feedback on this tutorial. Also, you can offer your ideas for the next drawing lesson. By tradition, I prepared a PDF file for you in advance, which contains a brief instruction and additional useful content. Download the file and draw at any convenient time.