A great lesson on how to draw mountains is ready for you! This tutorial is sure to be enjoyable for you.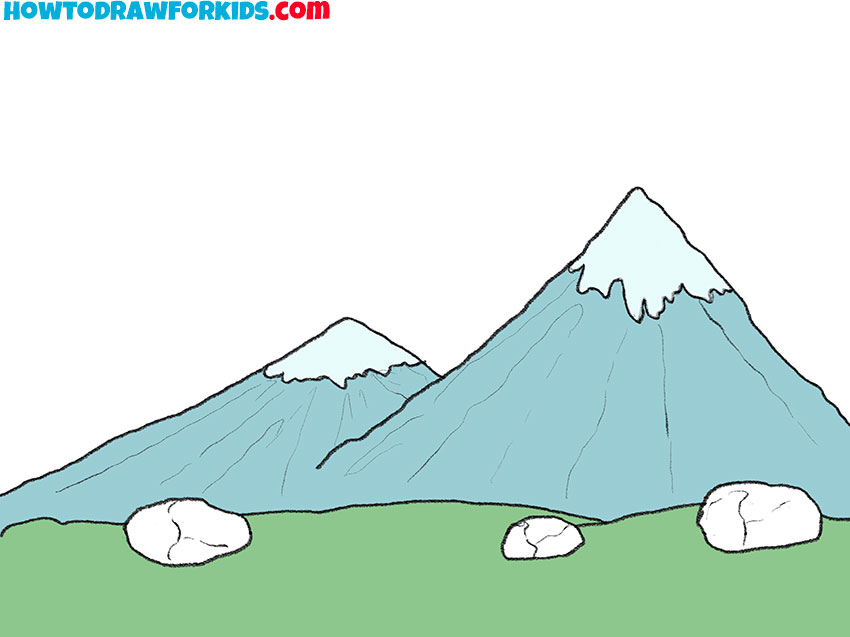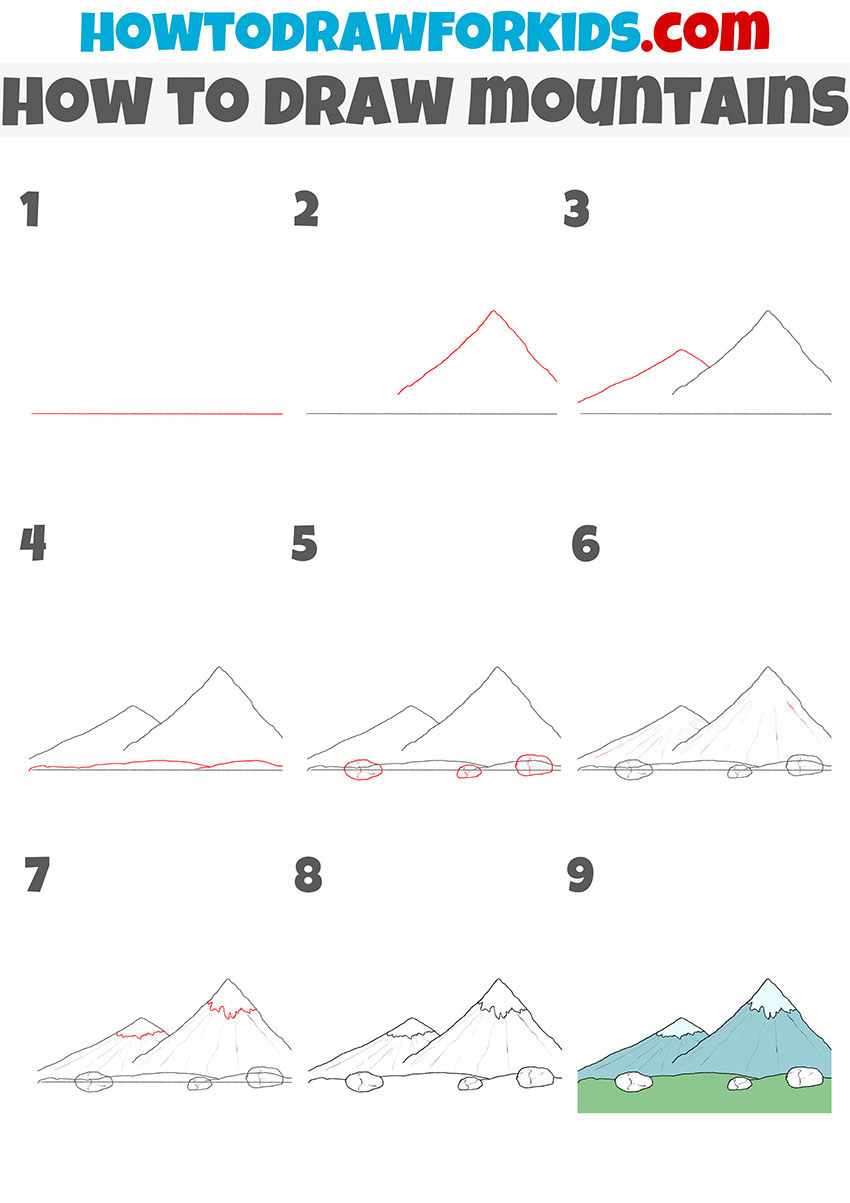 So, I am very happy to offer you an exciting new drawing guide in which I will tell you how to draw mountains. With this simple step-by-step instruction, you will depict beautiful mountain scenery. By following my instructions carefully, any child or beginner will be able to do a great job with this drawing.
I'm sure that all of you have ever seen mountains. Most geologists classify a mountain as a landform that rises at least 1,000 feet or more above its surrounding area. A mountain range is a series or chain of mountains that are close together. Mountains are very beautiful landscape objects.
With the help of this lesson, you will depict two mountains next to each other. By learning how to draw mountains, you can easily depict them in any other landscapes you will ever draw in the future. Have fun drawing!
Materials
Pencil
Paper
Eraser
Coloring supplies
Time needed: 20 minutes
How to Draw Mountains
Draw the auxiliary line.

Outline a long straight horizontal line that will help you mark the ground level in the drawing.

Depict the outline of the mountain.

Draw two curved lines that converge at one point on the right side of the picture.

Add the outline of the second mountain.

Picture this mountain on the left side of the drawing using curved lines.

Picture the outline of the ground in the drawing.

Above the straight horizontal line draw two curved lines of different lengths.

Draw the stones.

Below the mountains depict three stones of different sizes using curved lines.

Add the relief of the mountains.

Depict long thin curved lines on the surface of the two previously drawn mountains.

Picture the snow-covered mountain tops.

To complete this step, add curved wavy lines to the tops of the mountains.

Erase unnecessary lines.

Use an eraser to remove auxiliary lines that appeared during the drawing process.

Color the drawing.

Use green and shades of blue to color this drawing.
This lesson is over and now you know how to draw mountains. Hope you are happy with the result. I would be glad if you share your impressions in the comments. Also, don't forget to download the PDF version of the lesson. This will help you come back to this tutorial anytime you feel like drawing.