I have prepared for you a drawing tutorial on how to draw a deer, which you will really like! This guide consists of just nine easy steps.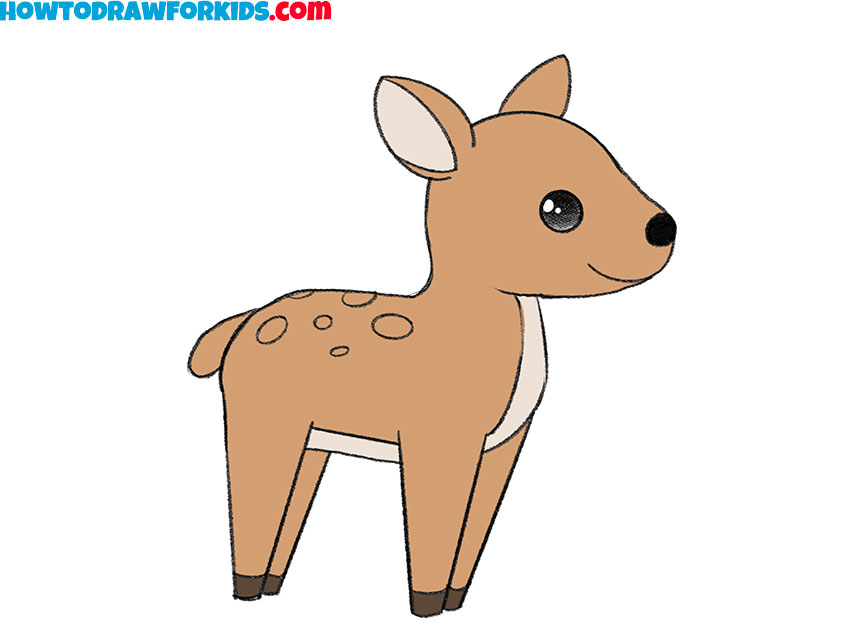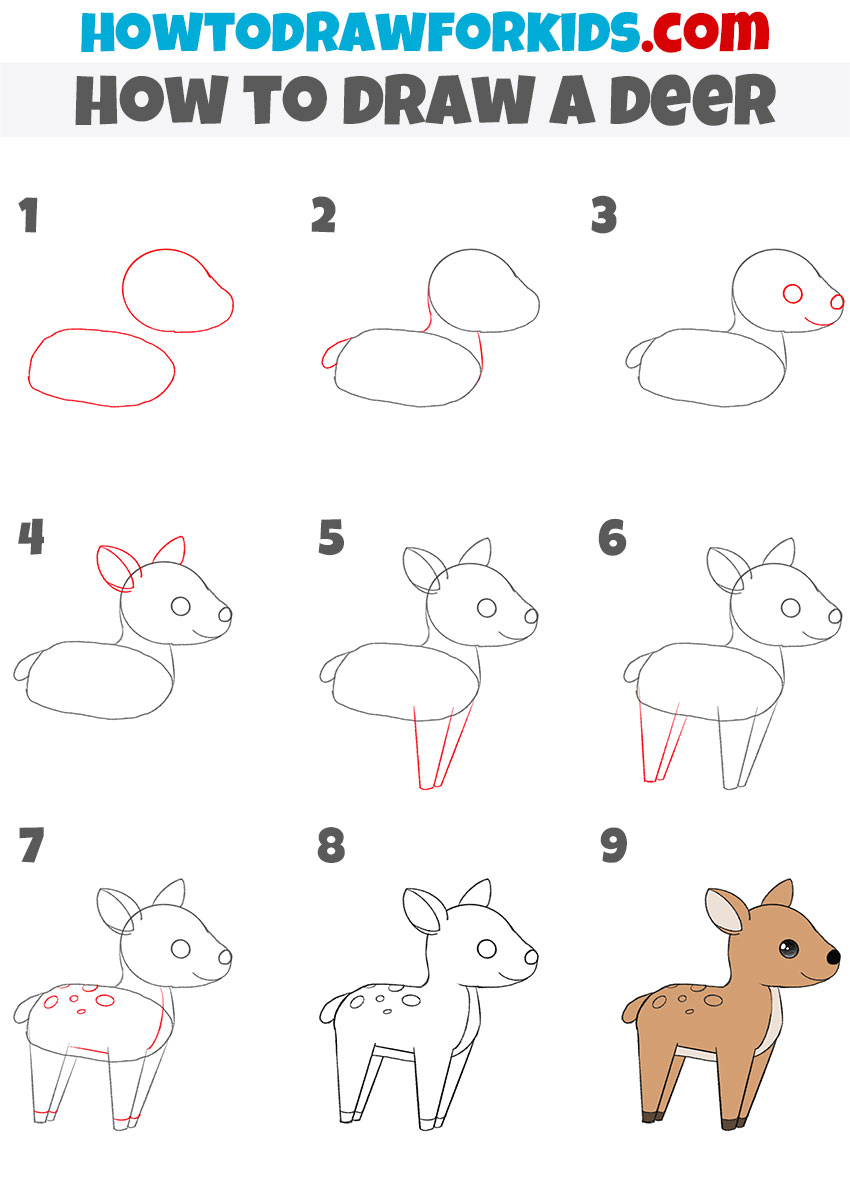 In this drawing lesson, I will show you how to draw a deer step by step. I am sure that you will be able to do this job easily and it will not be difficult for you. I have prepared this lesson especially for kids and artists who have no drawing experience at all.
A deer is a large wild animal that eats grass and leaves. A male deer usually has large, branching horns. Use these step-by-step instructions to draw a little deer. Deer are considered to be very cute and friendly animals, so we can often see them as cartoon characters.
The finished drawing will look very pretty and lovely. Now you should have your painting materials ready and you can get to work!
Materials
Pencil
Paper
Eraser
Coloring supplies
Time needed: 20 minutes
How to Draw a Deer
Draw the outlines of the deer's head and torso.

Depict two figures of different sizes, one above the other, using curved lines.

Add the deer's neck and tail.

Connect the two figures with lines and draw the tail in the form of a rounded line.

Add details to the deer's face.

Draw the eye as a circle, the nose as an oval, and the deer's mouth as a short, curved line.

Depict the deer's ears.

Draw two ears turned in different directions, and draw the inside of one of the deer's ears.

Draw the two front paws of the deer.

Using straight lines, draw one paw closer to the viewers and the other paw much further away.

Add the two hind legs.

The deer's hind legs should look similar to the front legs pictured in the previous step.

Add some decorative elements to the drawing.

Draw a few spots on the reindeer's body in the form of ovals and draw its breast and hooves.

Erase the auxiliary lines.

Use an eraser to remove any excess elements from the torso and head area of the drawn deer.

Color the drawing.

You need brown, beige and black to paint this picture. Also, draw a glare on the deer's eye.
Great! Now you know how to draw a deer. Share this lesson with your friends and draw with them. Subscribe to social networks so as not to miss new interesting lessons. Don't forget that you can download and print a PDF that contains a short tutorial and some helpful tools. Download the PDF for free and take drawing lessons whenever you want!
Alternative Drawing Technique
Here you can find another way to draw a deer. We used a slightly different sequence of steps here and drew more realistic limbs.