In this tutorial you will see how to draw a monster. This lesson will be very interesting for you! At the same time, we will show you several more completely different lessons on drawing monsters. We hope that you will choose what is most useful for your level of drawing.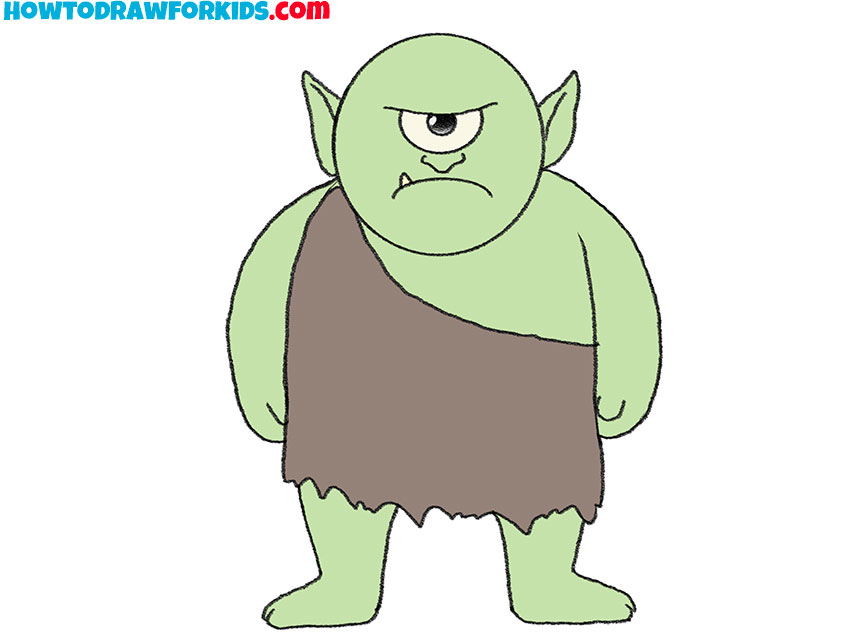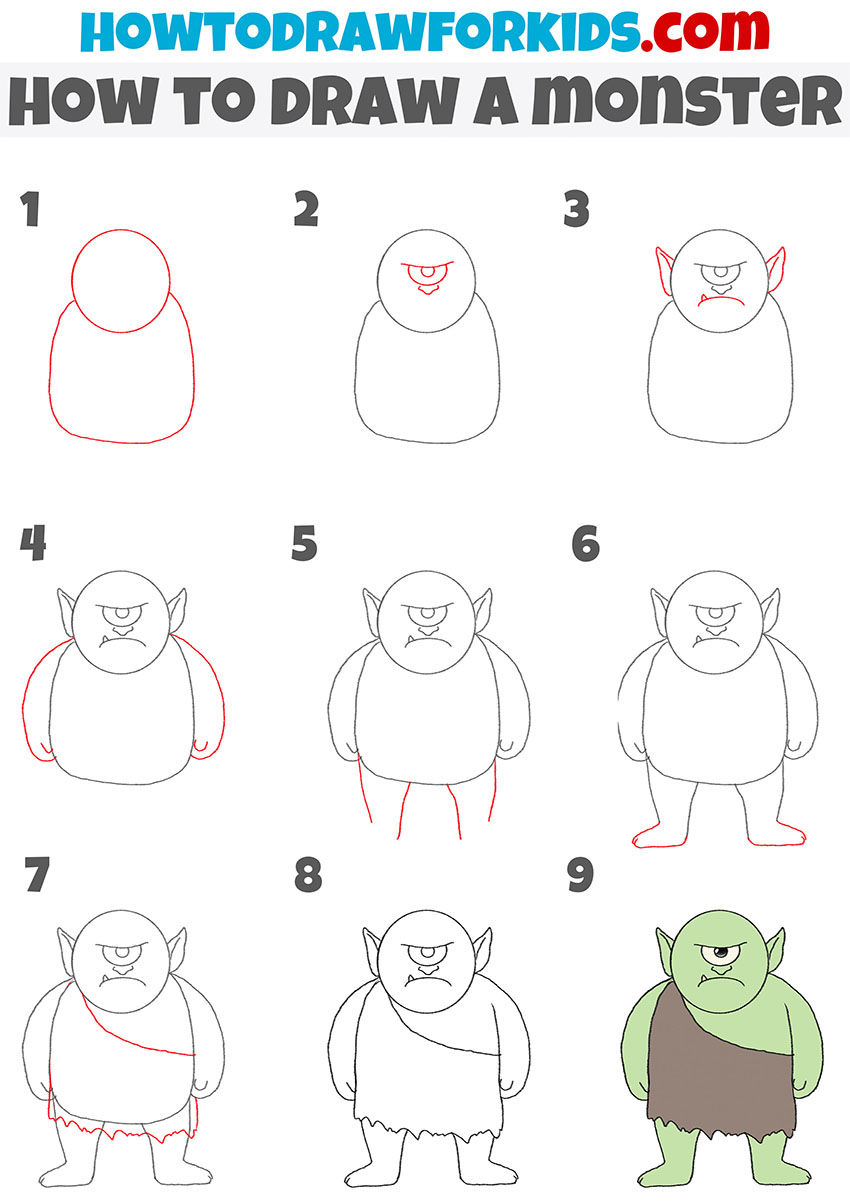 So, I have prepared a fascinating step-by-step drawing guide for you, in which you will learn how to draw a monster in just nine simple and clear steps. You don't have to worry that this lesson will be too difficult for you. I created this tutorial especially for beginner artists with little drawing experience, as well as for children. So in this lesson, you won't encounter elements that are too difficult to draw.
You have probably seen monsters in many cartoons, movies, video games, or books. A monster is a type of fictional creature found in horror, fantasy, science fiction, folklore, and mythology. Monsters are very often depicted as dangerous and aggressive with a strange appearance that causes fear. However, in this drawing lesson, we will depict the monster in a cartoon style, so it will look quite funny and not scary at all.
If you're ready to start drawing this monster, then get your drawing materials ready and start doing this fascinating lesson!
Materials
Pencil
Paper
Eraser
Coloring supplies
Time needed: 20 minutes
How to Draw a Monster
Draw the outline of the monster's torso.

Picture the monster's head as an oval and add a torso with a curved line below the head outline.

Depict the facial features of the monster.

Add an eye using the curved line, and two incomplete circles, and add the nose as a curved line.

Draw the mouth and ears of the monster.

Picture the mouth as an arc and a short curved line and add pointed ears using curved lines.

Outline the monster's hands.

On the right and left sides of the monster's torso add two arms using curved lines.

Draw the monster's legs.

Below the torso of the monster add two legs, using four curved lines of different sizes.

Add the feet.

Continue the previously drawn lines with curved lines. Feet apart to the sides.

Outline the monster's clothes.

Picture a curved line on the torso, and add curved lines at the top of the legs.

Erase unnecessary lines.

Use an eraser to remove auxiliary lines that appeared during the drawing process.

Color the drawing.

To color this monster, use light green, gray-brown, and black.
Traditionally, I have prepared a short PDF version of this tutorial for your convenience. Download this file to come back to this lesson when you want to draw again.
How to Draw a Monster Step by Step
Doing this lesson will help you develop your artistic skills, and also with the help of this you will be able to learn how to depict various emotions. I think you can't wait to get started with this tutorial. Then you can prepare art supplies right now, and then start drawing a monster step by step, carefully following my recommendations. You are sure to easily cope with the implementation of this lesson, as well as have fun.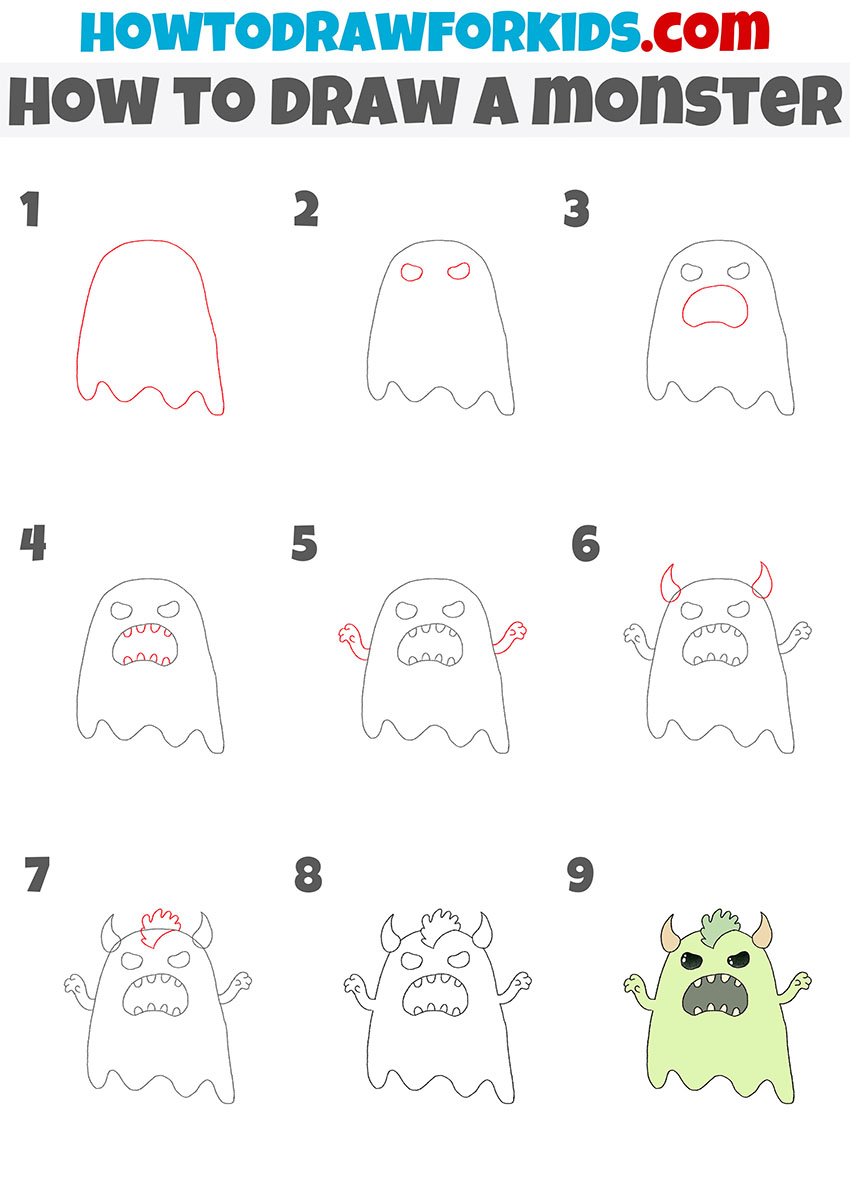 How to Draw a Monster for Kindergarten
Frankenstein's Monster is a fictional character, the hero of a famous book, based on which the film was also filmed. Frankenstein's monster is considered a negative character. But, despite this, you can perfectly practice your artistic skills by drawing the Frankenstein monster, because sometimes there are negative characters.